Lokanta Armut: For a cozy and delicious meal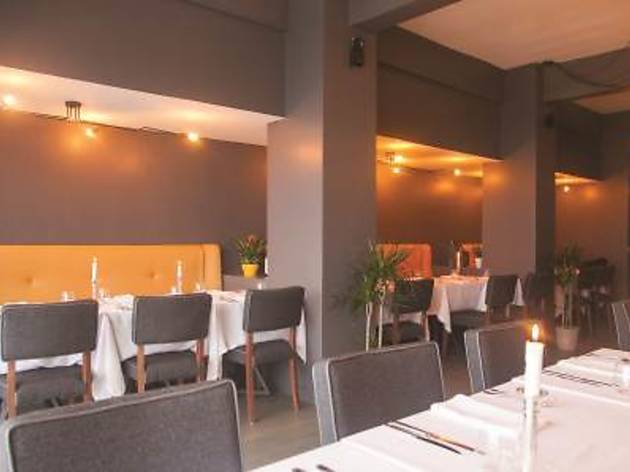 Situated on a corner far from Etiler's posh center, Lokanta Armut might have you thinking of an Illuminati ceremony at first sight, with tables dressed up in white tablecloths and decked out with candles.
Everything you eat here – from the ice cream to the piping hot sourdough bread served with three types of butter as a prelude to your meal – is made on premises, and the chef's touch renders every plate memorable.
This is one of the few places in the city where you'll find dishes like slow-cooked shredded beef entrecote served on a bed of potato puree with aged kas¸ar cheese (46 TL) or salmon cooked in a jar with oranges, tomatoes and olive oil (28 TL). The short menu is subject to change each month, so the baby spinach salad with Roquefort cheese, walnuts, honey-mustard and grilled pears (19 TL) simply may not be there on your visit. For dessert, you can choose between apple baklava with vanilla ice cream or yogurt panna cotta with lemon (14 TL each). While the restaurant's chef Burak Sırmac¸ekici is in charge of the kitchen, the affordably priced wines are hand-selected by Tu¨lin Bozu¨yu¨k, who also works as the general manager of a vineyard. Lokanta Armut's location may seem a bit out of the way, yet the Ferrari dealership next door serves as a reminder that you're still in the Etiler-Bebek-I·stinye triumvirate. This is the perfect place for a quiet dinner packed with plenty of flavor.
Venue name:
Lokanta Armut: For a cozy and delicious meal
Contact:
Address:
Atatu¨rk Caddesi 6/B, Ku¨c¸u¨karmutlu. (0212) 229 22 25/lokantaarmut.com. Mon-Sat 18.00-00.00.
İstanbul