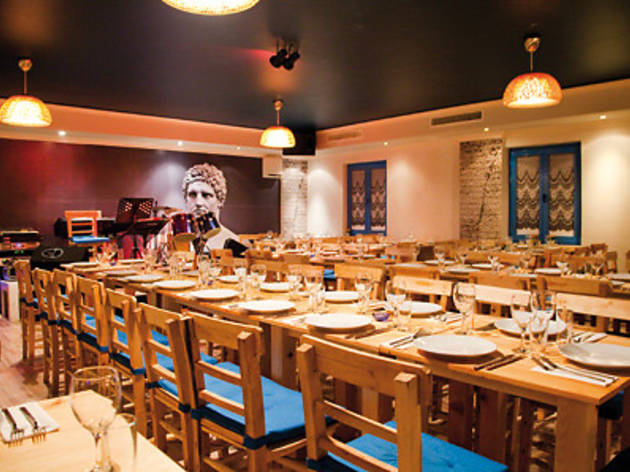 Time Out says
Mastika Meyhane is where the traditional Greek cuisine meets with rakı and wine and herbs special to Aegon region turn out to be delicious mezes and appetizers. This entertainment venue features a spacious dining hall, a small bar and a stage, and even though it's only open three days a week, it's completely booked these days. Mastika Meyhane is the perfect place to get cosy with your neighbours over at the next table as you listen to live Greek music and dance.
A rich fix menu is served here, including all the usual meyhane (Turkish tavern) specialties and then some: white cheese, red beets, kalamata olives, horta (a Greek dish of boiled vegetables), caciki (a less diluted version of the Turkish cacık, made with strained yogurt, cucumbers and garlic), purslane, tomato-olive mix, tarama (fish roe meze), black eyed peas, Apollo (Bombay beans), Alexios (cheese meze), olive oil dish of the day, horiatiki (Greek) salad, grilled börek (flaky pastry) with yogurt, fried potatoes and squash, chicken souvlaki, skewered sole fish, grilled octopus, lavraki (grilled sea bass) and loukoumades (fried balls of dough served with cinnamon and sugary syrup).
The venue also hosts bachelor parties, kına (henna) nights, birthday parties, company dinners and even weddings. Another sweet surprise: on-the-house champagne for birthday reservations of 15 people or more.
FROM THE MENU
Fix menu (including meze, warm starters, main course, dessert, unlimited domestic beverages) 80 TL + 10 percent service charge during the week, 90 TL+ 10 per cent service charge on the weekends.
Details