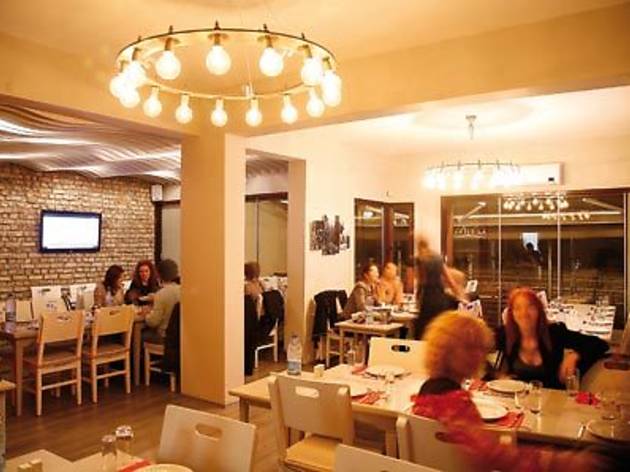 Time Out says
Mira has a simple décor that's easy on the eyes, while the garden that looks out onto the Bosphorus is sure to be a popular spot during spring and summer months. The menu at Mira is mostly comprised of Aegean flavours, seafood and fish. When it comes to dinner, Mira doesn't serve A la Carte plates; instead, a table is set up (called a "çilingir sofrası," which literally means "locksmith's table") with 15 kinds of meze, four hot plates, fish, dessert, fruit and coffee. This feast costs 60 TL per person, excluding drinks, while special prices are applied for group reservations.
The breakfast at Mira is also worth a try, with morning favourites such as menemen (a dish made with eggs, onions and green peppers), fried eggs, crispy simit (Turkish bagels) with kaşar cheese and gözleme (flatbread) with herbs and cheese.
At Mira, the seafood comes from Bodrum and the olive oil, from Ayvalık, two towns on the Aegan Coast. The half-octopus with olive oil and special Mira sauce is flavourful. The ink fish stew, made with tomatoes, peppers, mushrooms, thyme and kaşar cheese, is equally delicious.
The sosyete mantı (miniminced meat dumplings served with garlic yogurt and a special sauce) and grilled eggplant salad are some of our favourite appetizers, while we think the best entrée on the menu is the Mira salmon with orange. The salmon, cooked in orange juice, is perfect for those who want a light yet filling meal.
As for dessert, the Mira cake made with spinach is worth a try. Of course, those who are feeling less adventurous can always opt for the mosaic cake, Tiramisu, cheesecake or profiteroles.
At Mira, they also offer several pub-style snack menus, perfect for after-work visits. Instead of beer, however, these menus' headliner is rakı, accompanied by foods like white cheese, melon and white chickpeas. These menus range in price from 20 to 30 TL.
The darling Mira Restaurant stole our hearts with its location, flavourful food and smiling service.
From the menu
Mira breakfast 25 TL
Mira grilled octopus 22 TL
Mira salmon with orange 22 TL
Ink fish stew 16 TL
Mira cake 6 TL
Details