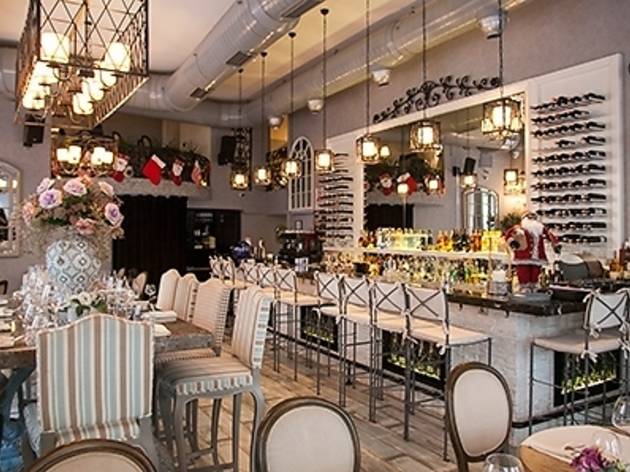 Time Out says
Cihangir's bohemian flair keeps it a center of attention in the eating-drinking and entertainment scenes. The newest resident in the neighborhood is an Italian eatery that comes to Cihangir by way of Alaçatı. Mona holds its own as a proper restaurant among the hip, relaxed cafés surrounding it. The menu – which is available in English, Turkish and Italian – features just about any dish you'd find in Rome.
Mona doesn't get its name from the Mona Lisa (as we predicted) but from the daughter of owner Selin Altınel's beloved Italian friend. Learning that the chef, Fabio Foltran, once served Italian Prime Minister Silvio Berlusconi was all we needed to convince us of Mona's loyalty to traditional Italian cuisine.
The white tablecloths, cloth napkins as well as elegant glassware and cutlery signal a thoroughly enjoyable meal, which begins with an appetizing foretaste of tomato- pesto and spiced olive oil served with warm bread.
The menu includes soups, antipasti, salads, pastas, risottos, pizzas, hamburger, steak and desserts. For the adventurous among us, the garlic soup is a great alternative to the classic minestrone soup. The seafood linguini is a winning, filling dish with a balanced sauce and plenty of seafood, while the beef bresaola pizza with arugula, parmesan and mozzarella impresses with both taste and presentation. The four-cheese grilled sirloin steak with mushrooms (quattro formaggi), sirloin steak with a tart wine sauce (Mona), and thinly sliced steak served with sage, arugula and parmesan (Robespierre) are also sure to please.
Since Barilla is a sponsor, some of the pasta varieties are exclusively produced by the brand, while the others are handmade in Mona's kitchen. The casarecce pollo broccoli with marinated chicken, broccoli, soy sauce and cream is a favorite, as is the tagliatelle alla Milanese served with thinly sliced steak in a saffron and cream sauce. The Giuseppe Verdi risotto with asparagus, porcini mushrooms and parmesan already has a cult following. On the dessert front, the tiramisu did not quite live up to our expectations, but that doesn't make Mona any less worth a visit for those searching for authentic Italian flavor.
The eatery is frequented by celebrities who live in the neighborhood as well as expats and other Cihangir residents. A DJ performs every day but Sunday. We'd be remiss not to mention the kindness and agility of the staff. Prices range from 19 to 47 TL.
Mona
(0212) 243 21 48. Mon-Thu 09.30-02.00; Fri, Sat 09.30-04.00
Details