1/2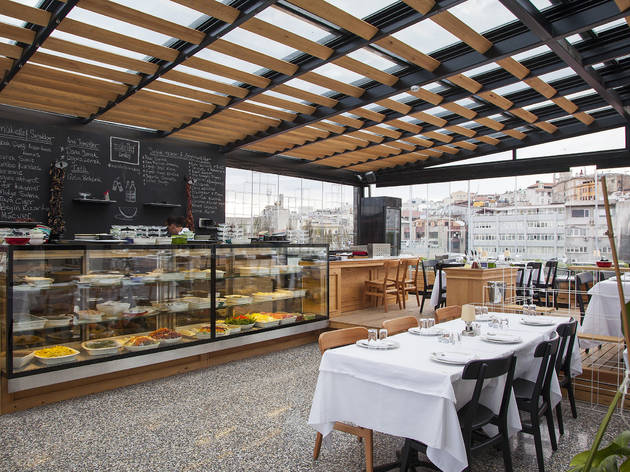 2/2
Time Out says
Tv chef and restaurateur Arda Türkmen's latest venture is Mükellef Karaköy, a meyhane on the terrace floor of The Haze Karaköy. Given its celebrity backing, it's no surprise that we began to hear its praises sung (particularly of its fried squash blossoms) soon after its opening at the end of August.
As soon as you enter, your eyes will invariably be drawn first to the display case full of mezes and then to the glistening waters of the Bosphorus on your left.
When it comes to the mezes, Türkmen admits you'll find things you've generally had before, but with small variations to render them new and exciting. Here, the Swiss chards in olive oil are stuffed with grains instead of beef, while the green apple in olive oil draws inspiration from a similar Armenian meze made with quince. "Since quince is a seasonal fruit, we wanted to use green apples, which are available year-round. In the end, people seemed to really like it," says Türkmen. Made using a recipe from his mother, the fava bean puree is one of the restaurant's most popular dishes, as are the fried liver and hummus. "We spend hours on some dishes that could be done in an hour or two, like beef cheeks and ribs, which take us six and eight hours, respectively," Türkmen says. "By going the extra mile in preparation, we end up with plates where people take one bite and immediately taste the difference."
What's remarkable about Mükellef Karaköy is that it manages to create a meyhane ambience without relying on the spectacular view as a crutch – in fact, we don't even notice the Galata Tower until we're about to leave the restaurant. The décor is simple, and the white tablecloths add a touch of elegance. "We knew nothing could compete with the view, so we chose not to distract from it," Türkmen says. "It was important that the restaurant reflect the casual ambience of a meyhane."
The chef shares with us his excitement at finally being able to focus on native dishes with his new project. "I grew up eating the foods of this geography, but my previous work has always been in world fare and Mediterranean cuisine," he admits. "With Mükellef Karaköy, I wanted to offer flavors that are familiar to us all. Even though there are slight variations in the dishes, you won't find anything made using ingredients you haven't even heard of before. In a sense, this is a place where we give the cuisine of this geography the respect it deserves."
In terms of prices, cold mezes cost 12-18 TL, warm starters 20-35 TL and main courses 55-95 TL. Mükellef Karaköy might not be a restaurant you visit on the daily, but if you're planning a night out with friends or a romantic dinner for two, we think it should be at the top of your list.
Details