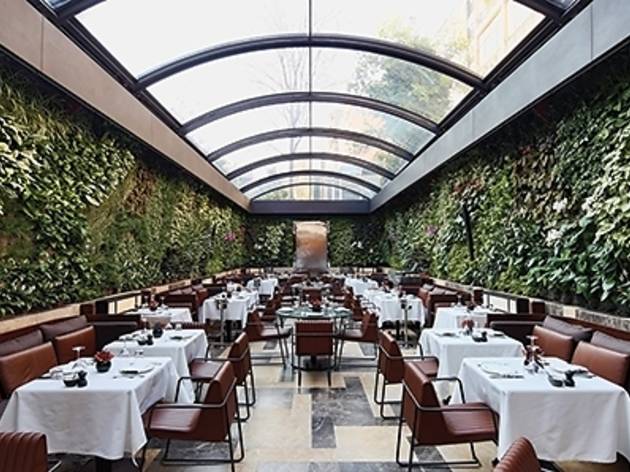 The newest eatery to be opened on Atiye Caddesi is the latest project by The House Café, and like all The House Café locations, Nopa was designed by Autoban. The ambiance is welcoming at any hour of the day, while the wall-to-wall flowers and greenery out back make you forget that you're in the middle of the city.
The kitchen is run by The House Café chef Coşkun Uysal, who serves a menu of innovative restaurant fare with seasonal ingredients. The highlights of the menu are the meats. In addition to cuts from Tekirdağ that have been "dry rested" for at least 35 days, the restaurant has also garnered praise from gourmets and meat lovers for grilling all of its meats with oak, which imparts an unmistakable flavor. The lamb shoulder for two, roasted for 12 hours, is the ultimate dish to try.
The restaurant also serves seafood as well as pasta, breads and desserts prepared daily in their own kitchen. Notable dishes include Nopa sosis (hot dogs), crab cakes with a Cajun sauce, grilled octopus, avocado-beet salad, sea bass and a guaranteed source of carb happiness, the beef cheek pappardelle. If you've got room left for dessert, we recommend the crispy quicklime-roasted pumpkin, Valrhona chocolate soufflé and the pineapple carpaccio.
One of Nopa's most salient features is its bar, which is sure to be a hit for after-work drinks this summer. Cocktails prepared with fresh fruits and served in elegant glasses, like the ginger-infused "The Nopa" and "Number 6," already have quite a few fans. Nopa also serves a bar menu of appetizers to go along with the drinks.
The music gets louder as the night wears on, with the eatery's resident DJ playing crowd favorites five days a week until 23.00. Given the likelihood that Nopa will be a hit this summer, be sure to make reservations. Aslı Kahraman
Venue name:
Nopa Restaurant
Contact:
Address:
Teşvikiye Caddesi, Atiye Sokak 6, Şişli
İstanbul


Opening hours:
Kitchen open Mon-Fri 12.00-15.00 and 19.00-23.00; Sat, Sun 12.00-17.00 and 19.00-23.30. Bar open Mon-Thu until 02.00; Sat, Sun until 03.00.