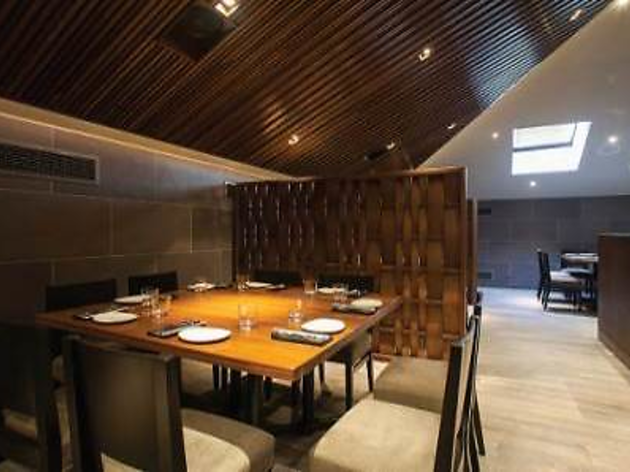 Time Out says
P.F. Chang's 360-person dining area initially seems like a bit of an ambitious venture, considering the local population is made up overwhelmingly by people who feel that bread is a necessary component of all meals. Still, the venue sets itself apart from the pack, starting with the décor. Anyone expecting a classic Chinese restaurant is going to be in for a bit of a surprise: first off, red is not the main colour scheme, and there are no paper fans present. The locale is mostly furnished with modern timber décor, in keeping with the bistro title.
In terms of cuisine, P.F. Chang's adheres to the idea that dishes should be shared among diners, so don't assume you can finish an entire portion on your own – especially when all the meals are served with jasmine or wheat rice.
The highlight of the menu is undoubtedly the Dynamite Shrimp (28 TL), prepared in a variety of sauces and slightly spicy to taste. Another starter to consider is Chang's Chicken Lettuce Wrap (24 TL), also available in tofu. This addictive dish is comprised of wok-seared minced chicken, mushrooms, green onions and water chestnuts, which you then wrap in lettuce for consumption.
The Orange Peel Chicken (34 TL) and Mongolian Beef (38 TL) go to the head of the class as mains. Both the meat and the chicken are perfectly tender and ideally suited to their sauces; in fact, the Orange Peel Chicken's flavour is neither too much orange nor too much chicken.
Another surprising thing about P.F. Chang's is their cocktail menu. Mojito lovers will find themselves more than satisfied by the Asian Pear Mojito (25 TL), while the margarita and martini alternatives make the final decision even more challenging. You're also welcome to opt for tea or coffee instead of alcohol. If you happen to pick any of the Ronnefeldt tea varieties or a cup of coffee, be sure to order the Banana Spring Rolls as well. This dessert is surprisingly light, and the ice cream in the centre is just the icing on the cake. This is also designed for sharing, so don't be upset if you have some left over afterwards. With so much food to go around, you'll be happy to know that P.F. Chang's is willing to pack up your leftovers for you.
Details