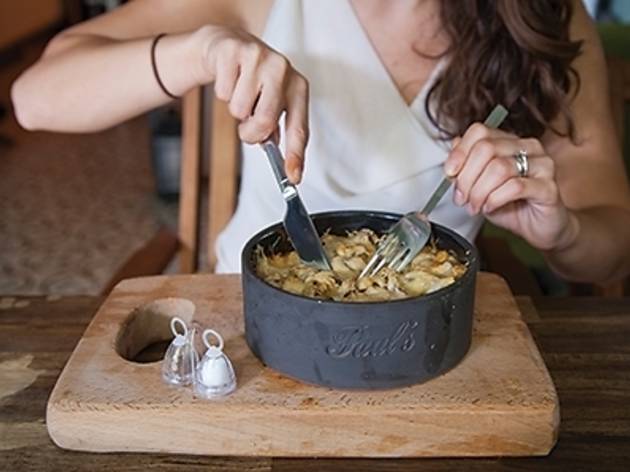 Paul's Lasagne is a tiny eatery stands out in the hegemony of coffee shops and bars in Kadıköy. The restaurant first caught our attention with the great reviews it received on Yemeksepeti. As the name suggests, the specialty here is the classic Italian lasagna. "I was inspired by the pizzerias I saw on every street corner while living abroad," owner Hakan Ersoy says, "so I thought, 'why not a lasagneria?'" He then got to work transforming the former tattoo parlor into Paul's Lasagne, named after his father.
The restaurant currently boasts four tables, and all of the decorative elements – like the table legs made out of steel pipes and the industrial-looking lighting fixtures – come straight out of Ersoy's workshop. Meanwhile, the tattooed ladies and gents peering down from posters and the pool table that greets you as soon as you walk in serve as reminders of the venue's former identity.
Since everything is made fresh the minute you place your order, it's a good idea to get yourself to Paul's Lasagne before hunger strikes full force. When our classic beef lasagna arrives in a special crock after about 20 minutes, we are first taken aback by the sheer quantity of it. The texture is perfection, although the omission of salt has us both reaching for the tiny salt and pepper shakers Ersoy sends out with each other. In addition to the classic lasagna, the restaurant serves lasagna with seafood and veggie filling, and aims to add new varieties to its menu each month. Paul's also offers homemade tortellini, ravioli, spaghetti and fettuccine, but these dishes are only served in the restaurant and cannot be ordered for delivery. Ersoy strives to ensure that the food you order to enjoy at home is every bit as flavorful and warm as what you get in the restaurant, and we commend him for it. Let's also deliver the good news that Paul's Lasagne is set to open a second location in Ataşehir soon.
Venue name:
Paul's Lasagna
Contact:
Address:
Dr. Esat Işık Caddesi 53/A
Kadıköy
İstanbul


Opening hours:
Mon-Sat 10.00-00.00.