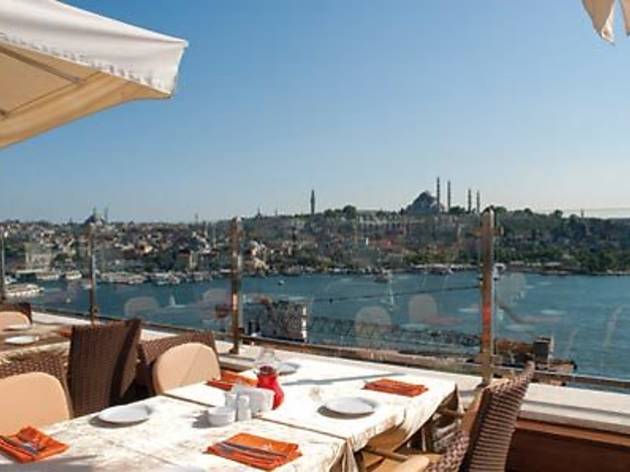 In Peninsula, you'll get the chance to see stunning views of the Bosphorus, the Old Town, the Galata Tower and the Maiden's Tower all at the same time. Let us steer you towards the Golden City Hotel on Karaköy Tersane Caddesi. After a meal at the Peninsula Restaurant on the terrace, let all your prejudices fall away.
There is nothing you can't find on the menu. Meat and fish varieties, dishes from Ottoman cuisine and local flavours as well as homemade pasta and salads are all available. You can find breakfast, lunch and dinner at the Peninsula. The restaurant, that can accommodate a maximum of 180 people, is open for special events as well. If you are thinking about having dinner, we suggest that you go a bit earlier to have a drink while watching the sunset.
It is inevitable that you will be mesmerized by the view of a slowly blushing sun in the middle of Hagia Sophia, the Blue Mosque, Topkapı Palace, Galata Tower and the Bosphorus. You should also keep Peninsula in mind for a romantic evening. The neighborhood is not that appealing but this can be a perfect camouflage for your surprise meal.
From the Menu
Salmon-crab salad 16.50 TL
Chicken-spinach crepe 12 TL
Porcini Tagliatelli 16.50 TL
Peninsula Sirloin Steak 22.50 TL
Fillet-mignon 22.50 TL
Venue name:
Peninsula Restaurant
Contact:
Address:
Golden City Hotel, Tersane Caddesi 111
İstanbul


Opening hours:
Daily 08.00-02.00.