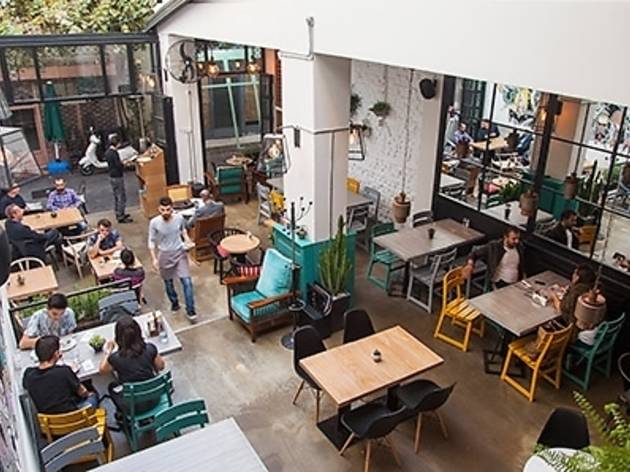 Time Out says
Pim is the latest addition to the lovely, if now plentiful, little bistros that have opened their doors in Karaköy in recent months. Already lying on the same stretch of road as Balthazar, Gakki and Komodor, Pims was carved out of what used to be a tool and motorbike repair shop, before being bought by two young restauranteurs.
The restoration project of the original buildings Pim is clear success. Two shops were bought out: one was turned into a small patisserie and the other one is now the main restaurant. Pim's pitta bread wraps are the main draw, served with fries and a choice of sauces. As for what else is on display, there are delicious hand-made macaroni dishes (the work of MSA-qualified cooks) along with a fine choice of breakfast buffets, all of which can be enjoyed in the clean, airy atmosphere of the place. For those of a more carnivorous persuasion, they also have sirloin and T-bone steaks on their menu. The pita bread and all the cakes are cooked in their own furnace. Those who crave for fattoush salads and içli köfte will find they are comparable in taste to those found in Lebanon or Antakya. In terms of prices you can fill yourself up for 40-50 TL, on tracks with the slight inflation Karaköy suffers from.
Pim is the epitome of the new Karaköy cool, with modern furnishings, industrial lamps, open minimalism and chic Selçuk Fergökçe murals on the walls, along with the typically lush varnished tables and cool glasses. Amongst all these modern trappings, only the evil eye remains from the old tool shack. This is how things go in fast-changing Karaköy and in Pim's case, it makes up for a very comfy joint for breakfast or lunch.
Selen Bayrak
Details