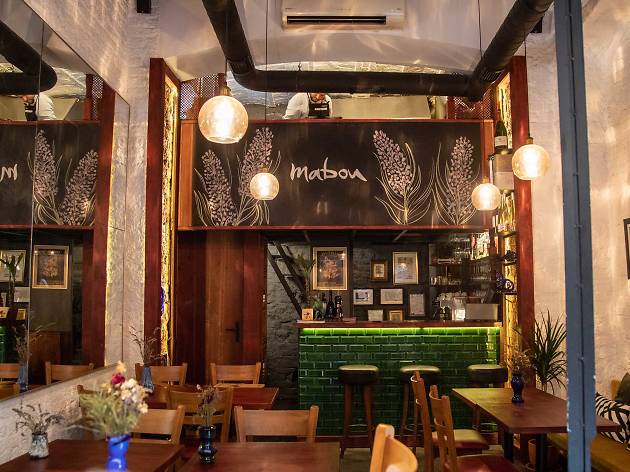 Time Out says
What is it? A small sized chef restaurant.
Why go? To sample the food prepared by Chef Cem Ekşi.
We are extremely thrilled that Asmalimescit is once again found its mojo. Restaurants, cafes, bars and meyhanes are full and the streets are once again lively. One of the worthy additions to the neighbourhood is Chef Cem Ekşi's Mabou. As well as shuttling between Germany and Turkey, Ekşi enjoyed a stint at Neolokal with Chef Maksut Aşkar. After getting married and becoming a father he decided to create a boutique restaurant where his aim is to treat his customers as he would his esteemed guests at home. Mabou houses a small bar and a kitchen just above it. Ekşi can view his guest from above and his guests below can hear him work above. This is an intimate place. The menu has two claims. First one is to offer a completely new palatal experience with the most mandane and customary ingredients. For example the humble tomato salad becomes something quite surprising in the hands of the chef when mixed with sumak onions, almonds and pesto (26 TL). Zuccini with ricotta (28 TL) is an other one of the favorites. Zuccinis are fried in sumak infused oil and the sauce contains basil as well as lemon oil. Cem Ekşi's other claim however is to give regularly neglected, overlooked ingredients centre stage. For instance the lowly sea trout is used both for an exceptional starter and a main dish. The salted trout is served with carrot puree as a cold dish (34 TL). For its second outing the trout is fried lightly so that it is still slighlty raw inside and served with tarragon infused corn puree (48 TL). This exciting new restaurant knows how to cook local ingredients with a global touch.
Details
Best selling Time Out Offers