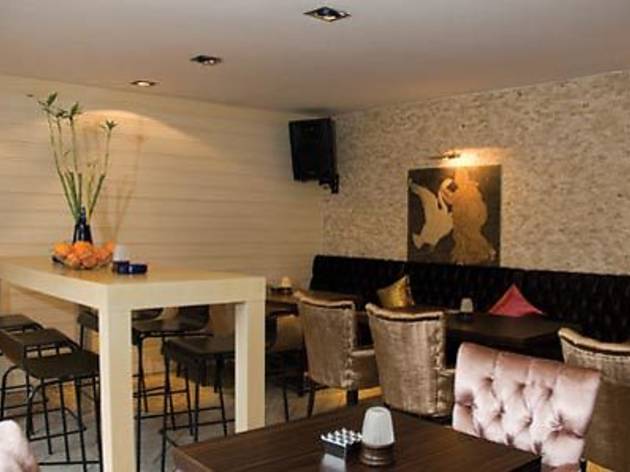 Time Out says
Located right across from Macrocenter in Kuruçeflme, Secret Passion presents cuisines from around the world with a special focus on Italian cuisine. The building that hosts Secret Passion used to be a house but underwent restorations in becoming a restaurant. The walls are beige and covered with detailed white stones, creating a romantic atmosphere. Another room with plain white walls and similar historic designs on the stones overlooks the Bosphorus. Both sections have lots of wood, which has been used in different shades for the chairs and the sofas to make it a lot more colorful.
During the winter, Secret Passion is in an ideal location to be able to enjoy the peace and quiet along with some trial tours or group events, which you can join. Currently the indoor area can hold up to 70 guests. However during the summer months with the help of the veranda outside, the number of people the venue can hold can reach between 250-350 people. During the summer, you can sit on the veranda, overlooking the beauties of the Bosphorus.
The menu includes toast, sandwiches, burgers, pizzas, pastas, and different main courses such as meat, fish, and vegetables. The crust of the pizza is incredibly thin, with lots of toppings, making it a very good choice if you are extremely hungry. The prices range between 12-16 TL. For vegetarians Secret Passion has options like a special vegetarian pizza with broccoli, spinach, mushroom, black olive, corn, paprika, and peppers. For those who enjoy eating meat, there is a Passion steak served with mushrooms, broccoli, green and red pepper, with a soy sauce. For those who prefer fish, there is grilled salmon served with lentils and a side of steamed vegetables. For vegetarians there is a selection of steamed vegetables or tomatoes, or grilled vegetables served with a yoghurt sauce. The steak is 26 TL, salmon 22 TL, and the grilled vegetables 13 TL. They also offer a traditional breakfast served between 09.00-15.00. This special breakfast consists of cheese, tomato covered in special herbs, different jams, eggs, honey, toasted bread, and freshly baked pastries.
They also host weddings. If you stop by on a weekend, you can enjoy the sounds of chill-out DJ Barbi, who plays a mix of house and lounge.
From the Menu
Traditional Turkish Breakfast 18 TL
Chicken salad with sesame seeds (small) 10 TL
Pizza Quattro formaggi 16 TL
Vegetable penne 15 TL
Passion steak 26 TL
Tiramisu 8 TL
Details