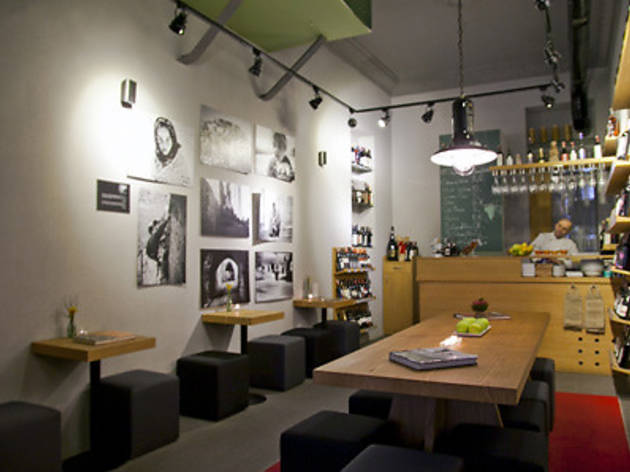 Time Out says
In spite of the great number of dining options available in Istanbul, have you ever wanted to have a glass of wine with your friends at a quiet place after work and come up with nothing? We're sure you have. Now, there's a new place that'll serve as your go-to alternative in crisis moments like these. Located in Beyoğlu, Solera Winery is a cosy wine cafe where the music doesn't sabotage your conversations. Owner Süleyman Er worked for long years as a professional wine waiter before hitting the road to follow his dream. And after extensively touring the wine regions of Argentina and Chile, he brought his wealth of experience to Solera.
Don't be fooled by its size; at Solera Winery, there are over 1100 wine varieties, with 30 of these imported and the rest, representatives of the burgeoning wine industry in Turkey. Basically, any wine of note manufactured in these lands – from Cappadocia to Urla – is what goes in your glass. Not every grape from every manufacturer, just the best ones. It might be tempting to opt for classics like Cappadocia's Emir, the south-eastern region's Öküzgözü and Ankara's Kalecik Karası, but it certainly doesn't hurt to branch out a little. Cheese and cured meat plates, five or six daily meze dishes, two types of salad and two types of pasta accompany the wines. You can even take your wine to go, which actually gets you a 25 per cent discount.
Even though Solera Winery opened only recently, it has a serious crowd of regulars, most of them expats. Sometimes they grab their wines and head home, while at others, they stay to hear Süleyman Er's thoughts and lessons on wine during mini-wine tasting sessions. Solera Winery's decor, perfectly in harmony with anything oenopoetic, was designed by Emre Evrenos, while the walls of the gallery host another photography artist each month. Throughout February, you'll be able to see Özgün X's India-themed photographs, which are offered for sale.
FROM THE MENU
Meze dishes 5 TL
Cheese plate 15 TL
Cured meat plate 20 TL
Pastas 12-15 TL
Red house wine by the glass 8.5-13 TL by the bottle 28-110 TL
Details