Heads up! We're working hard to be accurate – but these are unusual times, so please always check before heading out.
The 10 best Turkish street foods
We give you an overview of the best street eats in the city
Istanbul might be a goldmine of culinary variety, but it's no secret that dining at the city's most fashionable restaurants can leave a hole in your wallet. Whether you're in a hurry to fill your stomach or your funds are running a bit low, this list of the best street food is sure to come in handy the next time you're looking around the corner to find a meal.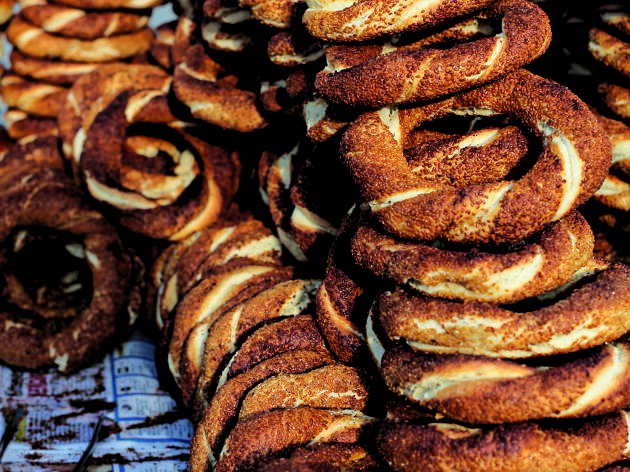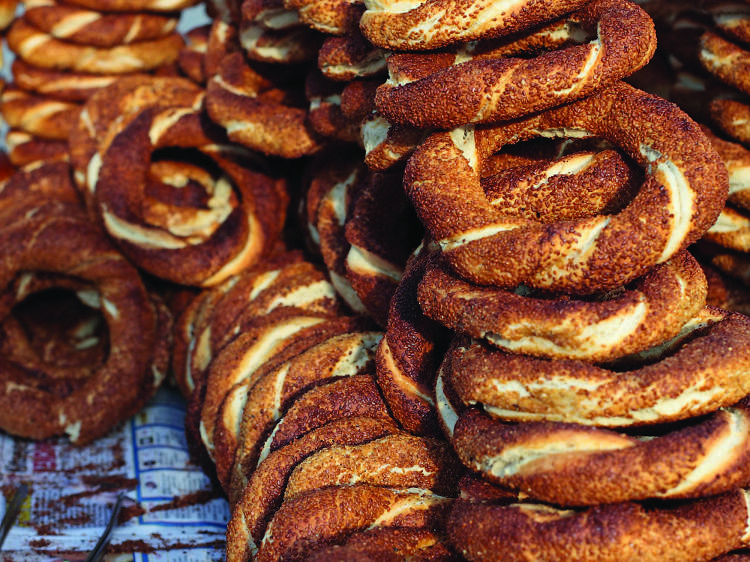 It's a well-known fact that even the most elite of Istanbulites have a hard time resisting the tantalising scent of this freshly baked, molasses-dipped and sesame-crusted dough. Turkey's answer to the American bagel,
simit
is a staple of breakfasts on-the-go. Even day-old
simit
has its use as seagull feed.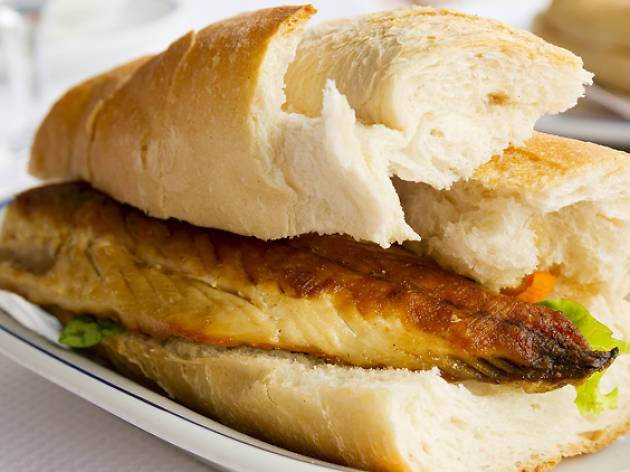 The number two most popular street food in the city is indisputably
balık-ekmek
, better known as the fish sandwiches that are impossible to ignore anytime you're near the Karaköy or Eminönü shore. You might be tempted to sit down at any one of the restaurants below the Galata Bridge to feast on these tasty sandwiches, but take it from the locals: the
balık-ekmek
you're served at a table is just not the same as the one you enjoy on your feet.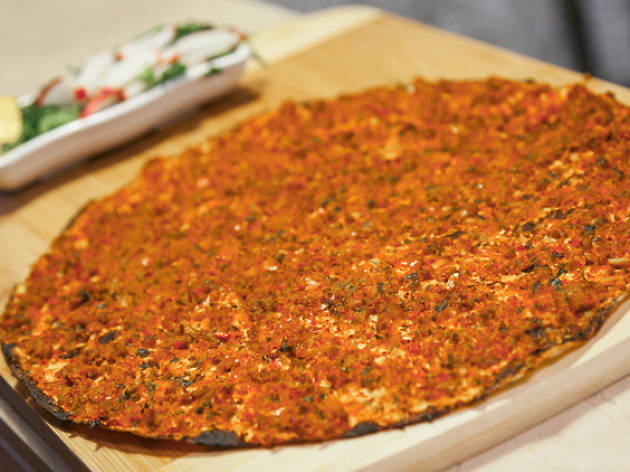 Often referred to by tourists as 'Turkish pizza',
lahmacun
is a very uncomplicated meal of thin dough topped with a minced meat-onion-red pepper mixture, slid in the oven for a few minutes and served piping hot. It's customary to top it with a handful of parsley and a squirt of lemon juice, then roll it into a wrap and enjoy with a glass of cold
ayran
. Although just about every neighbourhood has its favourite local
lahmacun
joint, some of the best we've tasted are from Halil Lahmacun and Borsam Taş Fırın in Kadıköy and Fıstık Kebap in Arnavutköy.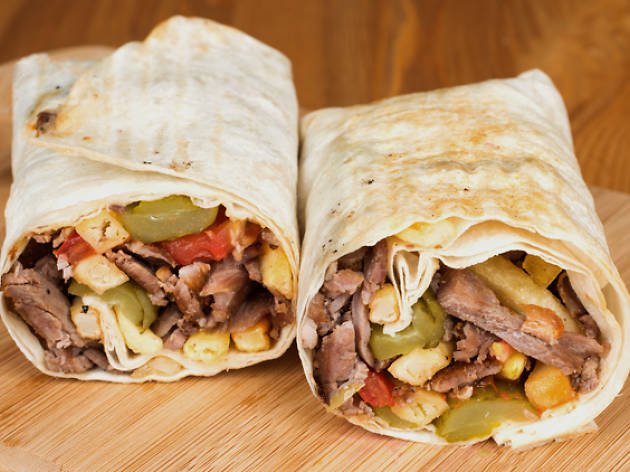 Dürüm
is one of the most democratic Turkish culinary inventions. Why? You're just as likely to encounter it on a street corner as you are at the fanciest of restaurants. Whether it's the chicken, beef, cheese or veggie variety you prefer,this meal in wrap form is sure to set you free from your hunger pangs. For crowd-pleasing
dürüm
, stop by Bambi or Kızılkayalar in Taksim Square at any hour of the day.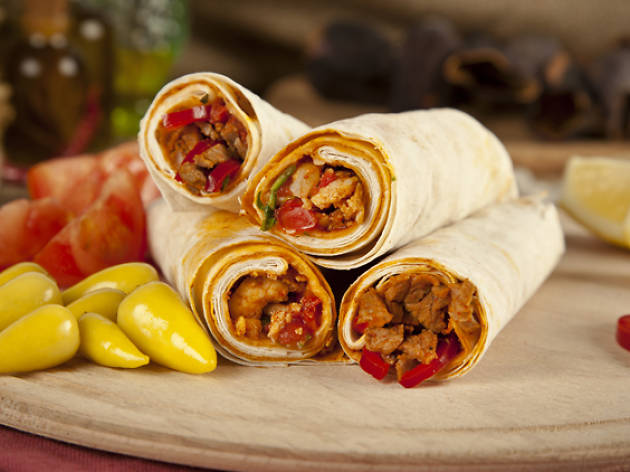 A close relative of the
dürüm, tantuni
features beef, tomatoes, peppers and a generous sprinkling of spices wrapped in the thinnest tortilla imaginable. It usually comes in spicy and less-spicy versions, though most Mersin natives (the hometown of
tantuni
) believe it's not the real thing unless it leaves a burn on your lips. One of the best places to get authentic
tantuni
in Istanbul is Emine Ana Sofrası on Billurcu Sokak in Taksim.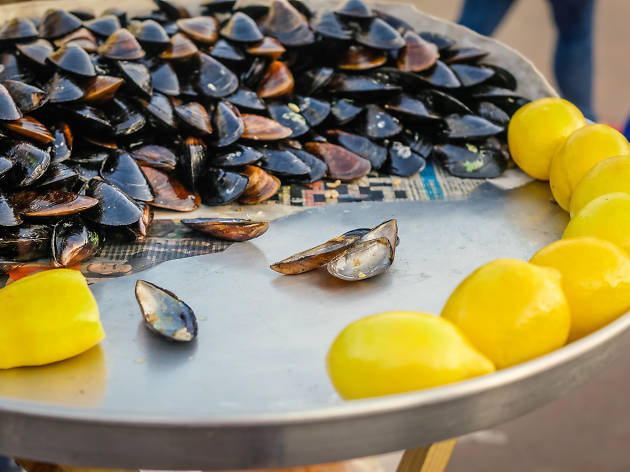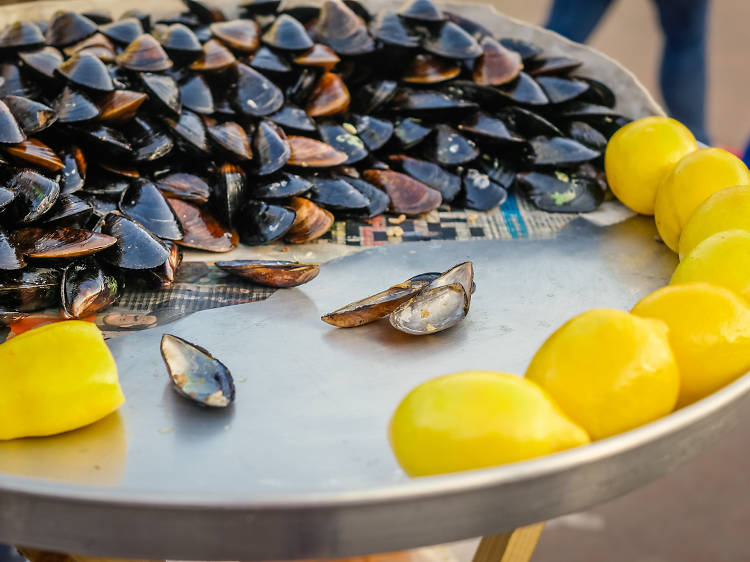 More of a snack than a meal,
midye dolma
is none other than mussels on the half shell, mixed with spicy rice and served with a squeeze of lemon juice, served right out of a tray on every other street corner in Taksim at night. The trick with
midye dolma
is to keep eating as many as the seller gives you until you feel half-full and then stop. Otherwise, by the time the rice expands in your stomach and your brain receives the message that you're full, you might look down to find that you've spent upwards of 20 TL – and worse, you just might start to feel
too
full.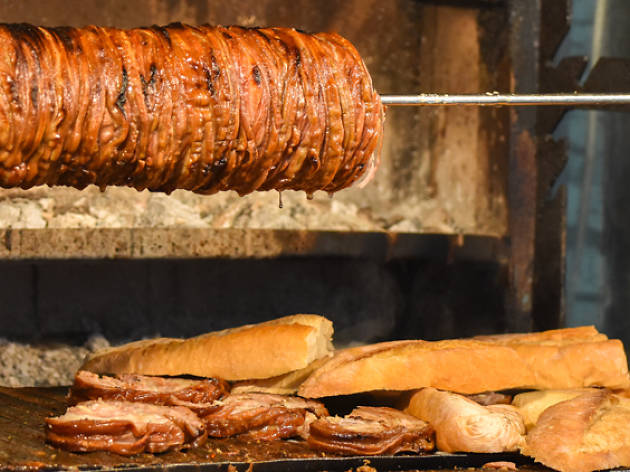 One of the most controversial street eats out there,
kokoreç
is actually spiced and skewered sheep's intestines, served in either half or quarter of a bread loaf with plenty of grease and salt to go with. No wonder it's everyone's favourite post-drunk food – after all, it takes a real lack of inhibition to feast on guts. What sets most people off about
kokoreç
is that, given the part of the animal used in the meat, it's of utmost importance to clean it thoroughly. Thankfully, one of the most popular
kokoreç
chains, Şampiyon Kokoreç, is sure never to disappoint.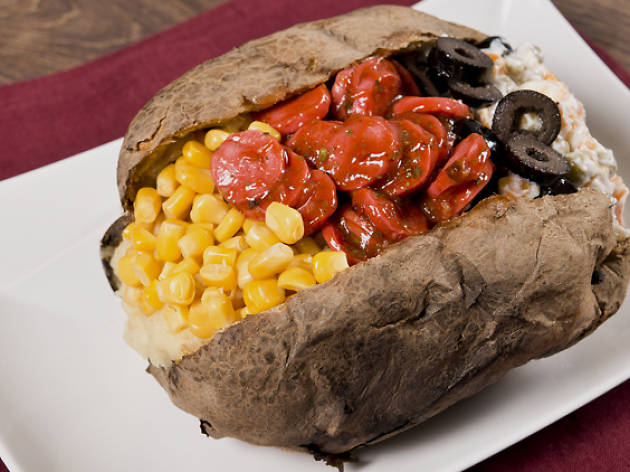 The ultimate baked potato goes by the name
kumpir
in Turkey, with Ortaköy being the most popular area in the city to eat it. As soon as you see the row of
kumpir
sellers, each trying to beckon you to their particular display, you'll know you found the right place. With a myriad of toppings like
kaşar
cheese,
sosis
, corn, mayonnaise salad, peas and carrots, the possibilities are endless and the combinations infinite when it comes to
kumpir
.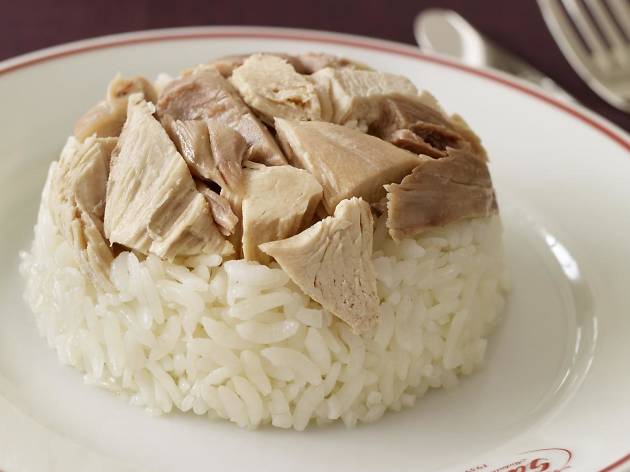 Ever thought you'd eat chicken and rice on a street corner? Probably not, but in Istanbul, that counts as lunch for a greater number of people than you'd imagine. It's fast, hot and filling. It's easy to spot the men selling it in glass-covered carts around town, but locals swear that there's something special about the cart located right in front of İstanbul Manifaturacılar Çarşısı in Unkapanı.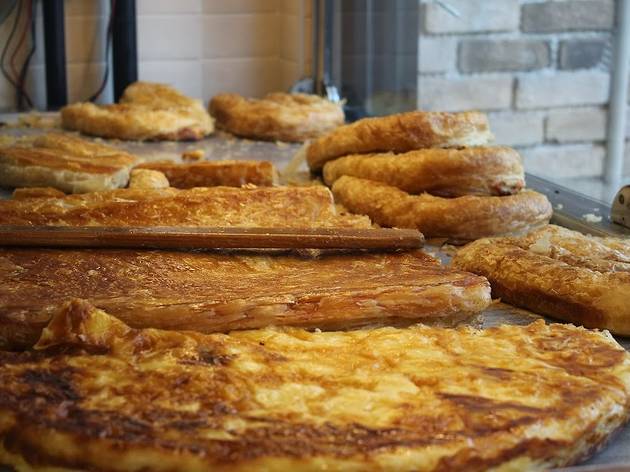 Thought all
börek
was served at home or in bakeries? Think again. Particularly popular with plaza workers seeking an alternative to
tost
for breakfast in the morning, street
börek
usually comes with cheese between layers of dough. Unfortunately, most
börek
you'll find on the street is rather bland in comparison to the homemade variety, but when you're in a pinch, it definitely will do.