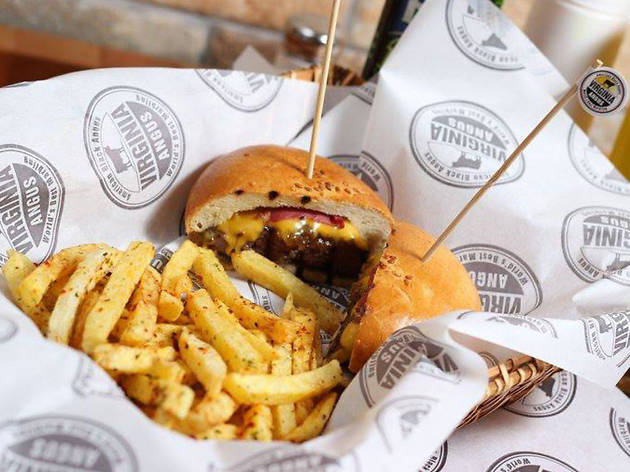 Time Out says
Friendly warning! We're working hard to be accurate. But these are unusual times, so please check that venues remain open.
As you're probably well aware, Angus is the most fashionable cow of late. A Northern Scotland native, this pitch-black, hornless, fat cattle is famous for its easy maintenance and great flavour. Now, the farm that 'brought Angus to Turkey', Virginia Angus has its very own restaurant – which is great news for Istanbul.
Beyond the trinket shops on Uzunçarşı Caddesi, you'll see the tiny gourmet hamburger shop/steakhouse/butcher equipped with only 8-10 tables. Here, the meats that come from their farm in Sakarya get transformed into carnivore happiness, beginning with the starters. We try the thinly sliced 40-g Angus, smoked to perfection without the slightest hint of ash.
But you're not here for starters, are you? Take your pick from the 120- or 200-g meat and ready yourself for a juicy burger served in the sesame-crusted white bread baked on premises. The house burger comes only with tomatoes, lettuce and caramelised onions so as not to distract from the taste of meat (no pickles here). The cheeseburger gets a double serving of cheddar, while the spicy New York burger comes with cheese, onions and spicy sauce – great for those who enjoy a little heat, but we still can't help thinking that adding sauce to the meat is a bit of a disservice to it. Those looking for a different burger can also opt for the 'lokum' (grilled steak), which comes in 120- and 180-g portions. Still, the king of all burgers here is hands-down the Virginia burger, served in 120-, 200- or 240-g portions with smoked beef, caramelised onions and cheddar. The flavourful blend of thick, juicy meat with the delicately folded smoked beef, the rather sweet bread and cheddar briefly takes us to another world.
What's even better is that these decadent burgers come with a very reasonable price: all of the 120-g burgers except the lokum burger cost 10.75 TL, while the 200-g burgers cost 13.75 TL (house burger: 12.75 TL).
If you find yourself seeking an alternative, you can try the chargrilled gourmet sucuk (spicy Turkish sausage) plate, which comes with pistachio, walnut and halloumi cheese varieties.
For those really hard pressed to make a decision, Virginia Angus offers a 'surrender to the chef' option, a 420-g journey into flavour that would easily satisfy two people for just 36.75 TL.
In short, Virginia Angus seems destined to rustle some feathers here in Istanbul. And we couldn't be happier.
Details