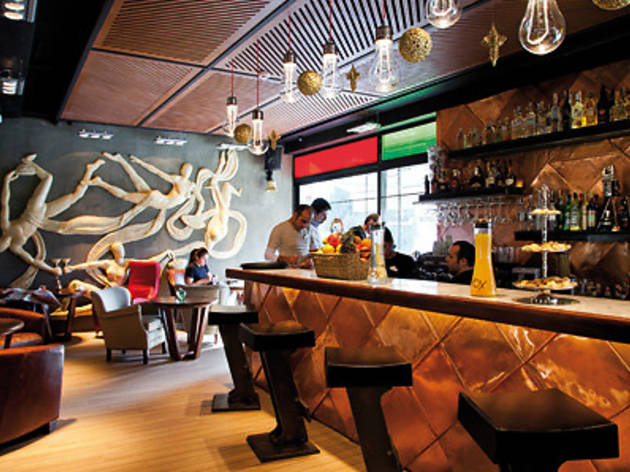 Right at the entrance to Hillside Etiler, a door opens to Vox (meaning 'sound' in Latin), and you enter a whole different world. This space resembles a long corridor, with the tall windows lending it an airy atmosphere as well as a view. The furniture, accessories, large strawberry sculpture and glass sword filled with a whisky-coloured liquid all leave their mark on your memory. Before you can even skim the eatery for a suitable table, a member of the friendly crew comes to assist you.
The menu's quite extensive here, overseen by Belgian chef Gilbert Samanyan. After we place our order, owner Arzu Hanım enters the kitchen herself and prepares our food. She informs us that she fell in love with cooking while studying law in Belgium; upon extensive research, she and partners Vittorio Zagaia, Volkan Sarıcı and Aram Kalenderoğlu decided to open up Vox. The ice creams, breads, pasta and waffles are prepared fresh and daily in Vox's kitchen, with no frozen or ready-made products used in any of the dishes, ever. The quality of ingredients is evident in the flavour.
Some of the most promising dishes at Vox are the Italian, French and Belgian ones, namely ossobuco alla Milanese, cheese fondue, skewered swordfish, veal rulad, linguine lo scoglio and, of course, the mouth-watering Brussels waffle, made with a machine brought especially from Brussels. Given the quality of ingredients, the friendly atmosphere and the appetising presentation, the prices are very reasonable at Vox. Vox has recommendations for every hour of the day. Take the cinema menu, for example. You can call the restaurant several hours before your film begins and make your selection, and they'll prepare a specially-designed cinema menu of salmon rolls, seafood, churros, a cheese plate or a charcuterie plate, paired with an alcoholic or non-alcoholic drink – what's more, they'll deliver it all the way to your seat. A word of warning: reservations are a must for brunch, as Vox already has quite a few regulars. To emphasize our point: don't miss out on the Brussels waffle. The creamy texture after you bite into the crunchy exterior, coupled with vanilla ice cream, are enough to get your happiness hormones going.
FROM THE MENU
Polipo Calamari e Patate 20TL
Couscous Salad 13/17 TL
Vow Wrap w Meat 18.5TL
Pepperoni Pizza 25TL
Frutti di Mare 26TL
Venue name:
Vox Brasserie
Contact:
Address:
Alkent Sitesi, Tepecik Yolu 22/14
İstanbul


Opening hours:
08.00 - 23.00 daily