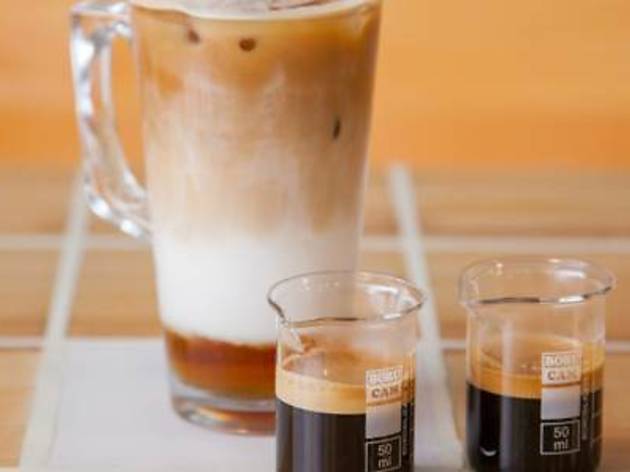 Time Out says
We first met the Walter's team clad in yellow overalls at the Istanbul Coffee Festival last December. At the time, they went by the name Heisenberg, which they promptly changed so as not to be confused with the Karaköy venue of the same name.
Walter's Coffee Roastery's minimal design is courtesy of Gu¨ray Oskay. The spacious interior, the outlets on each table and the fast fiber-optic Internet connection make this a haven for freelance workers. The Breaking Bad inspiration isn't in-your-face – save for the lab beakers used during service or the yellow overalls the baristas don when roasting coffee, so you're not constantly reminded of Mr. White while you're here.
Now let's talk a bit about coffee. At Walter's Coffee Roastery, the beans (including Colombian Supremo) are roasted in-house. Regular varieties such as espresso and flat white range from 6-9 TL, while drinks prepared with more intricate methods like the Chemex and siphon range from 10-15 TL. It would be an overstatement to call the space a "coffee lab" – it's simply a Breaking Bad-themed coffee house with freshly roasted beans. Owner Deniz Koşan says they're open to improvement and plan to host tasting events, workshops and personalized roasting options in the future. Walter's is currently working on sorting out membership packages for those who want to use the space as an office. The menu is also being expanded. On our visit, they were serving breakfast options like bagels (9 TL with cream cheese) and the Walter's breakfast plate (19 TL) featuring American-style sausage, eggs and pancakes.
Walter's Coffee Roastery
Badem Altı Sokak 21/B, Moda.
facebook.com/walterscoffee.
Daily 10.00-22.00
Details