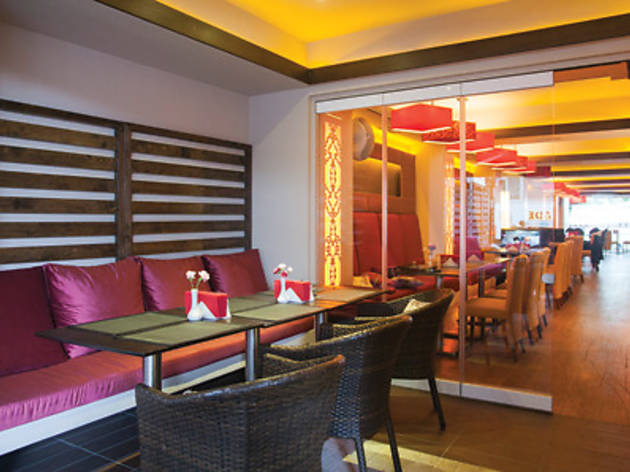 Located on Küçükbebek Hill, Zenith is a two-storey pub-bar-bistro. Service begins with breakfast and lasts until midnight, though the décor and lighting make it more of a bar. There's a secret garden out back and a porch out front for summertime sunbathing.
The owners are hotel managers abroad, so they're well informed about the ingredients used in the kitchen, focused on maintaining standards on everything from the butter to the champagne and offering them at a reasonable price. The breakfast menu includes classic hotel breakfast fare such as Turkish and Zenith platters as well as omelettes, menemen (an egg-based dish that includes green peppers and tomatoes), toasts and fresh fruit juices. The rest of the menu has an international streak, with meat and cheese plates as starters as well as gazpacho, chicken and seafood soups; goat cheese, tuna and Norwegian salads; dishes for two like la cote de beuf; red meat options like T-bone steak, tartar, skewered veal and grilled pork; and white meat dishes.
You'll also find a variety of seafood, some of the specialties being mariner şiş (skewered seafood), shrimp flambé and grouper tartar, while the venue hosts a seafood brunch on the weekends. The café gourmand dessert plate lets you sample smaller portions of tiramisu, apple pie and cheesecake with espresso or tea. The wine menu of regional vintages like Kutman, Büyülübağ and Kavaklıdere is somewhat limited compared to the international offerings we're used to seeing around town, though it's quite generous when it comes to champagne and sparkling wine. We recommend sticking with the cocktail menu of specialties like Zenith, Madame De... and Sexomania.
FROM THE MENU
Zenith breakfast 20 TL
Cold gazpacho soup 12 TL
Mariner şiş 32 TL
Cafe gourmand 12 TL
Zenith (cocktail) 28 TL
Venue name:
Zenith Restaurant & Bar
Contact:
Address:
Küçükbebek Caddesi 14
İstanbul


Opening hours:
Monday-Thursday 12.00-23.00; Friday, Saturday11.00-00.00; Sunday 11.00-23.00.