High-spirited accessories at Happy-Nes
The founders of Happy-Nes let us in on their brand's vision of transforming everyday objects into colorful accessories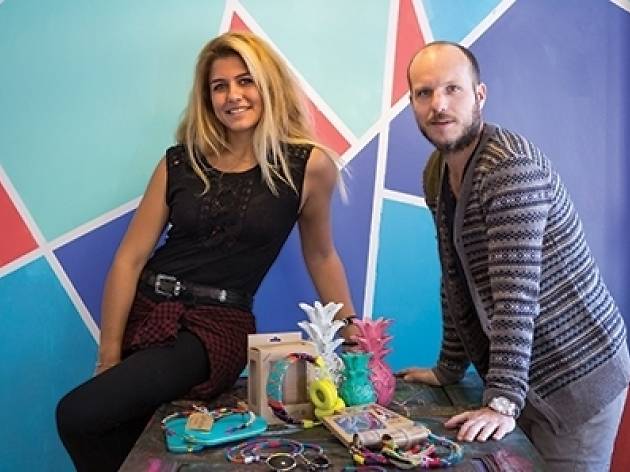 We'd like to introduce you to a brand whose creators are just as colorful as their products. The founders Karaso, are travel enthusiasts who met in 2013. Unlike most couples, their courtship involved trips to exotic locations like Zanzibar and the Philippines. The duo even spent several months living in Zanzibar, immersed in the locals' unhurried approach to life – illustrated by the Swahili expression "pole – as well as the rich local culture. Just one look at Happy-Nes's colorful everyday items is enough to reveal how much of an influence aesthetic approach.

Kaleidoscopic headphones
Given that Happy-Nes owes much of its popularity to its best-selling headphones, we were surprised to learn that the decisive factor in shaping these accessories' design was a windless day. While working as a (who was also the Turkish women's freestyle champion) used to wear these colorful strings in her hair. One day, when waiting for the wind, she got the idea to wrap them around her headphones and post a photo of it on Instagram – an act that resulted in a slew of orders coming in. You can now purchase Happy- Nes-ified versions of Apple, Urbanears and Philips brand headphones for 90-185 TL.

Everyday items infused with color
The colorful materials secured around Happy-Nes headphones also adorn phone- charging cables, flip-flops, earrings and bracelets. Yes, we're talking about those ubiquitous Apple-brand cables (125 TL) – you know, the ones we're all guilty of destroying through daily use or misplacing when we confuse them for our friends' cables. After receiving requests from mothers who frequently misplace their eyeglasses, Happy-Nes got to work creating colorful eyeglass cords (35 TL), which are surprisingly popular with young shoppers who love the tiny metal turtles, pineapples and other accessories adorning the cords' ends.
The newest items to join the Happy-Ness family are bag charms (140 TL), which allow you to customize your trendy backpack. With summer only a few months away, we suggest planning ahead and investing in their neon-colored accessories to help you stand out on the beach.
To find out more about Happy-Nes, click here.