Turkish fashion designers on the rise
With Istanbul on its way to cementing its status as an international fashion destination, we take a closer look at five young Turkish designers with a promising future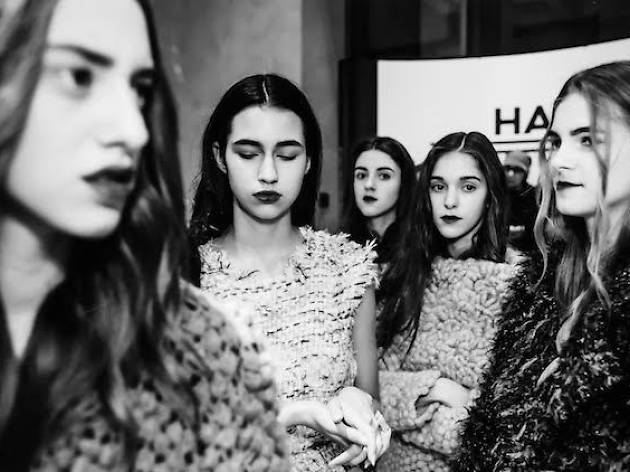 The wearable art of Bashaques'
There are those people who know, at a young age, what they want in life, and never stray from their path. Başak Cankeş is one of those fortunate people. While studying fashion design in her hometown of Izmir, Cankeş caught the attention of Bora Aksu with one of her projects, which allowed her to travel to the U.K. to intern with the famous designer. Upon graduation, Cankeş honed her skills by working for designers like Günseli Türkay and Gül Ağış.
The real turning point in Cankeş's career came with photographer and film director Murathan Özbek's photography exhibit, Once. As she toured the show, Cankeş began to wonder what it would be like if these photographs were to be featured on clothing. First, she combined Özbek's photographs with her own designs. Cankeş then teamed up with textile artist Fırat Neziroğlu, who used hand weaving to incorporate the photos' surreal elements into the garments. The result was a collaborative collection, also named Once, which Cankeş premiered at Mercedes-Benz Fashion Week Istanbul with her brand Bashaques'. The collection drew praise from both Turkish and international press, winning Cankeş the Mediterranean Fashion Prize as well as a spot on the YOTA initiative hosted by London's Centre for Fashion Enterprise – and making her the first Turkish designer to hold either distinction.
For her Fall/Winter 2016 collection, The Door, Cankeş once again collaborated with Fırat Neziroğlu, this time to adapt the works of Antoni Gaudí. The collection brings to life the unmistakable colors, mosaics and details of Gaudí buildings in Neziroğlu's hand-woven designs. Each piece in the collection is unique, which reflects the designer's motto of creating "wearable art." In stark contrast to the mass-production mentality of fast fashion, Cankeş chooses to produce singular, one-of-a-kind pieces, turning every Bashaques' runway show into a walking art exhibition. Her presentation at Mercedes-Benz Fashion Week Istanbul last October, which was equally inspired by Salvador Dalí's works and Ottoman miniatures, drew plenty of applause from attendees both for the looks on the catwalk and for the modern dance performances and bespoke fragrances that accompanied them.
A gifted designer whose artistic vision brings together different disciplines, Cankeş is a risk taker who has succeeded in drawing the attention of fashion authorities early on in her career. We have absolutely no doubt that we'll hear more from the Bashaques' brand in upcoming years, in both the spheres of fashion and art, in Turkey and around the world.
The quirky world of Ece Özalp
When you google young designer Ece Özalp, the first thing you see is her slogan, "dreams of a futuristic child." Brief and to the point, this characterization is the perfect way to describe the colorful and often eccentric world of the designer. Özalp's designs reflect the impeccable harmony of contrasts, as retro influences and athletic forms come together with a futuristic presence. The garments exude a sense of luxury, and the bold prints in particular offer us glimpses into the imagination of the talented young designer.
After studying international finance, Özalp chose to follow her passion by launching her eponymous label in 2015. What she's managed to achieve since then is nothing short of staggering: Fashionclash Festival and Salonè della Moda in the Netherlands and the Identity Dress Exhibition in the National Museum of Slovenia are only a few of the international events she's been invited to. Last February, she got to show her designs alongside 13 artists from around the world at the We Are Able Fashion Tech Festival in Paris, and just a few months ago she was invited to Vienna Fashion Week to present her collection.
One of the most promising young Turkish fashion designers, Ece Özalp's talent lies in her ability to think on a global scale since the moment she launched her brand. Given her effective use of the resources that the internet offers, as well as her drive to go after international events that bring together young designers, it's no accident that Özalp succeeded in making a name for herself all around the world only a year after launching her brand. In terms of creativity, her mastery of digital print and technological fabrics have allowed her plenty of freedom in her pattern designs – as best illustrated by her Fall/Winter 2016 collection Reflection, whose print patterns draw inspiration from the interaction of mankind with nature and architecture.
Bohemian meets modern at House of Ogan
One of the greatest advantages young Turkish designers have over the previous generation is the experience they gain working for international brands at a young age. Gizem Ogan is one such designer who built her portfolio at brands like Zac Posen, Anna Sui and Karolina Zmarlak both during and after her studies at The Fashion Institute of Technology New York. In building her brand House of Ogan, the young designer was greatly inspired by the cosmopolitan identity of both New York and Istanbul – in fact, when asked what her biggest source of inspiration is, Ogan simply states, "City life itself."
House of Ogan collections combine traditional craftsmanship with natural materials and are put together with the same attention to detail as an artisanal brand. Nowhere is this more evident than in Ogan's nubuck leather jackets, which have become a trademark of the label. The Fall/Winter 2016 collection, Modern Bohemia, aims to add a bohemian touch to city life, as inspired by the Silk Road's importance in fostering contact between civilizations for centuries. The leather skirts, velvets and fur-accented quilted pieces in the collection offer a fresh take on metropolitan dressing. There's a great deal of labor that goes into creating each of the brand's pieces, particularly the hand-woven cashmere and wool items. Gizem Ogan has already started to make waves in both cities that inspired her brand, presenting House of Ogan's Spring/Summer 2017 collection in the "Fashion Istanbul" show held at New York Fashion Week. The designer is rightfully proud of her success in putting House of Ogan on the international fashion map.
Leather and more at L'Atelier Caché
The founder of L'Atelier Caché, Nihan Topaloğlu is another young designer who chose to go after her love of fashion after concentrating on a different course of study in college. What's more, her background in art history proved quite useful when creating her own look as a fashion designer. Upon graduating from the joint program of Istanbul Technical University and The Fashion Institute of Technology New York, Topaloğlu went on to win not only the first-place prize at Tommy Hilfiger's East Meets West with an American Edge design contest in New York (where she received the award from Hilfiger himself) but also the chance to intern at the head office of Tommy Hilfiger Global in Amsterdam. Her experience living abroad also helped Topaloğlu choose her area of specialty: jackets and outerwear. Concentrating on such a limited field – and building a brand around it – might sound highly ambitious, but the success of L'Atelier Caché owes a great deal to Topaloğlu's vision of building a collection where each brand has an attitude all its own.
Topaloğlu creates her pieces with the modern woman in mind, whom she describes as a present-day Amazon warrior navigating the chaotic pace of city life, armored in clothing that makes her feel good, strong and chic. One of her biggest assets as a designer is her mastery of architectural forms, no doubt owing to her art history education. In her Fall/Winter 2016 collection, Further, Topaloğlu succeeds in making pastel hues winter-appropriate by pairing fur-accented wool coats with black leather dresses. A regular guest in international fashion fairs, Topaloğlu recently presented the Spring/Summer 2017 collection of L'Atelier Caché in the "Fashion Istanbul" show at New York Fashion Week. Whether it's for her courage to launch an outerwear-focused brand or her tenacity to show it in the world's leading fashion capitals in just a few short years, Topaloğlu absolutely deserves to be ranked among the most influential young designers to come out of Turkey in recent years.
A tribute to grandeur with Sudi Etuz
Flip through any Turkish fashion magazine these days and you're likely to see the designs of Şansım Adalı, who's presented two collections to date at Mercedes-Benz Fashion Week Istanbul. After launching her brand Sudi Etuz in 2009, Adalı also made a name for herself as one of the co-founders of Kumpanya 62, a fashion boutique in Teşvikiye that opened in 2010. Although now closed, Kumpanya 62 was somewhat of a first in Turkey, presenting collections by young local designers at a time when fashion was just becoming fashionable hereabouts.
If the Kumpanya 62 project offered us a glimpse at the innovative vision of Şansım Adalı, her Fall/Winter 2016 collection reflects the meeting of this vision with the designer's passion for grandeur. Inspired by the look and feel of the Studio-54 era, the collection is devoted to the romantic, feminine and impossibly elegant woman. There's plenty of pomp to go around, with brocade, velvet, satin and cream fabrics, sequins and leopard prints begging to be worn by women with a penchant for bold fashion. And judging by the holograms, bold stripes and abundance of frills in the Sudi Etuz Spring/Summer 2017 collection shown at Mercedes-Benz Fashion Week Istanbul last October, we can expect plenty more daring feats of fashion from Adalı in the future.