Heads up! We're working hard to be accurate – but these are unusual times, so please always check before heading out.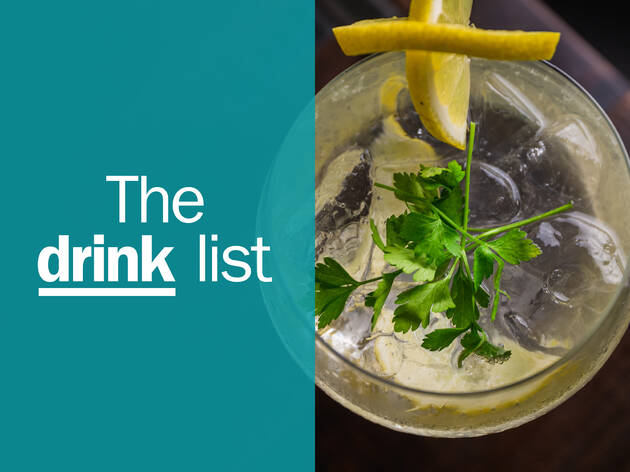 The 10 best Key West bars
At the center of a recently revamped scene, the best Key West bars range from the fancy to the comfortably casual
While it's taken until recent years for this Florida Keys island to catch up to the cocktail renaissance happening elsewhere, the days of pre-fab sour mix and oxidized vermouth have been all but washed out to sea within the best Key West bars. Today, this southernmost U.S. island is as comfortable shaking up bespoke concoctions as it is dispensing frozen to-go piña coladas from open-air bars on devil-may-care Duval Street or the Last Call Bar at the tiny Key West airport.
The thing about Key West is that the destination is comfortable with its own simplicity, offering timeless things to do, delicious restaurants and relaxing beaches, all of which contributes to a culture that allows for the beer-and-a-shot revelry of old haunts like the Green Parrot or Sloppy Joe's to co-exist with serious drink destinations like Point Five Lounge and the brand new General Horseplay. Old Town is still where the brunt of the action is, but while Duval remains the city's designated drag for cruise ship crawlers and weekend warriors, its high rents have spawned a swathe of new spots on side streets like Fleming and Caroline.
Whether you're looking for a casual stool from which to kick off your flip-flops and do a little margarita day-drinking, a low-key wine bar worthy of oenophile admiration or a sophisticated sunset perch to dive into a Hemingway daiquiri, our Key West list has got you covered.
Best Key West bars
Photograph: Courtesy TripAdvisor/Uva
Where: Old Town
Since opening in February 2013, New York expat Mark Gambuzza single-handedly upped the ante on the once near-desert wine scene here, forever changing cork-popping for the better. This Fleming Street spot is both a boutique wine store and 20-seat bar with 300 beauteous bottles from which to choose, as well as about a dozen seasonally changing by-the-glass options and plates of cheese and charcuterie to complement them. Gambuzza doesn't go for big, eye-catching names – instead, he gets jazzed about gently turning the stalwart Sauvignon Blanc devotee to grapes like Vermentino or Verdejo.
Photograph: Courtesy TripAdvisor/Point 5 Lounge
Where: Downtown
This isn't your typical Duval Street haven of hoopla. Tucked into the top floor of a fanciful 19th-century Victorian home (above the excellent Nine One Five restaurant), the squared-off horseshoe of a bar at Point 5 Lounge is a great place to get away for quiet conversation over well-made cocktails, like the signature Nine-One-Five, a riff on a New York sour made with Michter's rye, Disaranno, fresh lemon juice and local honey. Even a basic G&T gets the special treatment, with house-made tonic. This is a gun-free destination.
Photograph: courtesy Key West First Rum Distillery
3. Key West First Rum Distillery
Where: Historic Seaport.
If you've never indulged in the pleasure of really good rum, served neat or over a few cubes of ice, the bevy of full-bodied Florida-cane sourced juice that chef/distiller Paul Menta is making in this former Coca-Cola plant might alter your spirited world for the better. Sip through the lot at his Simonton Street distillery, hit a quick tour of his shiny Vendome stills and learn about the rum-making process from Menta himself, or sit in on one of the daily mojito making classes (he learned the skill at Cuba's famed Bodeguita del Medio, where Ernest Hemingway is said to have sipped his when he wasn't holding court at his Whitehead Street home in the Conch Republic).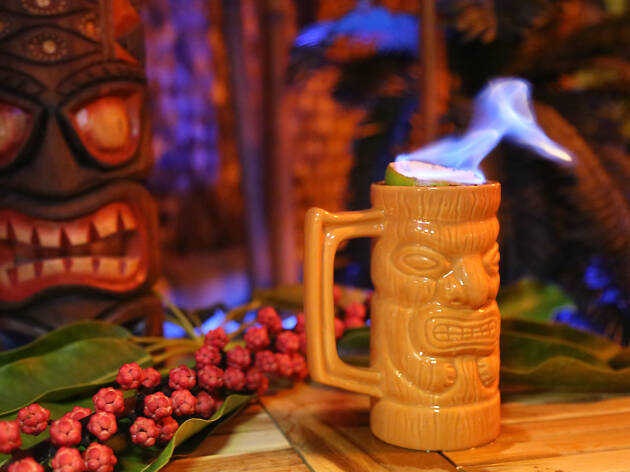 Photograph: courtesy Tiki House
Where: Old Town
As tropical as Key West is, this Greene Street take on tiki feels even more other-worldly, and not just because of its kitschy bamboo tables, palm frond and flower-laden décor. It's the Easter Island-inspired mugs full of classic rum-laden delights curated by barman Tim Rabior (house-made falernum, anyone?) that really make this an exciting addition to the Old Town bar scene – and a good reason to bust out a mumu or vintage Hawaiian shirt that's been hiding in the back of your closet.
Photograph: Courtesy Yelp/General Horseplay
Where: Old Town
Even though 2017's Hurricane Irma destroyed the much-beloved 2 Cent Restaurant & Bar on Applerouth Street, serial bar owners Chris and Livi Schultz found new inspiration. Their latest spot uses the methodology that's proven profitable in the past: really great drinks (like the rich but bright take on the negroni with Bols genever and Galliano L'Aperitivo, or the popular Summer Is Coming, made with peppery Ancho Reyes Verde, fresh watermelon, lime juice and jalapeno) and an easy-going atmosphere fueled by a dice-rolling happy hour (low numbers mean low drink prices) alongside stand-out live music.
Photograph: Courtesy Yelp/Hot Tin Roof
Where: Historic Seaport
Although more well known for its upscale dining than cocktails, Hot Tin Roof (yes, that's an homage to Tennessee Williams) is worth the effort involved in gussying up and hiking the stairs for a night spent at a lovely Key West respite inside the Ocean Key Resort & Spa. Grab a stool at this upscale restaurant's cozy, elegant bar – or, better yet, an outdoor sunset-facing table on the porch looking out over pretty Key West Bay – and order a tart, refreshing Hemingway daiquiri as the sun goes down on another day in paradise.
Photograph: Courtesy Yelp/First Flight
Where: Historic Seaport
For decades, this open-air joint on the corner of Caroline and Whitehead Streets was Kelly's, the former 1920s ticket office for Pan Am turned brewery and restaurant, owned by the actress Kelly McGillis. McGillis successfully used the building's history to capitalize on her own high-flying Top Gun fame, and the current proprietor, Damian DeAngelis (who also owns local spots Bagatelle and Nine One Five) isn't messing with a good idea. First Flight still offers the popular house-brewed Red ale, along with an IPA and a wheat beer. Only now, he's upped the ante on the quality of the drinks, with better booze, fresh juices and a fun list of beer cocktails that go well with the balmy weather and six-hour, confit-style happy hour chicken wings.
Photograph: Courtesy Yelp/GlitchCraft Cafe and Gameroom
8. GlitchCafé and Game Room
Where: Historic Seaport
Opened at the dawn of 2019, one of Key West's newest additions is focused squarely on bringing you back to your old, nerdy, superhero-laden past – because it was fun. Here, you get to play with Slinkies while choosing from one of 24 craft beers on tap, the most currently offered in town. With its bevy of board and vintage arcade games (Super Mario and Star Trek pinball among them), this Simonton Street throwback, housed in the former digs of the Infinity Hair Salon, is technically a café with a beer and wine license, so enjoy both sake and nitro cold brew on tap when picking which method of satiation to lean into.
Photograph: Courtesy Yelp/Christian Q.
Where: Old Town
It's just a slip of a spot overlooking the pool at this Deco-goes-tropical hotel, but the sweet little Orchid Bar is one of Key West's little known pleasures as much for its ever-present giant jars of spirits soaking in fresh fruits, herbs and veggies (like the lemon-ginger, pineapple or jalapeno-sundried tomato vodka infusions) as for the notion that it manages to be a surprisingly peaceful haven on one of the busiest corners of Old Town.
Photograph: Courtesy Yelp/Julie M.
You might want to consider the Green Parrot a southern rite of passage. If you haven't stopped here – to loiter by the open-air windows when the music by a roster of nightly bands flows out onto Whitehead Street or to sit beneath the enormous parachute-covered ceiling at the bar for a cold beer and to take in the liberated dance moves of tourists and locals alike – you simply haven't been to Key West. In fact, if you ever find yourself jonesing for a visit, tune into the 24-hour live streaming bar cam – that way, you won't ever miss any of the action.
Want to spend time outdoors?
Most of the best Key West beaches are tucked away like hidden treasures. After all, this is not your typical beach town: the velvety-smooth sand dotting our man-made island has been imported from the Atlantic Ocean, the Gulf of Mexico and beyond and has to be occasionally replenished.