Heads up! We're working hard to be accurate – but these are unusual times, so please always check before heading out.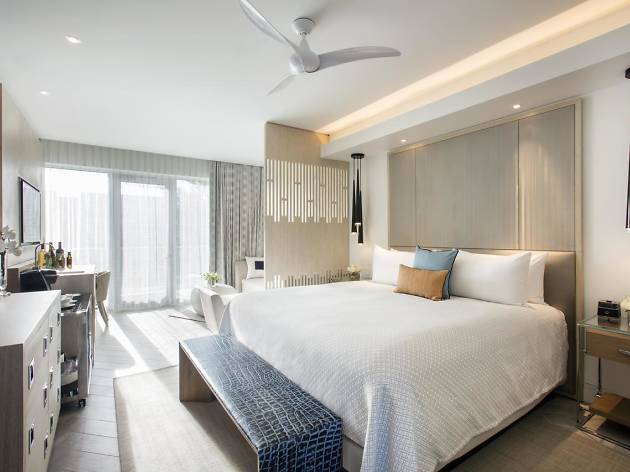 The 10 best hotels in Key West
Soak up the best of the Florida Keys from the comfort of your room, be it in a lavish resort or cozy guest cottage
Arriving at the Key West International Airport, travelers are greeted by the sound of rustling palm trees and a delightful absence of crowds. It's time to switch into a lower gear. Key West, famous for its plentiful things to do on land and in the water, its colorful Duval Street bars and restaurants and its splendid ocean outlooks, has been a dependable coastal escape for travelers of all walks of life. And at the best hotels in Key West, absolute relaxation is the number one concern.
Here, we've rounded up blissful private cottages, rollicking oceanfront resorts and historic mansions remade as luxury inns. However you choose to unwind in America's southernmost city, we've got you covered.
Best hotels in Key West
Photograph: Courtesy Booking.com
1. Lighthouse Court Hotel
A quaint, tropical setting for mojitos and cornhole games, without the cookie cutter feel of a typical resort
A lazy mojito by the pool is de rigueur at this verdant hideout along Whitehead Street, which is fronted by a neat white picket fence and borders the Key West Lighthouse. While it's ideally suited for couples, it's a solid choice for anyone who appreciates turn-of-the-century glamor: each of the ten guesthouses on the property display original tin roofs, wood siding and the classic porches that make this stretch of town so utterly photogenic. Not to mention, it's across the street from Hemingway's former home.
Time Out tip: Frozen margaritas, hammocks and a cornhole set attract plenty of non-guests to the hotel's intimate poolside cafe, which feels more like a best friend's backyard.
Photograph: Courtesy Booking.com
Streamlined design and spa-like bathrooms serve to complement, not distract from the hotel's unspoiled natural setting
After making a splash when it opened in 2016, The Marker has continued to impress design lovers with its idyllic waterfront setting, two acres of lush gardens and trio of pools. The luxury property supplies exactly the sort of breezy, zen oasis east coasters have sought here for the last century, and with 96 rooms scattered among lavishly landscaped grounds, it manages to feel less resort and more upscale guesthouse. Each of the rooms follows a calming all-white theme, with spacious balconies and sliding French doors—even the bathrooms feel like mini spa treatment rooms, with plenty of natural light and gleaming white subway tile.
Time Out tip: The hotel is a big supporter of the arts, having commissioned original artworks from local sculptors, painters and photographers around Key West, all of which is displayed in the rooms and lobby.
Photograph: Courtesy Booking.com
Daily happy hour and dorm-style rooms for travelers who want to make the most of Key West on a shoestring budget
With a location just a few blocks from Duval Street and a happy hour that starts at 4:20 on the dot, it's no surprise that this place appeals to a younger, more energetic crowd—so if you're intent on spending as much of your vacation as possible day-drinking by the adults-only pools and hot tubs, you won't leave disappointed. There's an effortless warmth to the staff, who make you feel like you're at a country club, not a hostel. Dorm-style bunk beds are available for groups on a budget, and while there are few extras, the offerings (free basic breakfast, as well as a bike rental kiosk in the lobby) are all good bang for your buck.
Time Out tip: Unlike most hotels, NYAH won't penalize you for showing up with a full posse. The fee remains the same whether there are 2 or 20 people sleeping in your room. Winner.
Photograph: Courtesy Booking.com
Saintly or not, guests with an eye for slick decor and high-class surroundings will feel blessed to find themselves in such sensuous quarters
Injecting a little bit of Beverly Hills glamor into Duval Street's northern fringe, this ritzy 36-room hotel falls under Autograph Collection, the higher-end boutique arm of Marriott. As such, you can count on an aesthetic that's equal parts highbrow (a Buddha presides over the pool) and fashion-conscious (the hotel bar resembles an underground Parisian club). A red carpet leads to the front door, and the dramatically lit rooms are an invitation to indulge, with billowy white curtains lining the walls and branded bedspreads printed with the hotel's unabashed logo: 'Play Naughty, Sleep Saintly.' Ooh la la.
Time Out tip: Ask for a Vintage Room, the more classic of the hotel's two room categories— several of them open onto private leafy terraces facing the pool.
Photograph: Courtesy Marquesa 4-1-4
Sleek, tasteful interiors and a gourmet restaurant call to mind an upper Manhattan penthouse surrounded by enchanting gardens
It's easy to slip into the rhythm of life at this elite, 14-room property, which is spread across two renovated mansions dating back to 1900. Like catnip for architecture nerds, the interiors are cozy and furnished with impeccable taste, from the polished hardwood floors to the magazine-perfect bathrooms anchored by standalone tubs (some of the suites have private porches, too). If dining out is a priority, you'll be in good hands: the on-site restaurant, Cafe Marquesa, comes Zagat-rated, and offers upmarket Southern fare like shrimp and grits and seared sea scallops in an elegant dining room.
Time Out tip: A stay at this hotel automatically includes full use of the amenities at its sister property, The Marquesa, so you get access to two hotels for the price of one.
Photograph: Courtesy Booking.com
Love is in the air at this suites-only hotel, which sets the mood with lavish amenities and highly personalized service
Exclusivity seems to be the idea at H2O, which pairs cosmopolitan neatness with Key West's easy-going island charm. No expense was spared in the making of the hotel's resort-like suites, which manage to cram in wet bars, Italian marble bathrooms and private balconies with plunge pools—there's no room service, though, so you'll have to emerge at some point. The accommodations are all one-bedroom, which further hints at the hotel's tropical-rendezvous intentions. Doting couples will especially love the 24-hour concierge desk and town car service, which takes the onus of trip planning entirely off your hands.
Time Out tip: While the hotel lacks a restaurant, it makes up for it in other ways: there's a rooftop pool bar with fantastic bloody marys, and the nightly turndown service delivers complimentary Dove ice cream bars.
Photograph: Courtesy Booking.com
7. Sunset Key Guest Cottages, A Luxury Collection Resort
Families have room to spread out inside fully furnished cottages on this island, a 7-minute boat ride from town
You don't necessarily need an address on Duval Street to feel like you're getting the full Key West experience. Take this 27-acre island, which can only be accessed by boat. Boasting an exhaustive range of sunny, sumptuous one-, two-, three- and four-bedroom cottages—all nestled in jasmine-scented gardens and surrounded by unbroken water views—the residences are as picturesque as they are grounded in convenience. Furnished wrap-around verandas, fully stocked kitchens and pull-out sofas make them particularly ideal for family reunions and large groups.
Time out tip: The popular "Rise and Dine" breakfast feature means you can wake up to fresh-baked muffins and croissants delivered to your door each morning—no cooking required.
Photograph: Courtesy Booking.com
8. Margaritaville Resort & Marina
A fun-loving gathering place for Jimmy Buffett fans, with a killer margarita bar that overlooks the glittering Key West harbor
Jimmy Buffett's wildly popular Margaritaville franchise got its start in Key West in the '80s, so in a way, this 178-room property could be considered a flagship of sorts. Targeting travelers aged "55 and better," who like big, schmoozy, communal type settings, this village-like resort ticks all the boxes. Squeezed between the highly active Key West cruise port and tourist mecca Mallory Square, there's hardly a dull moment. Whether you stay here or not, make sure to at least spend an evening up on the Sunset Bar, whose fresh-pressed agave margaritas and lobster po'boys are literally what dreams are made of.
Time Out tip: In case you need a break from tiki cocktails and staring at the sunset, the resort also features a full-service marina with watersports and boat rentals.
Photograph: Courtesy Booking.com
Tranquil coastal views and a private marina provide a sense of escape from the bustle of downtown Key West
Recognized as the first hotel ever to be built on Stock Island (a 12-minute drive from downtown Key West, fyi), there's little at this intimate, well-designed resort to distract from the natural beauty of the south Florida coastline. A row of white-washed balconies opens onto six outdoor lap pools (which manage to never seem crowded); just beyond, guests can aimlessly wander the docks of the hotel's private marina. In the mood for adventure? The hotel also has a resident aquatic director, who oversees all paddling and scuba excursions, as well as jet ski, kayak and private boat rentals.
Time Out tip: Book a day trip to explore the nearby Mud Flats, a lush mangrove delta that remains to be one of the Keys' most underrated natural attractions.
Photograph: Courtesy Booking.com
An unassuming inn with immaculate rooms and a winning poolside lounge, this standout is within walking distance to Key West's top attractions
With earthy, modern interiors that open onto a sun-flooded pool courtyard, it's easy to see why this modest, 24-room inn landed a spot on our list. Set on a quiet street in the coveted historic district—so you're within easy walking distance of Southernmost Point pier and the Hemingway House—the tranquility of the spot might just be its virtue. Then again, thoughtful amenities like Keurig coffee machines in all the rooms, as well as a free nightly wine hour, help sweeten the deal.
Time Out tip: The hotel's hidden gem is its Orchid Bar, a flower-filled sanctuary where fresh herbs and fruits are incorporated into all the cocktails.
More of the best in Key West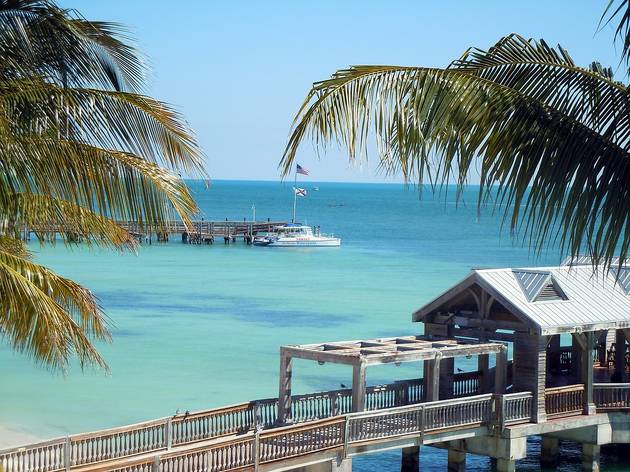 Offshore pleasures abound on Key West, from snorkeling the third largest reef in the world to sunset sails on historic schooners.
It's incredibly easy to get a delicious meal down here, whether you stumble salty, straight off the boat into a fish shack or clean up and throw on a collared shirt and flip flops for a proper meal on a private island.