The 23 best things to do in Key West
The best things to do in Key West include frozen key lime pie on a stick, the Hemingway House and a 65-foot schooner
When browsing through our list of best things to do in Key West, keep in mind that the island city is closer to Cuba than it is to any single Walmart. True story.
The 48 bridges that connect Key West to the mainland of Florida (including the Walmart 129 miles away, in Florida City) do more than just bring power, water and tourists to the area: they serve as a separation from life on the mainland. Each bridge crossed takes you closer to the idyllic island living that locals so adore. So, when here, do as the locals do: hop on a bike, pedal to your destination (from restaurants to bars and beaches) rain or shine and cruise past the roosters, iguanas and six-toed cats that also reside in the lush, historic streets of Old Town.
In spite of the slower pace, there is still much to do in Key West: a variety of outdoor activities is complemented by five theaters, an independent movie house, numerous galleries chock full of fine art created by locals and, of course, imbibing and dining destinations that range in style and scope, most home to musicians that play their unique tunes from happy hour until late at night daily.
Best things to do in Key West
Photograph: Courtesy Yelp/Wayne P.
The best way to explore the waters surrounding Key West is on one of Danger Charters' 65-foot schooners. On their half- and full-day excursions, just after leaving the harbor, you can help raise the sail before heading to explore the mangroves in a sea kayak, snorkel the lush sponge gardens or coral patch reefs, and then stop for complimentary snacks and refreshments on a pristine sandbar. Guides are available at no extra cost, but you are also welcome to explore on your own. Not up for an all-day excursion? Try the intimate Wind & Wine sunset sail featuring a tasting of wines and craft beers, with a side of unbeatable sunset views.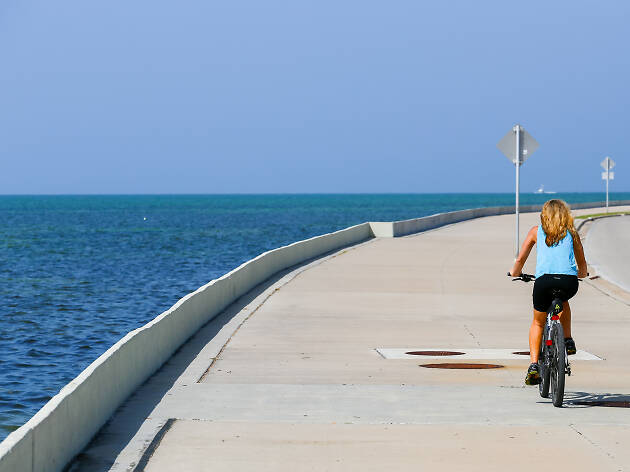 Shutterstock
The best way to get around Key West is by bicycle. Rent one from WeCycle (they deliver and pick up anywhere from Key West to Key Haven for free) and cruise through the palm tree-lined side streets of pastel-colored conch cottages. It's also a great way to get to the Southernmost Point where you can snap your picture by the iconic buoy.
Photograph: Courtesy Yelp/Chris B.
Key Westers live off of a coffee beverage simply known on the island as "con leche," which consists of Cuban espresso, steamed milk and sugar. The best iced version of it in Key West can be found at the Cuban Coffee Queen. Their secret? The ice itself is made of coffee so, as it melts, you get more of that delicious flavor to fuel your day.
Photograph: Courtesy Yelp/Sharon M.
Ask any Key Wester will tell you, Kino Sandals are the best on the island. And you can't beat the price: for less than $15, a pair of these handmade sandals can be yours. If you really want to look like a local, make sure to visit the store and pick up a pair. The most popular style is the Lilly and both men and women, young and old, wear them. They also make great gifts to take back for friends and loved ones.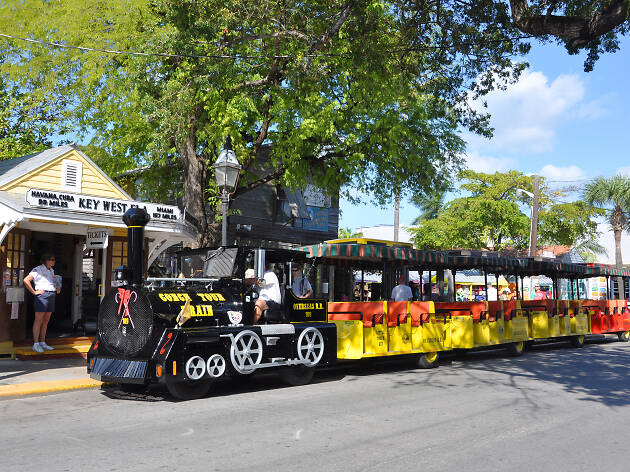 Photograph: Shutterstock
There are many ways to tour the city and learn about its history along the way, but we're partial to the Conch Tour Train. The ride lasts an hour and a half and allows you to get a feel for the island and to jot down notes about the places you'd like to check out when off. Then walk, ride your bike or take a pedicab from site to site on your own time. The ride starts and ends downtown, making it that much more convenient. If you are on the island around Christmastime, be sure to book the local favorite holiday tour. You can sing along to Christmas carols as the Conch Train takes you to the best light displays in Key West. The entire ordeal is sponsored by the local power company and is an annual favorite.
Ernest Hemingway lived in a house on Whitehead Street with his second wife Pauline throughout most of the 1930s. He famously spent his mornings writing in his studio, his afternoons fishing the Gulf Stream aboard his beloved boat, Pilar, and his evenings drinking on Duval Street. Many tales have been told about Hemingway and, to separate fact from fiction, opt for a guided tour when you visit his home. You can also commune with descendants of his original six-toed cat Snowball.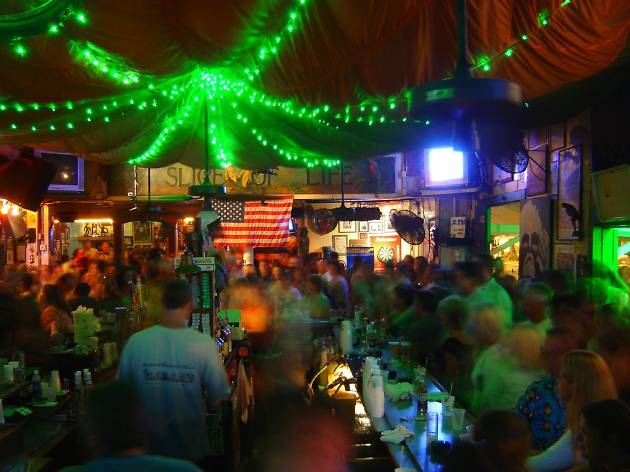 Photograph: Courtesy CC/Flickr/Hot Tuna
As locals say, no matter where you live, "the Parrot is always on the way home." You haven't been truly initiated into the area's culture until you've had a round of root beer barrels at the Parrot, as it's known to most on the island. What is a root beer barrel, you ask? It's a shot of icy root beer Schnapps plunged into a rocks glass of Miller Lite. Yes, delicious. Bonus points: the venue hosts live music acts on the weekends and is home to the best jukebox in town, pool tables and a dart board – all to be enjoyed while munching on the free popcorn on offer.
Judy Blume, beloved author of Are You There God? It's Me, Margaret. and countless other young adult novels, is a decades-long Key West resident and she's opened a branch of Miami's indie bookstore Books & Books right on the corner of Simonton and Eaton Streets. She's a fixture around the shop and has surprised more than one customer while manning the cash register. Stock up on some books while in town and likely get to meet the superstar author.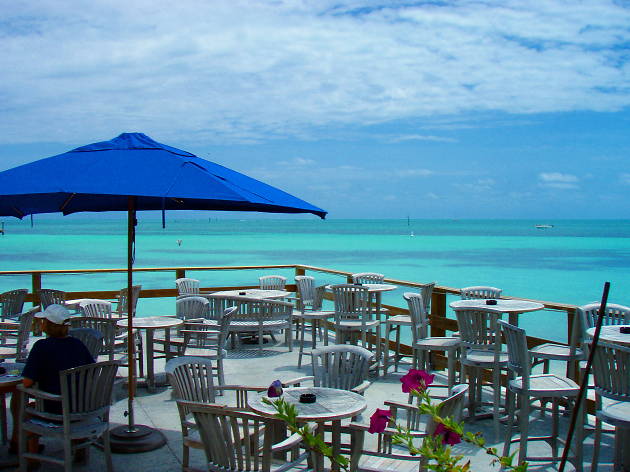 Photograph: Courtesy CC/Flickr/Eaanderson
The deck of Louie's Backyard extends in tiers to the sea from a beautiful Victorian mansion for one of the prettiest scenes on the island, especially at sunset. It's considered one of the finest restaurants in town but, for a more casual experience, opt for cocktails outside at the Afterdeck bar, which sits adjacent to the only dog beach in Key West. There's also a separate tapas bar upstairs with more stunning views that's a twist on the classic dining destination.
Photograph: Courtesy Yelp/Fred K.
10. Captain's Corner Dive Center
The PADI-trained professionals at Captain's Corner Dive Center have been offering great dive excursions around Key West for more than 30 years. One of the excursions occurs at the popular dive site, the Vandenberg, located just seven miles off the coast of Key West in the Florida Keys National Marine Sanctuary. This site is actually an artificial reef created by the sinking of the Vandenberg, a decommissioned US Air Force missile-tracking ship. The 522-foot long ship requires dives from 40 to 165 feet deep, during which you'll get to see a variety of sea life including urchins, sharks and moray eels. More experienced divers can even swim through the hull.
Photograph: Courtesy Randy Roberts
You may have seen him perform to thunderous applause on America's Got Talent but, trust us, there is nothing quite like seeing Randy Roberts live. Hands down, the favorite show on the island is Randy Roberts' tribute to some of the world's best performers, including Cher and Bette Midler in the Crystal Room Cabaret at La Te Da. Make sure to get your tickets in advance because his shows typically sell out.
Photograph: Courtesy Tropic Cinema
Drunk script readings, Monday night classic film showings, kids movie series, screened ballets and operas, costumed movie musical sing-alongs: these are just a few of the unique events that take place every month at the Tropic Cinema, Key West's only nonprofit independent movie house. Yes, they also show independent and foreign films (with subtitles) daily. Local favorite annual events include the island-wide 72-hour film challenge showings and bawdy screenings of The Big Lebowski and The Rocky Horror Picture Show, both of which are hosted by a hilarious and beloved local comedian. Signature cocktails are on offer during almost all events and be warned: costumes are extremely encouraged.
Photograph: Courtesy Yelp/The Roost
Head to The Roost for exceptional craft cocktails. The bartenders are knowledgeable and are happy to recommend a drink based on your preferences. During the daily happy hour (3-6pm), enjoy $10 Stoli Elite martinis and great deals on caviar and deviled eggs dishes. The Roost also happens to be a liquor store, so purchase a bottle or two to take home with you.
Photograph: Courtesy TripAdvisor/Fantasy Fest Masquerade March
With events like TuTu Tuesday and the Zombie Bike Parade, Key West's annual Fantasy Fest is many things to many people. But there is one event that gets locals to take to the streets, whether they are lining up to watch or walking the streets of Old Town en masse: the locals walking parade, otherwise known as Masquerade March. Every October on the last Friday of the final week of Fantasy Fest, locals go all out, dressing up in themed costumes in groups, then parading through the streets of Old Town, stopping at cocktail stations for refreshments along the way. Think hordes of people dressed as galactic sea creatures, dancing Dalmatians (with choreography), a giant-sized deck of 52 individual cards, the animals and the staff at the Monroe County Sheriff's Office Animal Farm, the entire cast of the Rocky Horror Picture Show or even the Mexican wall pole vault team. Local artists painstakingly create most costumes from scratch, like our favorite from years past: Dengue Night Fever. Key West had a few cases of dengue fever that year and a bunch of inspired locals donned classic disco outfits, like the white Saturday Night Fever suit, but as mosquitos, replete with giant wings. They even had a bicycle outfitted as a helicopter with working spraying action from its outriggers to serve as the Florida Keys mosquito control. This is Key West at its most creative.
15. The Studios of Key West
The Studios of Key West (TSKW) are the island's hub for an eclectic and fascinating cadre of local and visiting multidisciplinary artists. TSKW is also open to visitors and the ground floor and third floor galleries are a great way to get a taste of the island's contemporary creative community through rotating exhibitions. Also check out performances of original plays and musicals, concerts, lectures, classes, films and more in the theater located on the second floor.
This is a hard-drinking town and, when it comes to curbing a hangover, there's no better solution than a stop by Mr. Z's at the end of the night. Sure, you can order a slice of pepperoni, but if you're really looking for a cure, you've got to go with the Philly cheesesteak. After a long night at the bars, it might just be the most delicious thing you've ever eaten.
Photograph: Florence Nebbout
17. Salt Island Provisions
This is a true island gem tucked away in historic Old Town, where you can find local artwork, jewelry, honey, candles, chocolates and, yes, salt, all carefully curated by Key West resident Laura Richardson. In addition to the products, which are all handcrafted and sourced from the Florida Keys, Salt is also a gallery that showcases local artwork, which rotates monthly. Check out the Facebook page for monthly gallery openings.
Photograph: Courtesy Yelp/Shawn D.
Yes, you can be healthy while eating out and Date & Thyme is the place to do it. Everyone in your party can enjoy the organic, healthy options that range from vegan-friendly to paleo, keto, gluten-free and more. In addition to the organic café – which serves salads, sandwiches, soups, smoothies, juice shots, coffee drinks and more – Date & Thyme is also home to a small natural food market where you can get everything from organic sunscreen to herbs and supplements. Kale, yeah!
Photograph: Courtesy Kermit's Key West Key Lime Shoppe
19. Kermit's Key West Key Lime Shoppe
Just about every restaurant in the Florida Keys would like to lay claim to the best key lime pie, but we stand by Kermit's Key West Key Lime Shoppe. You'll often find the mustachioed pastry guru standing on the corner of his shop in a floppy chef's hat peddling his wares to passersby. You can buy freshly baked whole pies topped with whipped cream but a favorite treat is the frozen key lime pie on a stick dipped in chocolate.
Photograph: UVA
Like wine? Head on over to Uva, the wine shop that is also a bright, airy bar run by local owner Mark Gambuzza. Uva carries only small production wines and Gambuzza can easily guide you through his own curated selections. You can stay, sip and order one of the best cheese plates on the island, or take a bottle to go, along with some delicious cheese or one of the other local artisan nuts and chocolates.
Photograph: Courtesy Yelp/Alonzo's Oyster Bar
Head to the docks right outside Alonzo's at the A&B Marina on Front Street for the 4pm Tarpon feeding on the harbor walk and stay for the amazing happy hour. From 4-6:30pm, Alonzo's serves seafood-based tapas and offers 50 percent off well cocktails, beer and house wines. The food here is dock-to-dish as it is caught by local fishermen and brought in right at the working waterfront. Grab a table on the deck for great people (and boat) watching and be sure to also watch the water as you just might spy one of the manatees that frequent the marina waters.
Photograph: Courtesy Yelp/David B.
Ambling down Greene Street, you may notice a confluence of inebriated tourists outside of Capt. Tony's Saloon. Chances are, they're trying to see who can flip a quarter over their shoulder into the mouth of the grouper presiding over the entrance. Give it a shot and then head inside to order the deceptively strong rum punch inside this historic bar, home of the original Sloppy Joe's.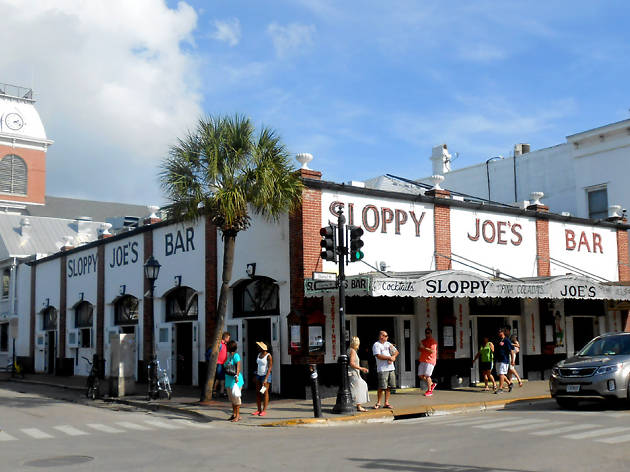 Photograph: Courtesy CC/Flickr/Roger W
While the original Sloppy Joe's, which is where Hemingway famously liked to drink, is technically now Captain Tony's, Joe Russell moved his eponymous bar to its current location around the corner on Duval Street in 1937. Since then, it's racked up decades of debauchery. Today, it's swarmed with tourists, but still promises a good time with live music and a rowdy crowd.
More of the best in Key West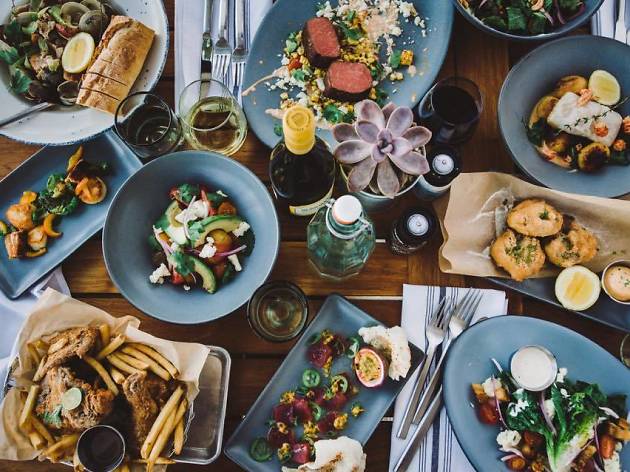 Photograph: Courtesy Matt's Stock Island Kitchen & Bar/Facebook
It's incredibly easy to get a delicious meal here, whether you stumble salty, straight off the boat into a fish shack or clean up and throw on a collared shirt and flip flops for a proper meal on a private island.
Choose from blissful private cottages, rollicking oceanfront resorts and historic mansions remade as luxury inns. However you choose to unwind in America's southernmost city, we've got you covered.
Best selling Time Out Offers