The 20 best things to do in Key West
Soak up all that Key West has to offer, from water adventures and beachside hangouts to indie shops and galleries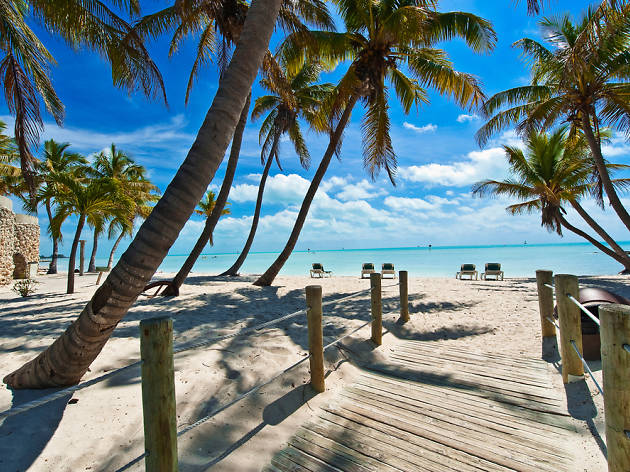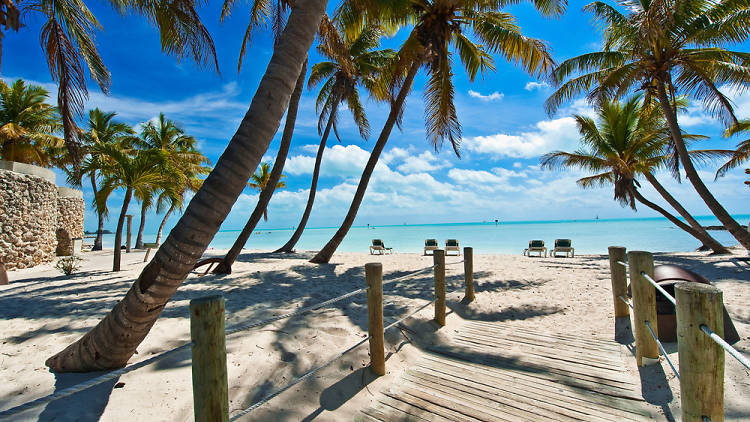 Surrounded by both the Atlantic Ocean and the Gulf of Mexico, offshore pleasures abound on Key West, from snorkeling the third largest reef in the world to sunset sails on historic schooners—not to mention discovering secret sandbar beaches or lounging at your quaint seaside hotel. It's also an unadulterated party town where many classic restaurants and watering holes have a touch of history that dates to the heyday of Ernest Hemingway. From key lime pie to pizza at 4am, we've got you covered when it comes to the best things to do in Key West.
Best things to do in Key West
1
Photograph: Courtesy Fury Water Adventures
Snorkel the reef with Fury Water Adventures
Key West is home to the third largest coral reef in the world, and you'd be a fool not to experience it while you're here. Hop aboard a 65-foot Fury catamaran and sail to the reef, seven miles offshore. You'll swim with colorful rainbow parrotfish, yellowtail snapper and barracuda, and if you're lucky, you might spot sea turtles or nurse sharks. On the sail back, enjoy all-you-can-drink beer and wine.
2
Go sunset sailing aboard Schooner Hindu
Make it a classy sunset celebration when you set sail aboard the historic wooden Schooner Hindu. Originally built in 1925, she was lovingly restored and is now the home of pleasure cruises including wine tastings, craft beers, fine cheeses, charcuterie and small-batch chocolates. If you haven't fallen for Key West's languorous charm, you will aboard the Hindu as the sun sinks into the horizon painting the sky and sea an ever-changing palette of colors.
3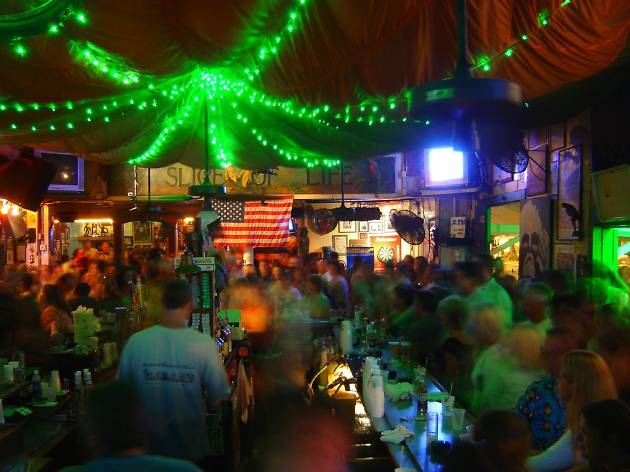 Photograph: Courtesy CC/Flickr/Hot Tuna
Order root beer barrels at The Green Parrot
You haven't been truly initiated into Key West culture until you've ordered a round of root beer barrels at the Parrot. This beloved local dive bar plays hosts to live music on the weekends, boasts one of the best jukeboxes in town, has a dart board and pool tables and offers free freshly popped popcorn at the ready. And the aforementioned root beer barrel? It's a shot of icy root beer schnapps plunged into a rocks glass of Miller Lite. Chug-a-lug!
4
Commune with Hemingway's cats at the Hemingway House
Ernest Hemingway lived in a house on Whitehead Street with his second wife Pauline throughout most of the 1930s. He famously spent his mornings writing in his studio, his afternoons fishing the Gulf Stream aboard his beloved boat, Pilar, and his evenings drinking on Duval Street. Opt for a guided tour when you visit the home to leaRn fascinating stories about the writer's life in Key West, and commune with descendants of his original six-toed cat Snowball—there are plenty lounging around the house and grounds.
5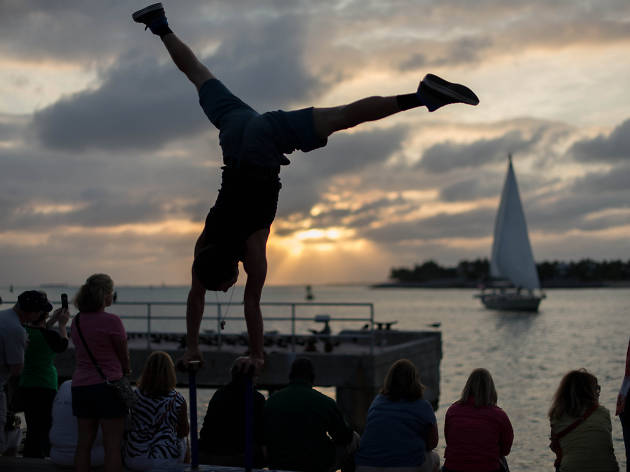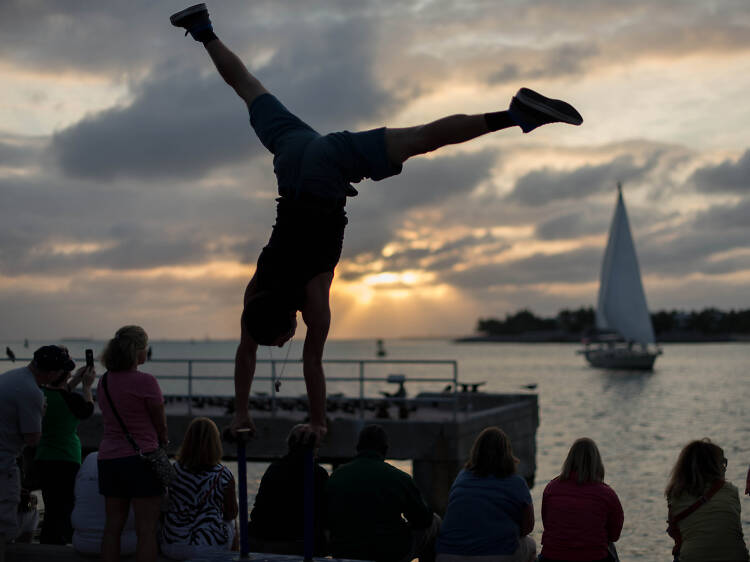 Photograph: Courtesy CC/Flickr/www.david baxendale.com
Get involved in the sunset celebration at Mallory Square
The sunset in Key West is celebrated every night on Mallory Square when street performers and musicians entertain the crowd shuffling along the waterfront. From golden retrievers walking a tightrope to sweet Rastafarian melodies, it's a feast for the eyes and ears. Seek out the Cat Man, who's choreographed his company of cats to jump through hoops. Still, Mother Nature puts on the best show of all as the sun sinks past the western horizon.
6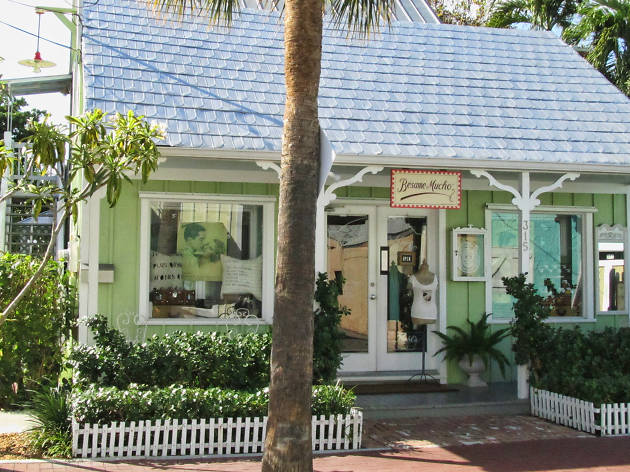 Photograph: Courtesy CC/Flickr/Terence Faircloth
Indulge in a chic souvenir at Besame Mucho
Nestled inside an adorable sea-foam green conch cottage in Bahama Village, Besame Mucho boasts a treasure trove of delights. Owned by longtime local Meredith Bollong, the store is a carefully curated collection of home goods, jewelry, fashion and beauty products discovered on her many international scouting trips. You'll find everything from Diptyque candles and artisanal chocolates to Turkish slippers.
7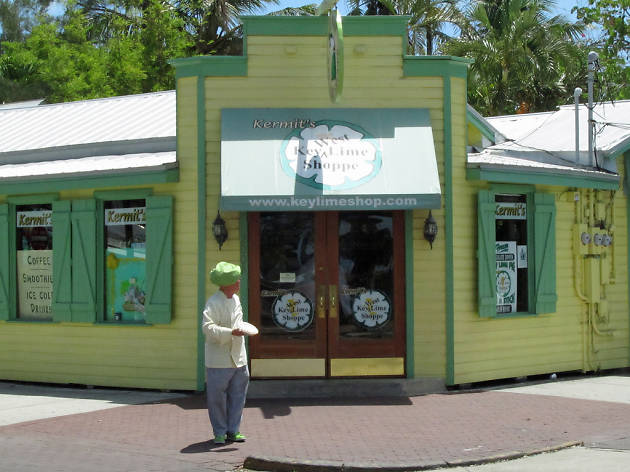 Photograph: Courtesy CC/Flickr/Terence Faircloth
Kermit's Key West Key Lime Shoppe
Eat a key lime pie at Kermit's
Just about every restaurant in the Florida Keys would like to lay claim to the best key lime pie, but we stand by Kermit's Key West Key Lime Shoppe. You'll often find the mustachioed pastry chef standing on the corner of his shop in a floppy chef's hat peddling his wares to passersby. You can buy freshly baked whole pies here topped with whipped cream or mile-high meringue, but a favorite treat is his frozen key lime pie on a stick dipped in chocolate.
8
Buy a book from Judy Blume at Books & Books
Judy Blume, beloved author of Are You There God? It's Me, Margaret and countless other young adult novels, is a decades-long Key West resident. And she's recently opened up a branch of Miami's indie bookstore Books & Books. She's a fixture around the shop and has surprised more than one customer when they discover their hero from adolescence at the cash register.
9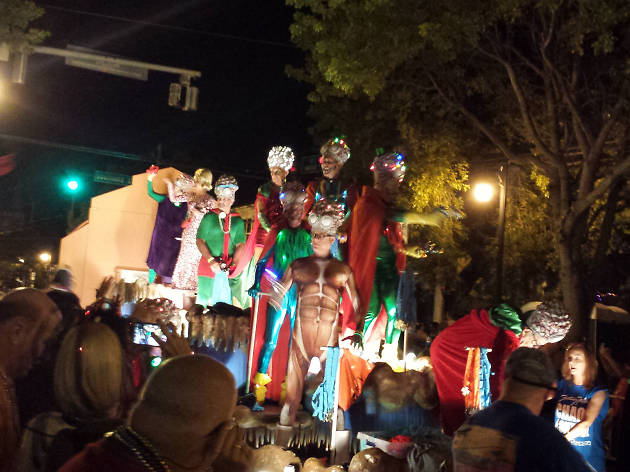 Photograph: Courtesy CC/Flickr/Jenni Konrad
Lose your inhibitions during Fantasy Fest
Forget Halloween; plan a vacation to Key West during the last week of October for the island's annual Fantasy Fest celebration. It's a 10-day bacchanal with themed parties every night culminating in a Saturday night parade. The whirl of body paint, glitter, beads and crazy costumes is one that any true party animal should experience at least once in her life.
10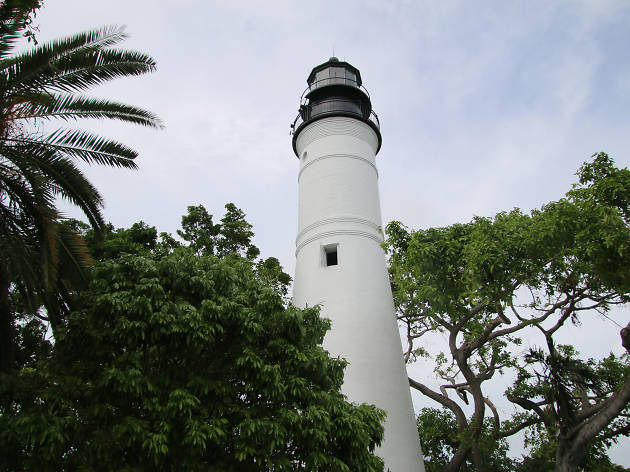 Photograph: Courtesy CC/Flickr/Corey Seeman
Scale the top of the Key West Lighthouse
The Key West lighthouse was first lit in 1849 to guide ships safely into port through the shallow waters surrounding the island. Today, you can wind your way up a spiral staircase to the top of this 73-foot tall beacon for unparalleled bird's-eye views of the town below and the sprawling sea.
11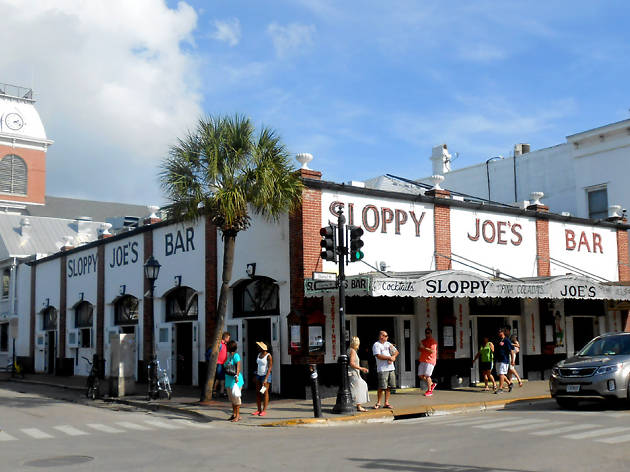 Photograph: Courtesy CC/Flickr/Roger W
Get sloppy at Sloppy Joe's
While the original Sloppy Joe's where Hemingway famously drank like a fish is technically now Captain Tony's, Joe Russell moved his eponymous bar to its current location around the corner on Duval Street in 1937. Since then, it's racked up decades of debauchery as Key West's most legendary watering hole. Today, it's swarmed with tourists, but still promises a good time with live music and a rowdy crowd.
12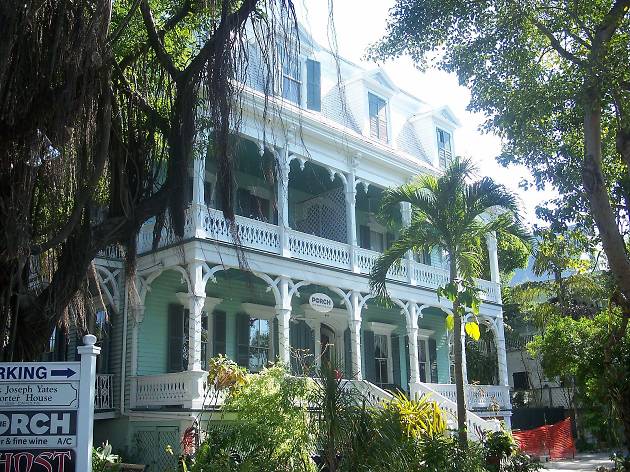 Photograph: Courtesy CC/Wikimedia Commons/Ebyabe
Join the locals for a craft beer at The Porch
If you want to drink with the locals, head to The Porch on the corner of Caroline and Duval streets inside a seafoam green Victorian mansion where craft suds and fine wine are served up in a laidback atmosphere. Snag a spot at the bar, on the porch or in the expansive garden below and mingle with the crowd. Pro Tip: Craving a cocktail? Pop into The Other Side through the door on "the other side" of the foyer and ask the bartender to mix you up something special.
13
Order a slice at Mr. Z's at 4am
Key West is a hard-drinking town and when it comes to curbing a hangover, there's no better solution than swinging by Mr. Z's at the end of the night. Sure, you can order a slice of pepperoni, but if you're really looking for a cure, you've got to go with the Philly cheesesteak. It will be the most delicious thing you've ever eaten—but only after a long night at the bars.
14
Photograph: Courtesy Fun in The Sun Charters
Discover a secret sandbar with Fun in the Sun Charters
Surrounded by the shallow waters of the Gulf of Mexico and the Atlantic Ocean, Key West is more of a boater's town than a beach goer's, so charter a boat with Fun in the Sun Charters and discover secret sandbar beaches and mangrove islands dotted around the island.
15
Cruise the island on two wheels
The best way to get around Key West is by bicycle. Rent one from a local shop and cruise through palm tree-lined side streets of pastel-colored conch cottages. It's a great way to get to the Southernmost Point where you can snap your picture by the iconic buoy.
16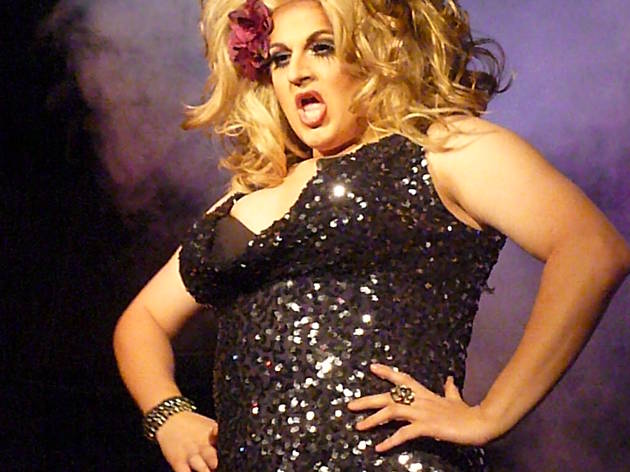 Photograph: Courtesy CC/Flickr/Laurie
Catch a drag show at 801 Bourbon
The 800 block of Duval Street is home to Key West's gay clubs, and a visit to 801 Bourbon for their legendary drag show is a must. Ms. Sushi is the reigning queen of the 801 Bourbon cabaret, and the entire cast will put on a wild show filled with musical numbers, jokes and audience participation.
17
Pop into the art gallery at The Studios of Key West
The Studios of Key West is the island's hub for an eclectic cadre of local and visiting multi-disciplinary artists. The studios are open to visitors and often host performances and talks. Their ground floor gallery is a great way to get a taste for the island's contemporary creative community through rotating exhibitions.
18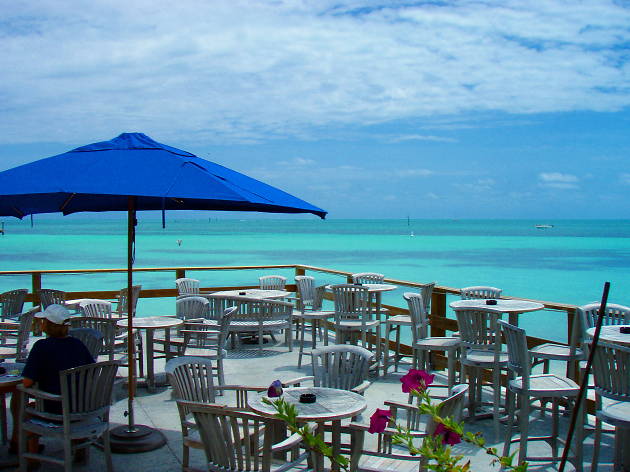 Photograph: Courtesy CC/Flickr/Eaanderson
Enjoy sunset cocktails at Louie's Backyard
The deck of Louie's Backyard extends in tiers to the sea from a beautiful Victorian mansion for one of the prettiest scenes on the island, especially at sunset. It's considered one of Key West's finest restaurants, but for a more casual experience, opt for cocktails outside. There's also a speakeasy-style tapas bar upstairs for a new (and slightly cheaper) twist on the classic dining destination.
19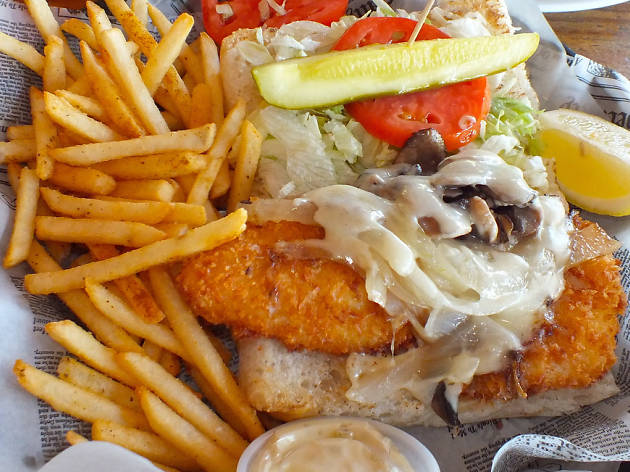 Photograph: Courtesy CC/Flickr/Cayobo
Discover Stock Island over lunch at Hogfish Bar & Grill
Stock Island, the island just north of Key West separated by the narrow Cow Key Channel, is considered a holdout of "old Key West" where you'll find boat yards, shrimp boats and artist studios. Start your exploration at Hogfish Bar & Grill, a local gathering place where you can soak up the salty ambiance while tearing into the namesake hogfish sandwich.
20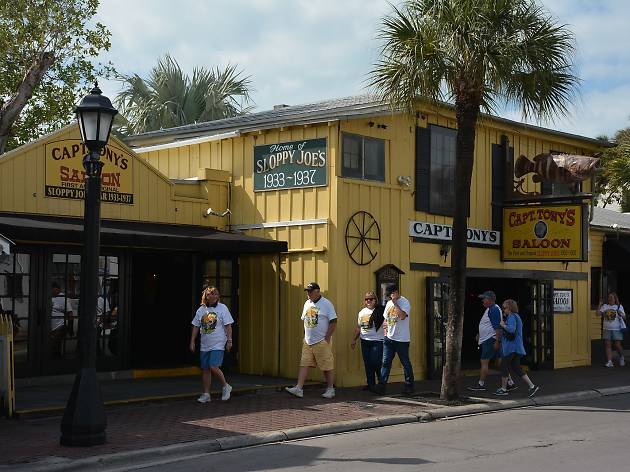 Photograph: Courtesy CC/Wikimedia Commons/Judson McCranie
Flip a quarter into the grouper's mouth at Captain Tony's
Ambling down Greene Street, you may notice a confluence of inebriated tourists outside of Captain Tony's Saloon. Chances are, they're trying to see who can flip a quarter over their shoulder into the mouth of the grouper presiding over the entrance. Give it a shot and then head inside to order the deceptively strong rum punch inside this historic bar, which was home of the original Sloppy Joe's.
More of the best in Key West
It's incredibly easy to get a delicious meal here, whether you stumble salty, straight off the boat into a fish shack or clean up and throw on a collared shirt and flip flops for a proper meal on a private island.
Choose from blissful private cottages, rollicking oceanfront resorts and historic mansions remade as luxury inns. However you choose to unwind in America's southernmost city, we've got you covered.