The bank holiday is approaching – in fact the last one of the year before (whisper it) Christmas. That's as good an excuse as any to make the most of the three-day weekend.
So, forget all those festival goers in a squelchy field in Bramham Park because there are still loads of great things to do. Here are just a few things to keep you busy:
Major events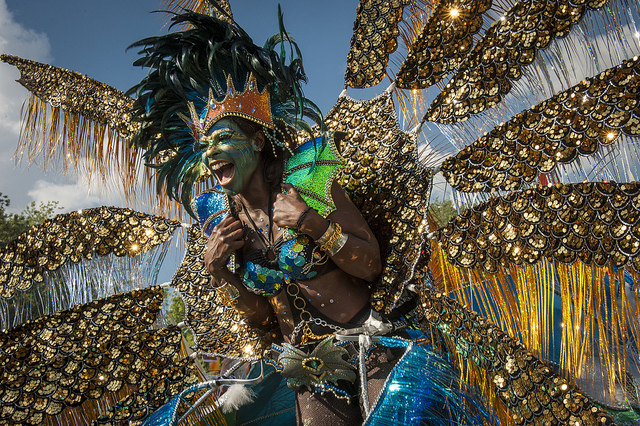 Flickr: Bryan Ledgard
With all the preparation events out of the way, this weekend is when the Leeds West Indian Carnival really kicks off. On August 28 is the Leeds King and Queen show at the Quarry Theatre, followed by the Soca Monarch Show at the Leeds West Indian Centre on August 29.
Monday August 31, of course, is the main event. After a morning warm-up, the Big Leeds Carnival Parade begins at 2pm with a route that starts and finishes at Potternewton Park. Expect bright colours, infectious sounds and the promise of great food too.
Food and drink
Pie and Cider Festival
If you've had your fill of Caribbean, how about a more traditional pie and pint? On August 30 is the Belgrave Pie & Cider Festival, where 30 different ciders, 20 different beers and 50 different varieties of pies will be on offer. The foodies festivities start at the Belgrave Music Hall at 11am and will continue until late in the night.
Or, if you want to stock up on artisan bread, locally made grub and tuck into street food, the Kirkstall Deli Market will be taking place from August 29-30 at Kirkstall Abbey too.
Music and clubbing
Yes, yes Metallica, the Libertines and Deadmau5 are playing at Leeds Festival but there are still loads more cracking music events taking place over the weekend.
First up is the Garden Party Leeds on August 29-30, which will be offering two days of music, food and art at the Tetley. Big names include Roisin Murphy, Julio Bashmore, Grandmaster Flash and Soul II Soul.
Alternatively, music collective Chunk will be hosting a three day fundraiser, Renegades of Chunk, at its venue on Meanwood Road. Taking place from August 28-30 there will food, art and music from Gloomweaver, Esper Scout, Zozo, False Flags and more.
Plus, you'll find house and R&B mayhem from Candypants (August 30, Oracle Leeds) or Insomnifest (August 30, Beaver Works). Or, you could also opt for the Mint Festival Warm-up Terrace Party (August 30, Mint Warehouse), the Asylum Leeds launch party (August 28, Eiger Studios), or even the Big Bad Taste Bank Holiday Ball rave (August 20, Musiquarium).
If your tastes are little more classical, don't forget that The Leeds International Piano Competition is also underway with daily first stage performances currently taking place at The Great Hall at the University of Leeds (events taking place until September 13).
Family
Flikcr: Mike Fleming
Need things to do with the kids? How about a family-friendly mini festival? The Baby Rave Igloo Disco at New Rover Cricket Club on August 28 promises live music, healthy food, inflatables, workshops and more.
Also taking place over the weekend is the MeepFest Board Game Festival, offering a full day of board games including everything from Settlers of Catan and Ticket to Ride to classics like Dominoes, Cluedo and Articulate. (August 29, Left Bank Leeds).
You could also enjoy the Shadow Puppet Workshop from Odd Doll Puppetry Theatre (August 29, Headingley Enterprise and Arts Centre), the City Beach at Millennium Square (until September 6) or the Family Art Workshop on August 29 at the Tetley.
Theatre and Culture
Curious on Broadway
If you want to take in a performance, there's an interesting selection of shows taking place over the weekend. You could opt for the critically-acclaimed 'The Curious Incident of the Dog in the Night-Time' (August 27-29) or The Shawshank Redemption (August 31-September 5) at Leeds Grand Theatre and Opera House.
Or, if you'd like to try something a bit different, the Wardrobe will be hosting an evening of burlesque from the Slippery Belle. So, dress up in your finest 1920s-style fancy dress and enjoy an exciting performance from the likes of Khandie Kisses, Ginger La Rouge, Rusty von Chrome, Bella Besame and more (August 29).
Comedy
Andrew Flintoff Official
If you want to spend the weekend having a laugh, there is plenty of comedy in store too.
Ex-cricketer Andrew 'Freddie' Flintoff partners with comedy writer Clyde Holcroft for his entertaining 'behind-the-crease' 2nd Innings Tour at Leeds Grand Theatre and Opera House on August 30, while the Comedy Session with Daliso Chaponda, Barry Castagnola and Dave Twentyman takes place at the Hi-Fi Club on August 29.
Finally, Jongleurs will have comedy from the likes of Craig Murray, Andy White, Addy Van De Borgh and more (August 28-29).
Find more things to do in Leeds.