The best things to do in Setúbal
Well known for its fried cutterfish, but also for its breathtaking landscapes, its restaurantes and culture, across the Tagus river there is seaside town that deserves your visit. Take a look at our guide with the best things to do in Setúbal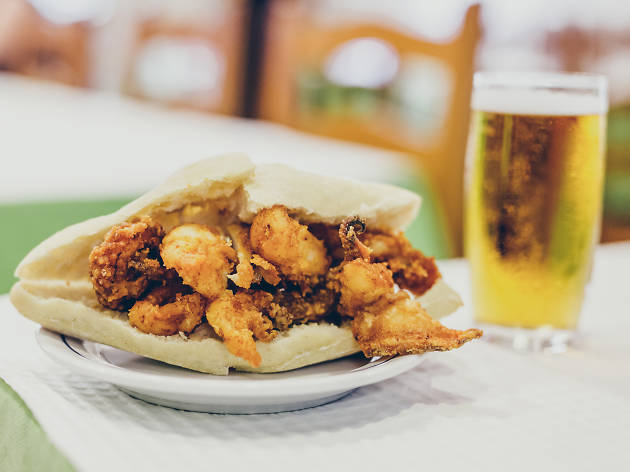 There are loads of great options for day-trips from Lisbon but if you are a fish lover, you cannot miss Setúbal, a seaside town and probably the best place to eat it fresh and cheap. Save one day on your agenda, head up to the other margin of the Tagus River, through the 25 April Bridge, and have fun with our list of the best things to do in Setúbal, which includes of course eating as much fresh fish as you can.
The best things to do in Setúbal
An altar to fish. You climb five steps to get to a small mezzanine with outdoors tables or to an inner room next to the shrine – that is to say, the window display where all the fish are lined up. You get in, you pick a fish, you weigh it, you sit, you eat.
Rua Fontainha 64.
Try the fried cuttlefish at Casa Santiago
Established in 1974 and nicknamed the King of Fried Cuttlefish, they sell on average 300 kilos of the stuff per day in summertime, about half as much in winter. They serve it in strips and fry it on the spot with vegetable oil and pork lard. We suggest you try it on bread.
Avenida Luísa Todi 92.
Take a picture at the Maré Mourisca water mill
The right place to go for people trying to get likes on Instagram. One of four mills still extant in the Sado Estuary, it is surrounded by saltmarsh and salterns. You can see the decomposing remains of old boats and a stilt harbour. You can go inside the mill, too.
Herdade da Mourisca, Faralhão.
Check out an art show at the Casa da Cultura
The Casa da Cultura is a platform gathering a music school,an archive,an art gallery, concert halls,a recording studio and a rehearsal room. There is also a cafeteria where you can get some extra energy before doing some exploring.
Rua Detrás da Guarda 26-34.
Have a drink at the São Filipe Inn
Before being converted into an inn, in 1965, this building was a military fort, built way back in 1528. A visit is worthwhile not only because of the history but also for the unique view you get over the city, the river and Tróia. The best place to enjoy it? The outdoors cafe.
Estrada do Forte de São Filipe.
Look at art on the city streets
The "Setúbal mais bonita" ("make Setúbal prettier") project has, since 2011,engaged the local community to cover the streets in all sorts of paintings. One of the places where you may want to take a peek is the old Rua do Feijão, whose doors and electrical boxes were redecorated with diverse art.
Eat shellfish at the Tasca do Zé Maria
Not the most glamorous place in Setúbal, but its shellfish is top notch. There is no list; the menu is written on a board on the wall, side by side with pictures of the local football club. They usually have clams, crab, fried or boiled shellfish and their speciality: fried cuttlefish eggs.
Rua Dr. José Guimarães de Torres 27, Bairro Santos Nicolau.
Browse the stalls in the Livramento Market
Opened in 1930 in an Art Déco building, it is widely considered one of the country's finest markets. Inside, the walls are covered in tiles portraying scenes of Setúbal daily life. The fish for sale is excellent,and so are the fruit and the flowers – bring an empty basket with you and spend freely.
Avenida Luísa Todi (in front of the illuminated fountain).