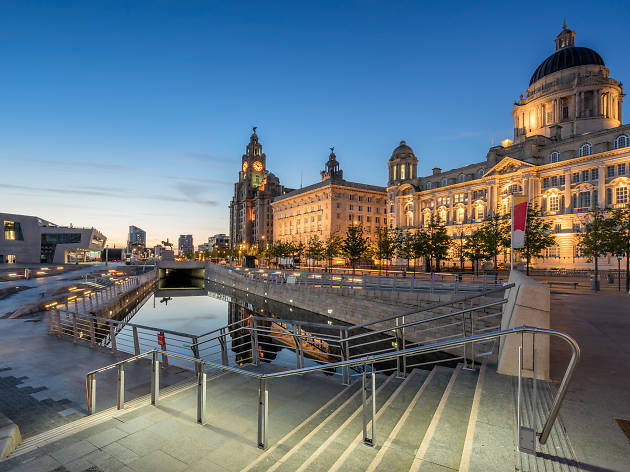 15 unmissable attractions in Liverpool
Want to know what you simply shouldn't miss? These are the best attractions in Liverpool for art, sport and straight-up R&R
Happily for you lot, there's something for pretty much every curious cultural traveller here. With more than 2,500 listed buildings, a world-class music and sports events calendar, and some of the UK's biggest and best museums, this diverse port city basically overflows with brilliant things to do.
We wouldn't blame you if you felt a little daunted at the prospect of a day out here – so here's our pick of the attractions in Liverpool you simply shouldn't miss. From the thought-provoking International Slavery Museum to the ever-thriving Cavern Club to the sprawling Walker and Bluecoat art galleries, it's all happening in the 'Pool.
RECOMMENDED: Full guide to the best things to do in Liverpool
Best attractions in Liverpool
What is it? The city's historic heart – now a thriving leisure complex.
Why go? Liverpudlian history, culture and industry are synonymous with Royal Albert Dock. Some 40 percent of global trade passed through here at the beginning of the 19th century. Today, it's the crown jewel of the Unesco World Heritage waterfront and draws more than six million visitors a year. There's something to discover in each repurposed warehouse, from cultural giants such as Tate Liverpool and The Beatles Story to an array of tempting cafés, bars, boutiques and restaurants.
What is it? Four floors of galleries housed in a beautiful converted warehouse.
Why go? One of the most visited galleries outside of London, Tate Liverpool brings together artworks from across the globe and offers extensive displays of work from the Tate collection free of charge. With an ever-changing programme of spectacular temporary exhibitions, it's always worth checking out the website before planning your visit.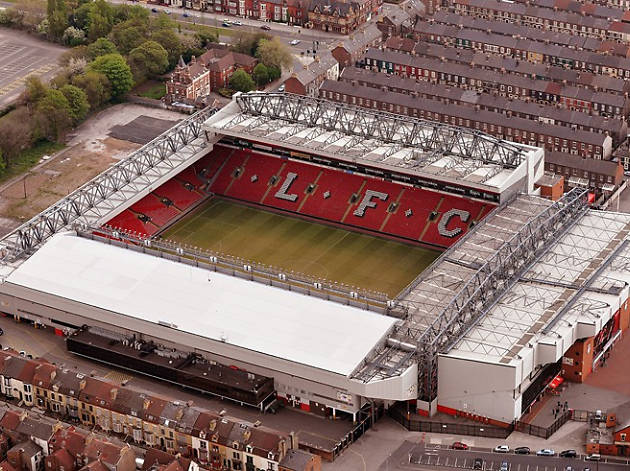 Photograph: Airviews Photography
What is it? Liverpool's world-famous football stadium.
Why go? Home of Liverpool FC since their formation in 1892, Anfield is famous around the world and pulls in thousands of visitors every year. Take a tour of the historic grounds and enjoy views from the top level of the Main Stand, walk in the footsteps of your favourite players in the players' tunnel, visit the home and away dressing rooms and, of course, touch the iconic 'This Is Anfield' sign. An essential attraction for fans of the beautiful game.
What is it? Expansive museum with collections covering everything from Ancient Egypt to space exploration.
Why go? Whether you want to take a journey back in time to Ancient Egypt, explore outer space or test your courage in the Bug House, the World Museum promises a brilliant day out for the whole family. The oldest of all Liverpool's museums and galleries, the World Museum has been wowing visitors to the city ever since it opened in 1853.
What is it? The largest cathedral in the UK.
Why go? A striking example of Gothic-style architecture, Liverpool Anglican Cathedral was constructed between 1904 and 1978 and holds the title of the largest cathedral in Britain. Marvel at its stained-glass windows, stand before the biggest organ in the UK, or take a trip up the 101m tower for phenomenal views across the city. As you enter the cathedral, take a moment to admire the work of Tracey Emin, whose pink neon signage adds a more modern touch to the sombre surroundings.
What is it? A 138m broadcasting tower with killer city-wide views.
Why go? Afraid of heights? Then perhaps this attraction isn't for you. The 138m Radio City Tower is one of the city's most iconic landmarks and offers impressive views that stretch as far as Blackpool, Snowdonia and Cumbria on clearer days. Learn interesting titbits about the city as you explore the home of one of the UK's most successful local radio stations, including a visit to the working studios of Radio City, Radio City 2 and Radio City 3.
What is it? A poignant museum exploring the history and legacy of the transatlantic slave trade.
Why go? This campaigning museum actively engages with contemporary human rights issues and was opened on 23 August 2007 – annual Slavery Remembrance Day, in the bicentenary year of the abolition of the British slave trade. Just yards from the dry docks where 18th-century slave ships were repaired, the museum's collections focus on the history and legacy of the transatlantic slave trade, as well as highlighting slavery in a contemporary context. A sombre but fascinating place to visit.
What is it? A Grade I-listed park offering some R&R in the city centre.
Why go? A 95-hectare haven in South Liverpool, Sefton Park is the perfect place to stretch your legs if you visit on a sunny day. Classified as a grade I-listed park by English Heritage, Sefton boasts several beautiful monuments and plays host to regular concerts throughout the year. Need a sit-down? Settle among the beautiful plants in the recently opened Palm House café and tuck into coffee and cake.
What is it? Home to one of the UK's largest art collections outside of London.
Why go? The perfect day out for art lovers, whether you fall head over heels for a Rubens, a Rembrandt or a Rodin. Boasting one of the most impressive collections of classical art outside of London, the Walker has been Liverpool's foremost art institution for more than 130 years. For families with young children, the Big Art for Little Artists area includes a wonderful gallery designed especially for those under eight.
What is it? A neoclassical venue that hosts everything from concerts to conferences.
Why go? This imposing Grade I-listed building is often described as one of the finest examples of neoclassical architecture in the world. After reopening its doors in 2007 following a £23 million refurbishment, St. George's Hall has firmly established itself as a world-class arts venue. With its soaring brick arches and a floor comprising more than 30,000 mosaic tiles, the striking architecture makes this a brilliant spot to experience anything from stand-up to classical music.
What is it? Buzzing contemporary arts space with a first-rate events programme.
Why go? The Bluecoat is one of the city's key creative hubs and the oldest centre for the contemporary arts in the UK. Here you can catch everything from photography exhibitions to immersive virtual reality shows, dance performances and poetry readings. The distinctive Grade I-listed building is also home to a café serving fresh, locally sourced food and drink, a vinyl shop, a design store, a violin repair workshop and a beautiful courtyard garden. The events programme is wonderfully diverse, so make sure to check the website before your visit.
What is it? Liverpool's first (and most delicious) street food market.
Why go? Every week, from Thursday to Sunday, the Baltic Market brings together the very best of the city's independent food and drink scene. Set up on the redeveloped Caines Brewery site, this is where to come for the likes of wood-fired pizza, frozen gin slush, bubble waffles and halloumi fries.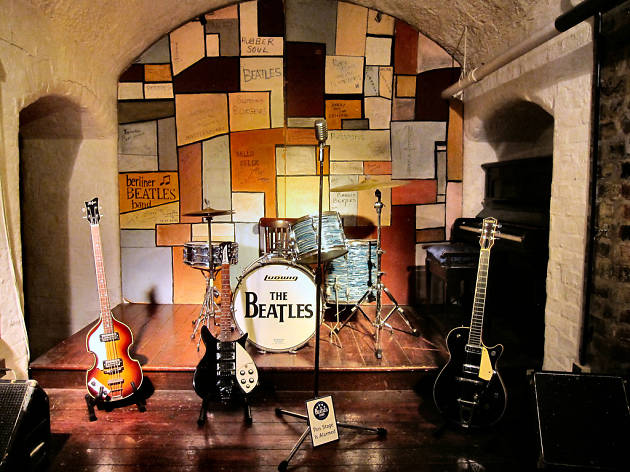 Photograph: Ronald Saunders
What is it? Where it all began for the Beatles.
Why go? The birthplace of the Beatles, this nightclub has been a musical mecca through seven eventful decades. The Rolling Stones, Queen, the Who and Elton John are just a few examples of the array of legendary acts who've played here. Have your photo taken on the iconic stage and watch live music from noon until midnight every day of the week – you never know, you might be watching musical history in the making.
What is it? A beautiful Tudor manor house that's steeped in history.
Why go? Originally built in 1530, this idyllic National Trust property reflects the tastes and fashions of the Tudor, Victorian and Jacobean times. Here you'll find intricately carved furniture, a fully equipped Victorian kitchen, decorative wallpaper by William Morris and an original Tudor priest hole. Step outside for a breath of fresh air in the beautifully restored garden and peaceful surrounding woodland.
Photograph: Wikimedia Commons / El Pollock
What is it? Part of Liverpool's Unesco World Heritage site and home to the Three Graces.
Why go? Here you can snap a selfie with the famous Beatles statue, take a ride on the Mersey Ferry, or grab a bite to eat in one of many wonderful riverside restaurants. This historic area is also home to the Three Graces, consisting of the legendary Royal Liver Building, the Cunard Building and the Port of Liverpool Building – proud symbols of Liverpool's international prestige.
Not enough culture for you?
It may be better known for its thriving independent arts and music scene, but Liverpool's museums offer is unrivalled up north. This city brims with world-class galleries and cultural centres that sit naturally alongside their grand, illustrious Victorian predecessors.