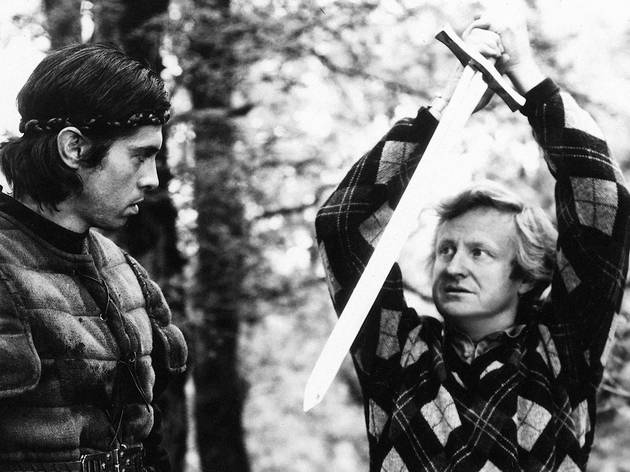 John Boorman on Jon Voight, 'Hope and Glory' and more
The veteran director talks on the eve of a new retrospective
John Boorman is one of the UK's most brilliant and unpredictable directors. His work runs the gamut from masterpieces – '
Hell in the Pacific
' (1968), '
Deliverance
' (1972), '
The General
' (1998) – to disasters like '
Zardoz
' (1973) and '
Exorcist II: The Heretic
' (1977), with a wealth of intelligent, idiosyncratic films falling between the two.
From the existential criminality of '
Point Blank
' (1968) to the Wagnerian bombast of '
Excalibur
' (1981), the nostalgic warmth of '
Hope and Glory
' (1987) to the satirical sleekness of '
The Tailor of Panama
' (2001), Boorman's work never fails to surprise. As he accepts a richly deserved BFI Fellowship and opens a BFI season dedicated to his work, Boorman looks back on an extraordinary career.
All your past films are being shown at a retrospective at BFI Southbank from now until the end of April 2013. How does it feel to have all your work lined up like this?
'It's kind of momentous, really. At my age, at 80, it's like a kind of farewell. Except that I'm already planning to do another film.'
Seeing them all laid out, do you see patterns in your films which perhaps you didn't detect while you were creating them?
'That's for others to say. I don't really look back, I hardly ever look at my films once I finish them. Though some of my least successful films have gathered some impetus and reputation over the years, and that's gratifying. There was a retrospective last year in France and I saw "
Leo the Last
" for the first time since I made it in 1970, and I have to say it had improved enormously. Somebody had clearly been at work on it during those years!'
Do you think it'd be possible for a filmmaker to be as idiosyncratic as you in the modern movie industry?
'No. The whole thing is much more formulaic now. I was lucky in the '70s – studios were taking chances. Now the middle ground has disappeared: you either have the big Hollywood pictures or the art film ghetto. You can't get a decent budget for a film that doesn't fit into the studio system.'
Do you have a favourite among your films?
'I have a great affection for "Hope and Glory" because it was about my own family. Then there are films like "Point Blank", where I don't really understand how it came about. I was working instinctively, so I look at that film with some kind of awe. I don't quite believe that I made it.
'Then there are films where I was just grateful to have survived them, like "Deliverance" or "
The Emerald Forest
". Those films were made in tough situations, but I never used stuntmen, I always tried to find a way that the actor could do the scene without endangering himself. So I always had this dread that an actor would die or I would lose a member of the crew. It never happened, I'm glad to say.'
Looking at behind-the-scenes footage of Jon Voight being washed downriver in 'Deliverance', you clearly had some close calls.
'When I persuaded Jon to do that film he was in a very bad way. He'd made a film called "The All-American Boy" which was all but unreleasable, and he was in a bad place, on the point of giving up acting. Afterwards, he would always say, "John saved my life, then spent the next eight weeks trying to kill me."'
What can you tell me about your new film, 'Queen and Country'?
'We've pretty much managed to scratch the funding together now. It's based on the period of my life roughly nine years after "Hope and Glory". I was 18 and had to go into the army for two years. It was around the time of the Korean War and the coronation of Queen Elizabeth, so the film spans both those events. It's about being 18 and falling in love. Being stupid!'
The John Boorman season is at BFI Southbank until the end of April 2013.
Latest Time Out film features