Oddball? Goth? Robert Pattinson is actually a laugh
Former vampire, future Batman and 'The Lighthouse' star Robert Pattinson is surprisingly fun to hang out with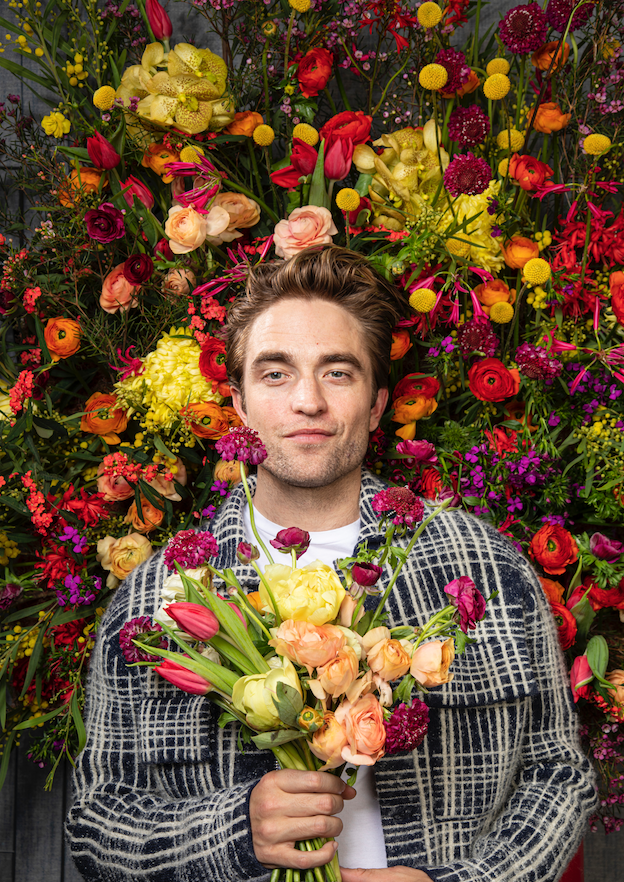 Robert Pattinson is every bit as intense as you might expect. He rests his famously chiselled chin on a clenched fist and considers the question I've put to him. 'How do you make a spectacular wank?' he muses. 'A prize-winning wank?'
The London-born actor is telling me about a memorable episode in his latest film, 'The Lighthouse'. It is, in his own words, a 'ferocious masturbation scene'. To make matters more bizarre, they shot it on the opening day of filming. 'It was fun doing it on the first day,' he admits. 'It was an icebreaker.'
Was there an element of wanting to impress director Robert Eggers? 'We'd just done a week of rehearsals where I'd basically hidden everything from him,' he says. 'I felt I had to prove myself on the first day, so I went [for] the most extreme and grotesque… grotesquery.'
So how do you conjure up a 'prize-winning wank'? He looks me in the eye and says in all seriousness: 'Throw up on yourself.'
He reflects on this for a second. 'They didn't use that take in the end,' he recalls. 'It was a bit too much.'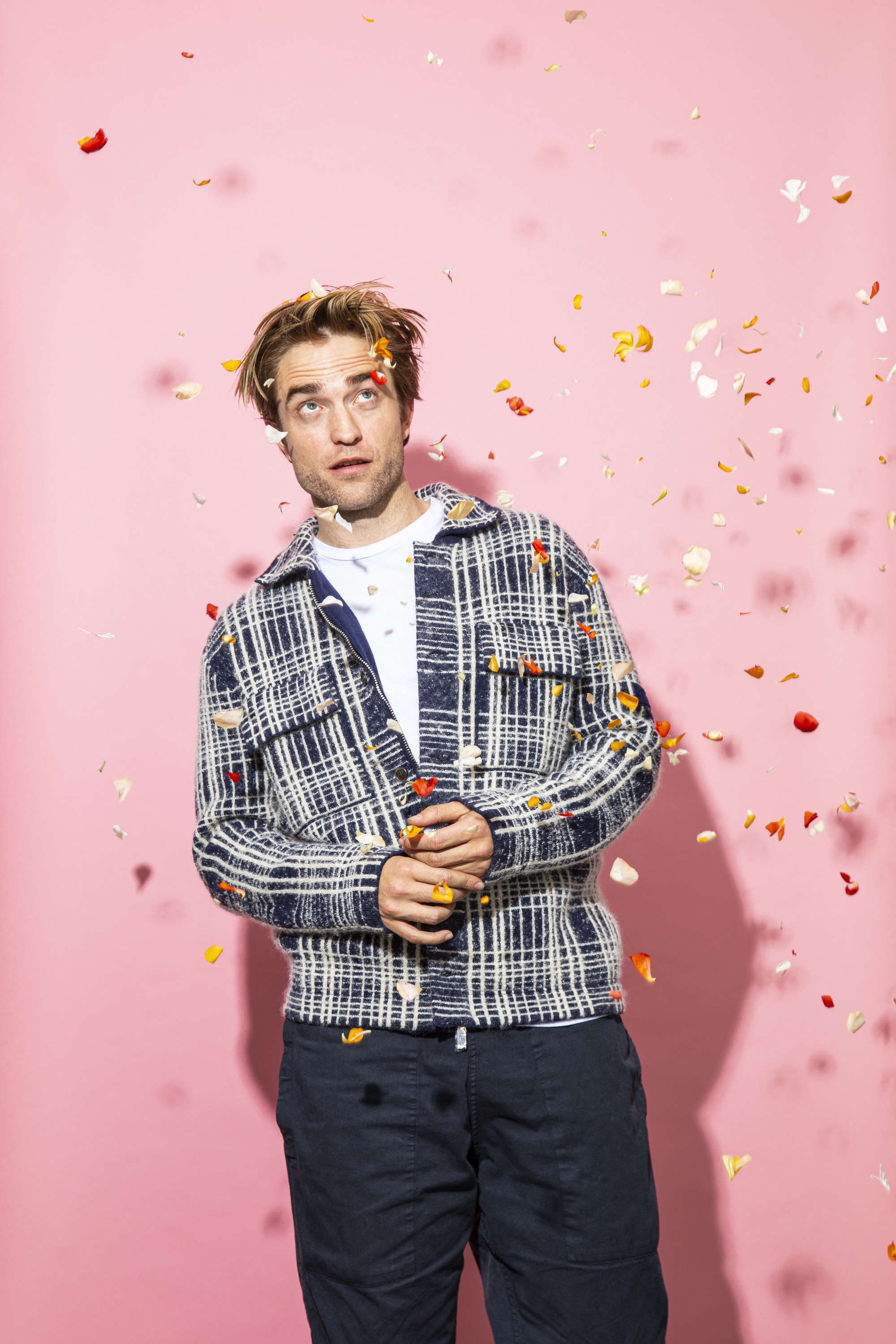 Okay, aside from the whole making himself vomit while tossing himself off thing, he's not that intense. He's quite a laugh, actually. Which is handy, as we've decided to pelt him with petals and shove a load of flowers in his face for our photoshoot. And for the most part, he rolls with it. There's only one thing he won't do, which is holding flowers up to his eyes like glasses. 'That's where I draw the line,' he says firmly. 'It's a little too Teen Vogue for moi.'
Let the bright one in
Where he draws the line is clearly more flexible when it comes to acting roles. Born in Barnes in south-west London, Pattinson made a name for himself as teen heartthrob Edward Cullen in the global phenomenon that was 'The Twilight Saga'. Since then, he's done his best to shake off the idea that he's just 'that guy from "Twilight"'. He's played a bank robber in low-budget heist movie 'Good Time' (2017), a death row prisoner who's shipped off to outer space in mad sci-fi flick 'High Life' (2018) and, last year, adopted a frankly ridiculous French accent as The Dauphin alongside Timothée Chalamet in Netflix's 'The King'. His latest appearance on the big screen is in 'The Lighthouse', a black-and-white shocker with a wilfully arthouse vibe starring Pattinson and Willem Dafoe as lighthouse keepers on a remote island off the New England coast.
Happily, there's more to the film than the actor's aforementioned furious onanism. Pattinson and Dafoe's performances are brilliant as they slowly go mad, trapped on the island, bickering with each other and getting drunk on kerosene when the booze runs out (Pattinson didn't go full method for that bit – 'I think it makes you go blind'). It's billed as a psychological horror but parts of it are genuinely funny. Take the scene where Ephraim Winslow (Pattinson) tries to hurt Thomas Wake's (Dafoe) feelings by saying he hates his cooking. 'Yer fond of me lobster, aren't ye?' pleads Thomas, as they squabble like a married couple.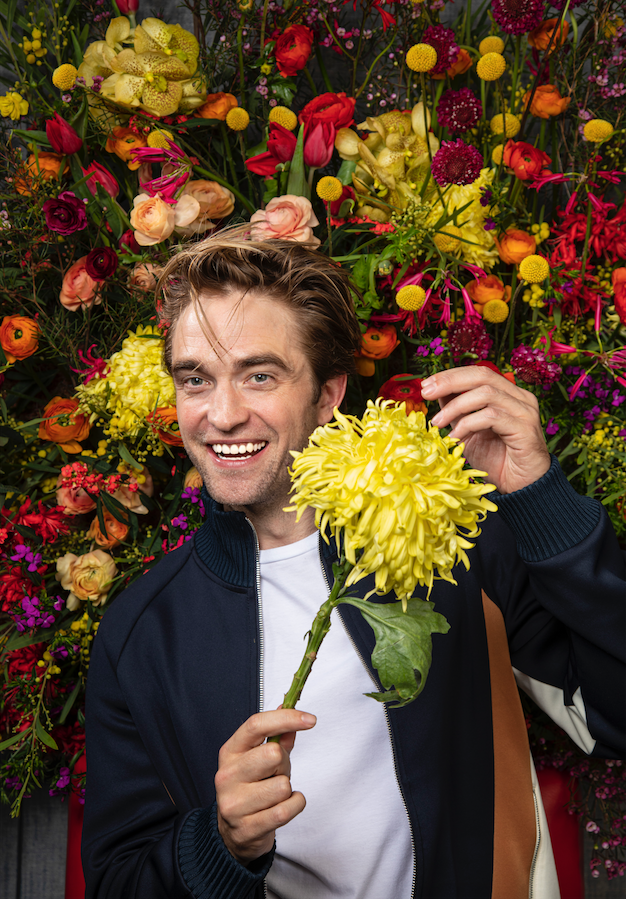 Did he have a favourite line? 'I like saying to Willem "Don't be such an old bitch." There's something quite satisfying about calling an older man an "old bitch".'
Pattinson's character spends the film sorting out shit (literally – he has to empty chamber pots), being taunted by seagulls and getting bossed around by Dafoe. Is having a crap job something Pattinson can relate to? 'I kind of enjoyed stacking boxes,' he says. 'There's a guaranteed sense of achievement at the end of the day.' He was a waiter when he was 16 and remembers his manager using reverse psychology to get the washing-up done faster:
'I always fell for it. "There's no way you guys can get all these dishes clean in time." I was like "Yes I can, yes I can!" '
The snakebite years
Of course, Pattinson didn't spend that much time doing menial jobs. He got his first movie role aged 18, playing Cedric Diggory in 'Harry Potter and the Goblet of Fire'. But before that set him on the path to 'Twilight', which set him on the path to scrapping with Willem Dafoe and an octopus on an island in Nova Scotia, he was your average London teenager, albeit one with impeccable bone structure.
Now he's 33 and mainly lives in LA – though he sees himself as nomadic ('I can only really stay in a place for, like, four months without getting itchy feet'). I'm interested to know what he remembers of London from his formative years. Trips to the West End? Seeing some life-changing show at the National Theatre? Not quite. 'It was a big moment for me when the Tesco Metro opened,' he says about growing up in Barnes. 'It was a huge deal because [before] you'd have to go across Hammersmith Bridge to go to Tesco. That was probably 20 years ago…'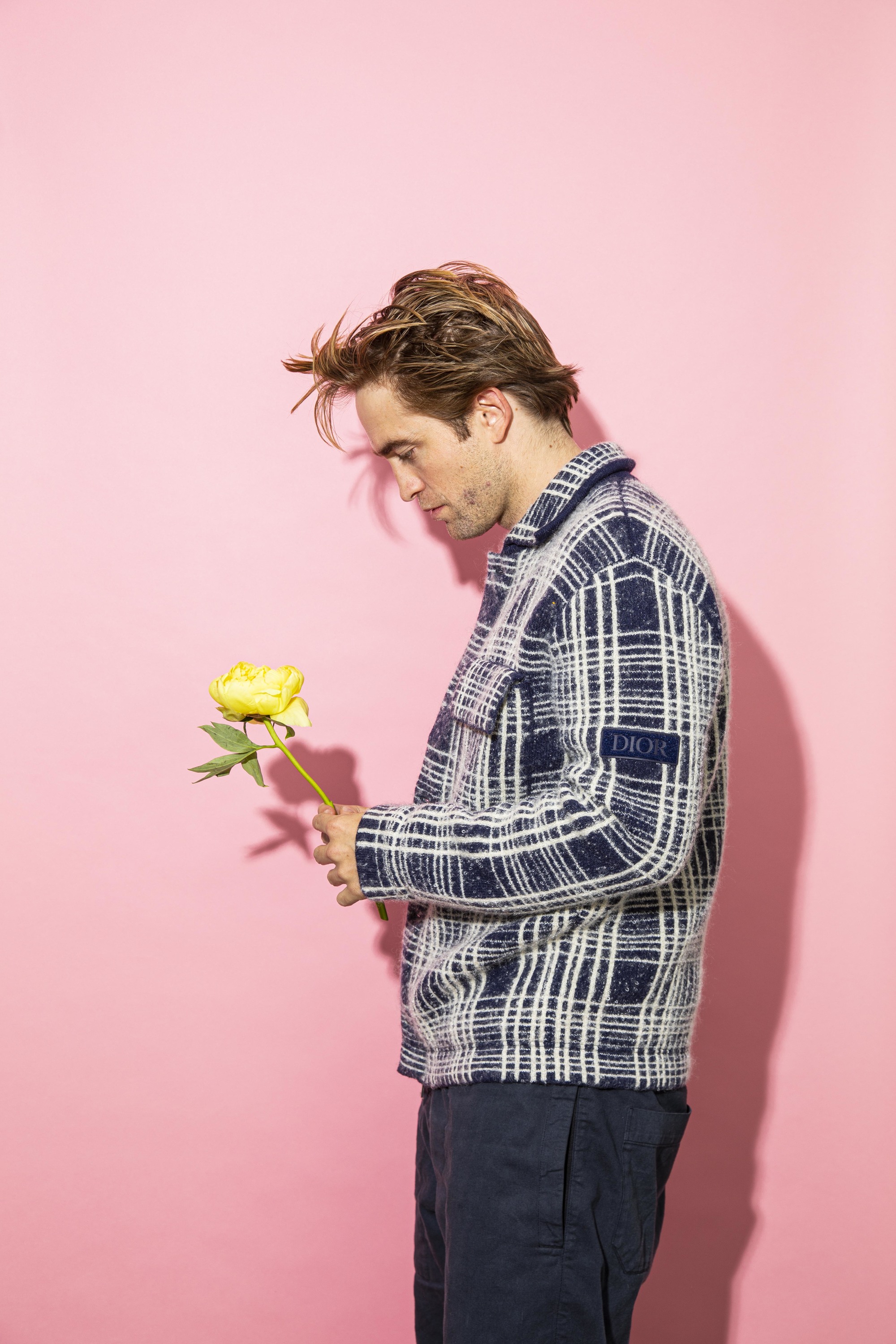 Aside from the supermarket, his local hangouts were a big tree on Barnes Common ('that was the Friday night spot'), the sandpit at Barn Elms where he did the long jump ('I spent a lot of time there') and an Indian takeaway called Monzil's ('that was like the youth club'). Thinking about my own teenage experience at the local takeaway, I ask if he went to the Indian to get pissed. He's diplomatic: 'I shouldn't say.' But it triggers a memory of ordering snakebites in the pub when he was underage. 'When I was growing up, you could go to the pub and get served when you were 12,' he says. 'You'd get a snakebite. You'd be ordering it and it was like: so, you're a child and you're ordering a Ribena with alcohol in it. It couldn't be more obvious.'
From Barnes boy-wonder to Batman
As well as woozy memories of sipping on snakebite as a youth, there's a sense that Pattinson genuinely loves coming back to his home city. He talks fondly of leaving reliably sunny LA to spend summer across the pond: 'It's the nicest place to have summer in the whole world.'
But when I ask about where he likes to go in London, he pauses. 'Erm… I don't want to give them away… I was trying to think of a place that I don't go to anymore.' It's no surprise that he might have concerns about getting sought out by paparazzi or fans. After years of playing oddballs in indie and arthouse films, he's making a return to blockbuster territory, following in the footsteps of Michael Keaton, Ben Affleck and Christian Bale to play Batman. He still can't believe it. 'It's the coolest thing ever,' he says.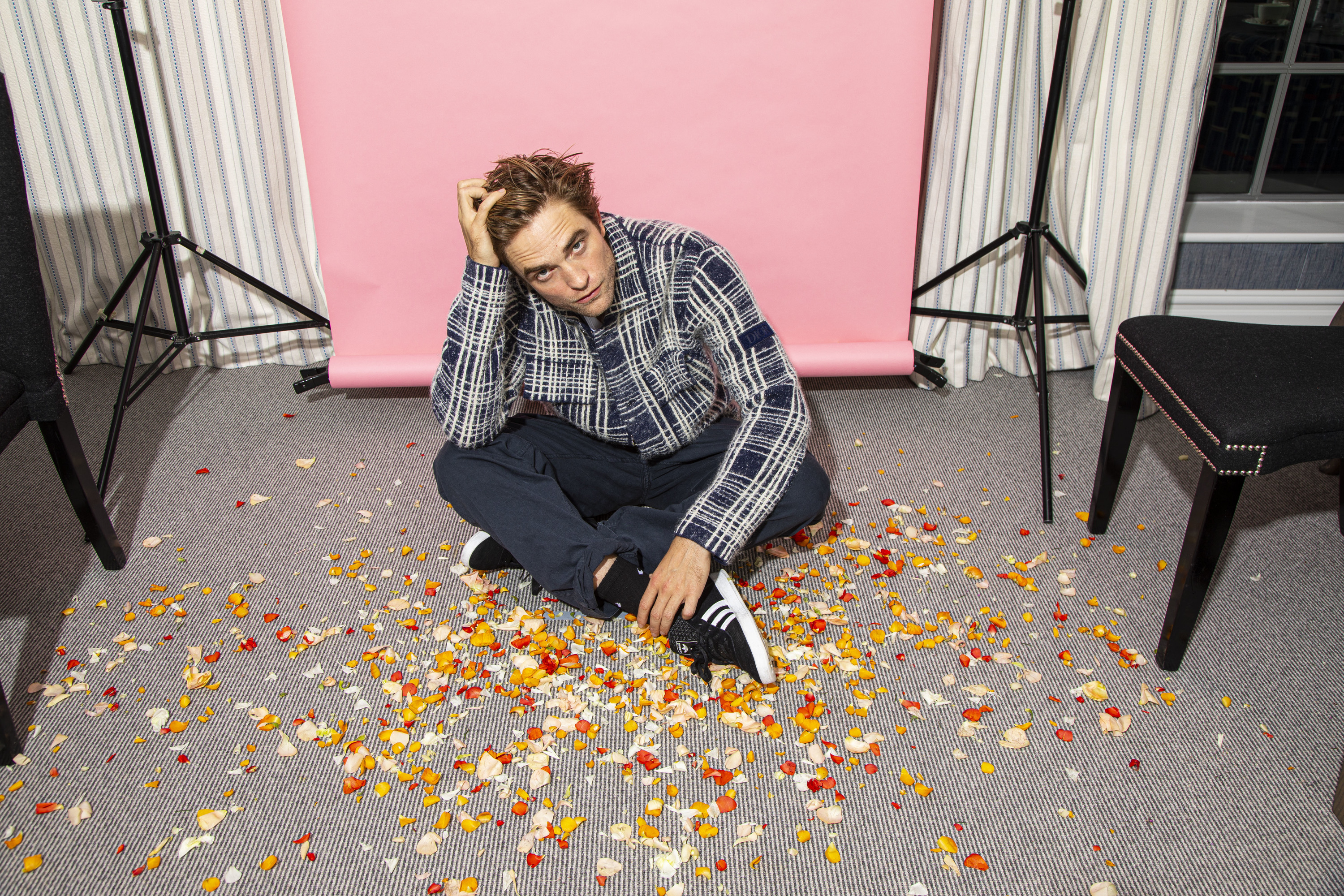 It nearly didn't happen, though, because the possibility got leaked to the press before Pattinson had auditioned, so he thought his chance of getting the role had been ruined. 'It was really nerve-racking. You think: Really? Is this how I'm going to lose this role? It's the most annoying circumstance to lose something.' And while the film isn't out until 2021, he's already pissing people off. He recently said something about Batman not being a superhero because he doesn't have superpowers. Big mistake. 'I wasn't educated about the subject,' he jokes, sounding baffled by the whole thing. 'People got very angry about it. It's bizarre. I still can't understand the argument. Okay, he's a superhero, I'm sorry!' He starts talking about himself in the third person. 'The next headline: "Pattinson retracts: Batman is, in fact, a superhero. He takes it back." '
Joking aside, he does care what people make of it. 'I'm only worried about if people like it when it's done. Right now, people can think what they want.'
And, for now at least, despite the hype that's building, he can still walk around London's streets unnoticed. His secret? 'I walk really quickly.' Even during peak 'Twilight' mania, he says he's mostly been left alone here. But there is one incident that sticks in his mind. 'One time, I got photographed' – he starts to whisper, with the same steely intensity I recognise from earlier – 'buying pants in Marks & Spencer, which I always thought was a bit embarrassing. I did get some free pants, though.'
'The Lighthouse' opens Fri Jan 31. Photography: Andy Parsons
Read our review of 'The Lighthouse'
You can almost taste the salt on your lips in the new psychological horror from Robert Eggers ('The Witch') that will leave even the sturdiest of sea legs shaking.