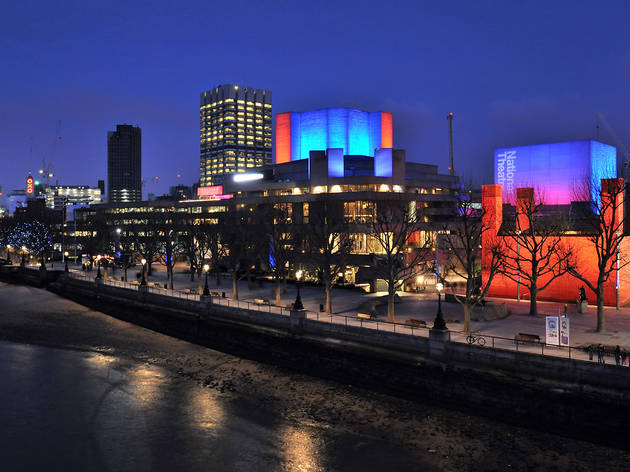 1/8
© Philip Vile
2/8
© Philip Vile
3/8
© Philip Vile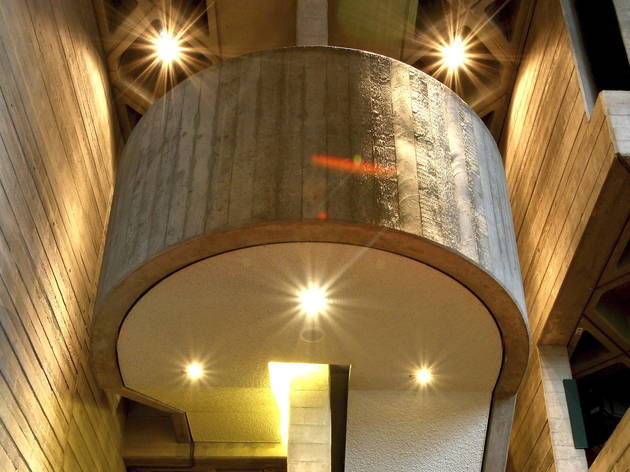 4/8
Rob Greig / Time Out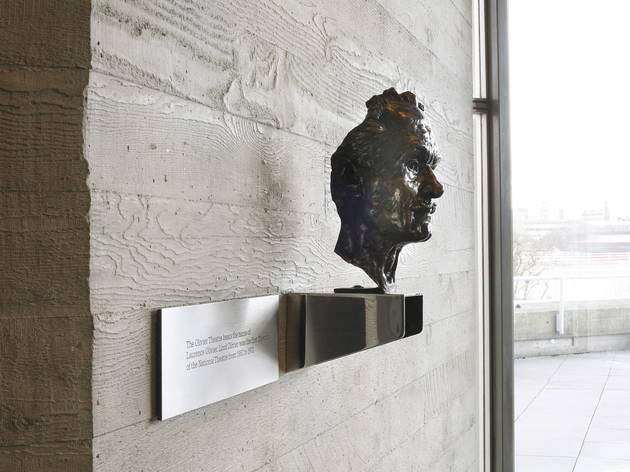 5/8
Rob Greig / Time Out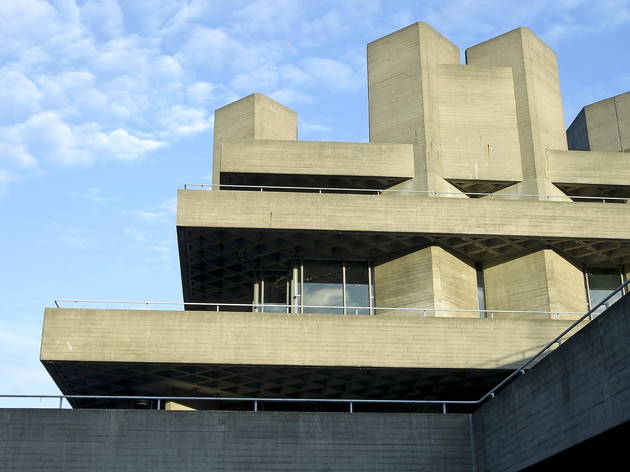 6/8
Rob Greig / Time Out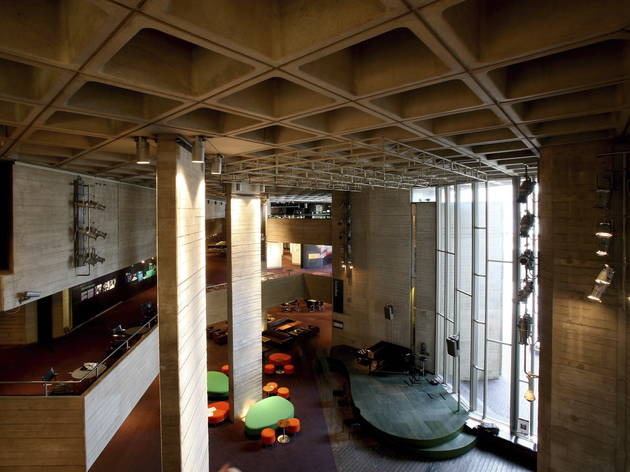 7/8
Rob Greig / Time Out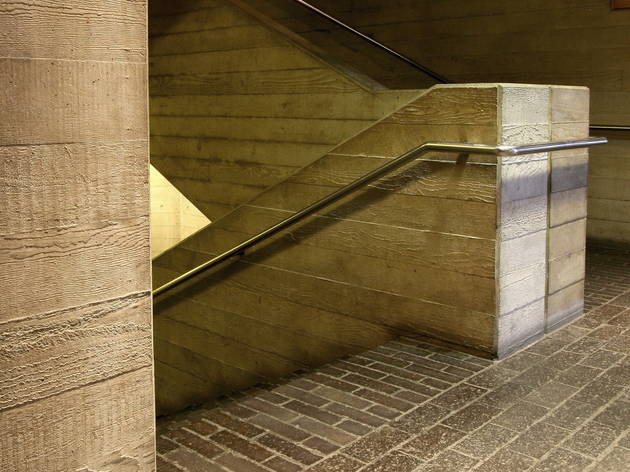 8/8
Rob Greig / Time Out
The world's greatest theatre?
Arguably the greatest theatre in the world, the Royal National Theatre is also one of London's most iconic landmarks and perhaps this country's foremost example of brutalist architecture. It boasts four auditoriums – Olivier, Lyttelton, Dorfman and Temporary – a firm foothold on the West End thanks to 'War Horse' and 'The Curious Incident of the Dog in the Night-Time', and its NT Live programme beams its greatest hits to cinemas across the globe.
NT Live is just one of the initiatives to issue forth from the golden reign of Nicholas Hytner, which saw a canny mix of modernised classics, popular new writing, the odd worthy excavation from the canon and a splash of hip experimental work fill out the houses night after night, something further driven by a major initiative to reduce ticket prices by actively seeking private sponsorship, notably that of Travelex, who subsidise tickets in the Lyttelton and Olivier.
The current artistic director is Hytner's successor Rufus Norris, whose initial programming has stuck with many Hytner fundamentals but offered an edgier, more international spin.
Following major upgrade work in 2014, the National Theatre sports all manner of eating and drinking facilities, including flagship restaurant House. Our top tip is The Understudy, a fine riverside bar which brews its own lager and plays excellent music.
Venue name:
National Theatre
Contact:
Address:
South Bank
London
SE1 9PX

Transport:
Rail/Tube: Waterloo
Do you own this business?
Hadestown

Ooh, this is one to get excited about: hit indie musical 'Hadestown' is coming to the NT, as it warms up for a run on Broadway. 'Girl From the North Country' fans are likely to be intrigued by its lo-fi mix of folk music and emotional intensity, based...

Musicals

Until Saturday January 26 2019

'Stories' review

Anna is 39, with a slew of relationships behind her. She wants a child, but Tom, her latest failed boyfriend, has just talked himself out of it with tearful self-absorption. Anna fears that her time is running out and she doesn't want to wait, only to...

Drama

Until Wednesday November 28 2018

War Horse

The NT are bringing back 'War Horse' for Christmas 2018. This review is from the show's 2012 West End run. The National Theatre's 'War Horse' has become ubiquitous. The toast of the West End and Broadway, as I write this it's sold out at the New London...

West End

Tuesday November 13 2018 - Saturday January 5 2019

'Antony and Cleopatra' review

There is a myth that Shakespeare plays pretty much run themselves on the National Theatre's huge Olivier stage. The lie of that was exposed earlier this year, with a dog's dinner of a 'Macbeth' that was so bad it begged the question as to whether the...

Shakespeare

Wednesday November 21 2018 - Saturday January 19 2019

'I'm Not Running' review

David Hare's new play revolves around an NHS campaigner called Pauline, who may or may not be running for office. I wasn't too bothered either way at the start of Hare's drama, set at a press conference where journos laboriously pick apart her statement...

Drama

Tuesday November 27 2018 - Thursday January 31 2019

The Tell-Tale Heart

Auteur director Anthony Neilson has honed his signature method of working - where he cooks up brand new shows in collaboration with the cast - on intriguing recent works like 'Unreachable' and 'The Prudes'. His latest is inspired by Edgar Allan Poe's...

Drama

Wednesday December 5 2018 - Wednesday January 9 2019

When We Have Sufficiently Tortured Each Other

Weirdly, 2019's most sought-after ticket might just be for an experimental theatre show in the NT's Dorfman space. Why? Well for one thing, it's the latest show by playwright Martin Crimp, who's hugely respected for his brilliantly weird, unsettling work....

Drama

Wednesday January 16 2019 - Saturday March 2 2019

Ian McKellen: Tolkien, Shakespeare, others …and you!

Sir Ian McKellen turns eighty next year, and marks the occasion by taking a well-earned rest. ONLY JOKING.  In fact the unstoppable stage and screen legend will tour a new autobiographical stage show called 'Tolkien, Shakespeare, others …and you!' to...

Drama

Friday January 25 2019 - Sunday September 15 2019

The Winter's Tale (Ages 8-12)

Perdita is lost and found in the magical story 'The Winters Tale'. The NT has reworked Shakespeare's play for primary school audiences, with a team including new Unicorn Theatre artistic director Justin Audibert.

Shakespeare

Wednesday February 6 2019 - Thursday February 21 2019

Tartuffe

Playwright John Donnelly and director Blanche McIntyre made an extremely well-regarded touring version of 'The Seagull' a few years back that – horror of horrors! – London didn't actually get to see. They make up for that in 2019 by teaming up for a new...

Comedy

Saturday February 9 2019 - Tuesday April 30 2019

Show more
Average User Rating
4.8 / 5
Rating Breakdown
5 star:

17

4 star:

2

3 star:

1

2 star:

0

1 star:

0
The national theatre puts on epically large productions with beautiful set designs that you can't help be impressed by. I love that they're so openly encouraging to get people from all works of life into theatre thought NT live and their young person discounts. However, my teeny tiny qualm would be that the productions can feel slightly too big - you sometimes loose the beautiful intimacy that you can find in my very favourite theatre (the Old Vic). That being said - a ticket purchase here will never be too far wrong!
An amazing contemporary venue that allows you get up close to stars big and small in a tremendously creative space.
Just brilliant in every way.
Might be the most special venue in the entire world for me. You could spend the entire day here and fell at home & entertainted. Contantly changing yet stays the most welcoming. It may look like a fortress from the outside but once you step in you just don't wanna leave. Magic space! Happy 52th birthday, btw )
A wonderful space for the public as well as a place to see some fantastic theatre, often at extremely reasonable prices. Really good coffee too!
Nothing like the National! Best night out in London and seeing the inner workings of his great theater is a delight! Don miss it!!
The National never fail in excelling with putting on some first class pieces of theatre. The Travelex season makes it even sweeter, as well as the building being a great example of brutalist architecture, and located in one of my favourite parts of London.
Outstanding. If you haven't been to watch something here yet, you haven't experienced true London. This is how theatre should be done.