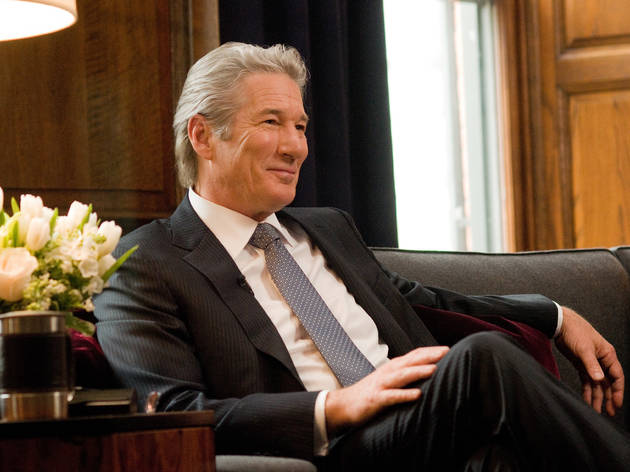 Richard Gere on game plans, politics and power
An interview with the 'Pretty Woman' star ahead of his new film, 'Arbitrage'
Richard Gere is one of Hollywood's most reliable stars. From his roots on stage (he starred in the original London production of 'Grease' in 1973, fact fans) and early movies like Terrence Malick's '
Days of Heaven
' (1978), through the heartthrob years of '
An Officer and a Gentleman
' (1982) and '
Pretty Woman
' (1990), to his recent career as a character actor in low-key fare like '
Hachi: A Dog's Tale
' (2009), Gere has always been a known quantity: the charming, politically engaged leading man who exudes easy charisma. Now 63, Gere has taken his first lead role in four years as a wealthy patriarch under pressure in first-time director Nicholas Jarecki's superb financial thriller '
Arbitrage
'.
How do you choose your roles? You're clearly not picking them to make pots of cash.
'There's no game plan at all, never has been. It's intuitive, like falling in love, like flirting. You feel it. Then you have to try and be rational about it: have I done this before? Do I want to work with these people? Does this fit into my life? But it starts from that initial feeling. And it could be anything, any kind of movie.'
You seem to avoid the big arm-waving, Oscar-bait roles. Are you more interested in the minutiae of human experience?
'I love what the camera's especially good at, which is seeing thoughts, the flicker of thoughts and emotions. Then the onus is on the audience – they have to lean forward a little bit, come to it. I had great teachers in the beginning, like Richard Brooks who directed "
Looking for Mr Goodbar
" (1997). He said: "If you don't bring something new in every scene, it's not going to be in the movie." It's crude, but it's true. The audience gets things very quickly. There's no sense repeating yourself.'
Let's talk about 'Arbitrage'. Did you feel strongly about making a movie about the financial crisis?
'After reading the script, yes. I've read tens of thousands of scripts in my life, and clearly this was a good script, in the structure and the characters. But then it's also looking at our world, and what is meaningful to us. Deconstructing the world we live in, through this character.'
You talked to a lot of Wall Street people when researching your role in 'Arbitrage'. Did you learn anything that shocked you?
'No. Power is the same everywhere. In industry, in politics, in religion. It's almost always a boys' club, guys who are somewhat confused about sex and power. These unfinished, boyish people, who somehow haven't gone to that other level of maturity.'
Was it difficult to stop your own preconceptions from colouring the way you approached the character?
'No. I mean, those preconceptions were there. I blame these guys. We all blame these guys. But one thing I've come to through making the movie is that I see how we've enabled them. We've infantilised ourselves, allowed ourselves to not know. We don't understand what they do, and they know we don't know. We enable the wizard behind the curtain. And we have to take full responsibility for that.'
How much do your politics influence your film choices?
'Well, it's more fun if you care about something. But it's dangerous: if you feel too much about it, you can't be impartial. I can't judge a character while I'm playing him. The times I've tried to seek out a script that connects to the issues I care about, I can never find it. And when I develop scripts myself, they're never good enough. They're too simple, too reductive. When you care that strongly, you judge at a much higher level, and nothing ever lives up to it.'
Do you wish Hollywood was more politically active? Do you think it's become complacent since the '70s?
'Well those '60s and '70s movies were independently made, then when they were embraced by the mainstream, Hollywood took notice. "Hey, these movies are popular, we can make a little money." And those movies were fun, they were sexy. People love outlaws. But Hollywood is a different place now. Television has taken that role. I love watching the best of those shows, like "Homeland". There's a lot of smart, challenging stuff out there.'
Terrence Malick, who you made 'Days of Heaven' with in the late 1970s, is back and busy at the moment with 'The Tree of Life' and 'To the Wonder'. Did it surprise you when he disappeared for two decades after 'Days of Heaven'?
'Well, Terry's an eccentric guy. He wants to live outside the box. The challenge for Terry is not to make the same movie every time. Maybe that's why I like his first film, "
Badlands
", the best. It was so fresh. He didn't know what a Malick film was yet. "Days of Heaven" is a really good film, I saw it recently at a festival. It's a very beautiful, well-crafted film. But "Badlands" cuts deeper, somehow.'
If he offered you a role, would you take it?
'Sure. We ran into each other fairly recently and we were happy to see each other.'
You mostly take straight roles, but every so often you do something unexpected, like Todd Haynes's Bob Dylan biopic 'I'm Not There' or the smutty portmanteau comedy 'Movie 43'. Do you like to surprise people?
'With "I'm Not There", I loved Todd Haynes, and it was just a good idea that made sense to me. Bob Dylan is someone that I know, so that appealed. This other thing, "Movie 43", I haven't even seen. The guy who put it together is the godfather of my stepdaughter, and he asked me for a one-day favour. I'm sure it's a piece of junk.'
'
Arbitrage' opens in the UK on Fri Mar 1.
More Time Out film features