Seven of the best James Bond vehicles
Along with his love of loose women and a deep contempt for his liver, 007 would be nothing without an array of hi-tech transportation...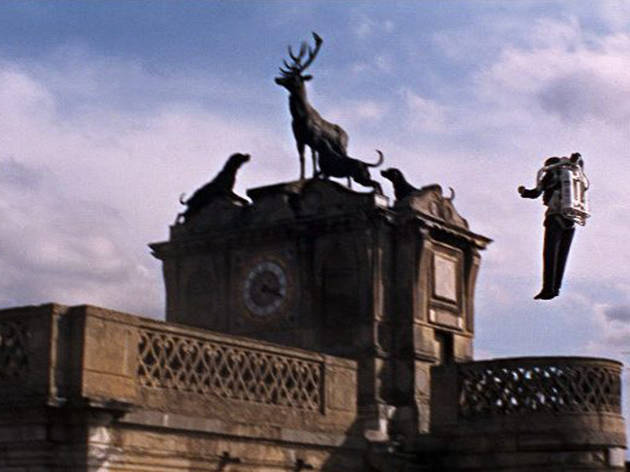 1/7
Bell Textron Jet Pack – 'Thunderball' When James Bond swaggered on to the screen to do battle with Dr No in 1962, he had it all: the girls, the jet-set lifestyle, the licence to kill. The only thing missing was the mad gadgetry – the devious devices and lunatic conveyances that would become a hallmark of the long-running series. All that changes in the opening moments of 'Thunderball', when 007 straps on a jet pack that looks like it's made of toilet-roll tubes wrapped in tin foil and escapes from a French château in a chuff of green smoke after choking a grieving transvestite to death with a poker. Ludicrous and cool, it announced Bond as the boss daddy of big boys' toys. Read more about 'Thunderball'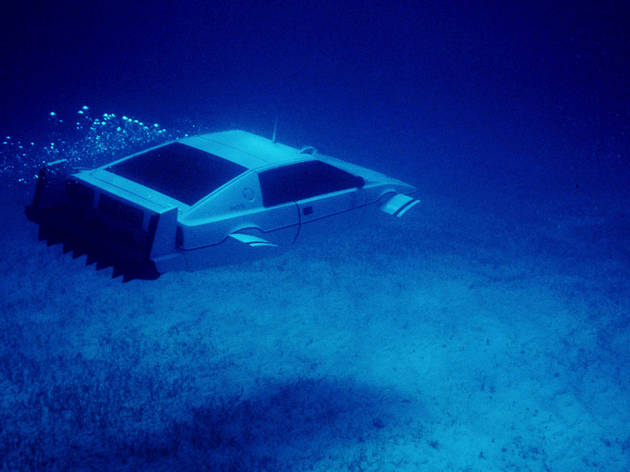 2/7
'Wet Nelly' Lotus Esprit – 'The Spy Who Loved Me' 1977 was quite a year for ice-white drip-dry accessories. But while John Travolta was finger-popping his way through 'Saturday Night Fever' in a polyester three-piece, James Bond – by now reincarnated as the eyebrow-waggling Roger Moore – was dipping his white Lotus into the crystal-clear blue waters of Sardinia. Quite why the idea of a mid-price sports car with questionable submarine capabilities should bring a tear of nostalgic wonder to the eye of any man of a certain age remains unclear. Whether the same would hold true were the car to have retained its original name – the Lotus Kiwi – is equally open to question. Read more about 'The Spy Who Loved Me'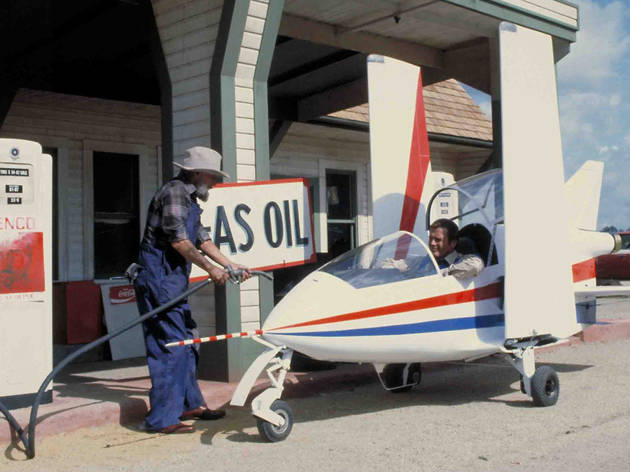 3/7
Bede BD-5J Acrostar Microjet – 'Octopussy' You're being pursued across Cuba by an offensively cartoonish platoon of sweat stained, cigar-chomping military halfwits. What do you do? Well, if you're James Bond, you jump into the nearest convenient horsebox and emerge in a sleek, folded-wing mini-jet, then evade sundry missiles and fly under a bridge and through an aircraft hangar before landing to refuel at a handy roadside petrol station. This vehicle was in one of the Bond franchise's most explosive pre-titles sequences. Weighing just 163kg, the real Bede BD-5J is the world's lightest jet aircraft and was available commercially throughout the '70s. Horsebox sold separately. Read more about 'Octopussy'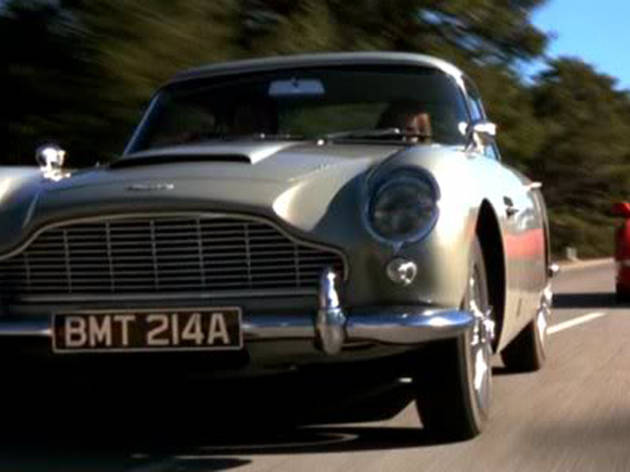 4/7
Aston Martin DB5 - 'GoldenEye' Fashions come and go, fads pass, but the Aston Martin DB5 will always be 007's car. Powerful, agile, timeless and very, very British, the DB5 was first driven by Bond in 1964's 'Goldfinger' and kept motoring all the way up to its dramatic demise in 2012's 'Skyfall'. Read more about 'GoldenEye'
5/7
Q Boat – 'The World Is Not Enough' We go off the deep end in more ways than one with Bond's slightly mental trip up the Thames from MI6 headquarters in Vauxhall to the Millennium Dome. The jet-powered, armoured speedboat he drives may look like a discarded prototype for one of Batman's toys, but the ugly duckling goes like greased lightning and turns on a sixpence. Shame it doesn't come with any kind of windscreen – something the piss-wet-through Pierce Brosnan no doubt repeatedly pointed out during filming. Read more about 'The World Is Not Enough'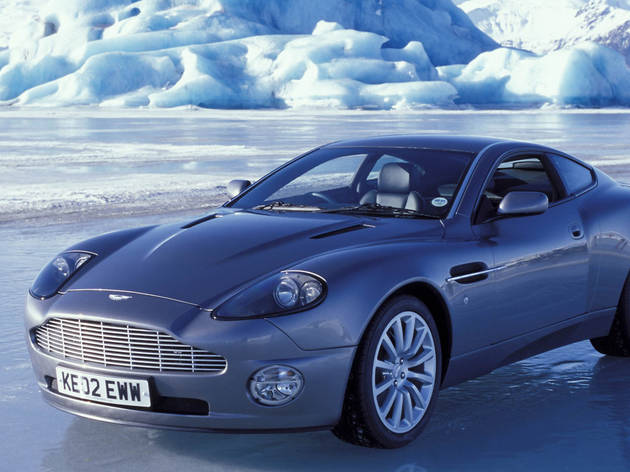 6/7
Aston Martin V12 Vanquish – 'Die Another Day' Bond has had some goofy vehicles over the years. The rocket-powered, hovercraft-assisted gondola – or Bondola – from 1979's 'Moonraker' springs to mind, as does the risible one-man crocodile-submarine hybrid from 'Octopussy'. While it might not be in quite the same league, this missile-armed Vanquish – or Vanish – elicited more than a few groans when Q (John Cleese) unveiled it to a distinctly unimpressed 007 during the generally regrettable 'Die Another Day'. Read more about 'Die Another Day'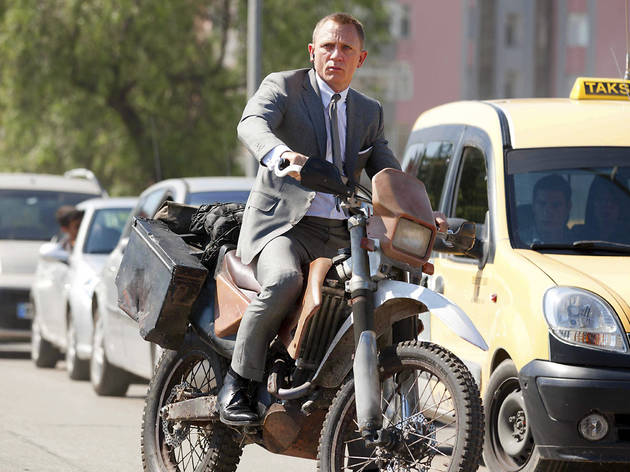 7/7
Honda CRF250R off-road motorbike – 'Skyfall' Bond has never really been big on bikes. Connery was too tall and Moore too suave, but DanielCraig's rugged, grounded reading of 007 gave Bond a little more grit and street-level wherewithal. Ditching the elaborate, elegantly conceived set pieces of yore, the opening of 'Skyfall' sees James take to two wheels for a bruising, nerve-shredding motorbike chase through – and over – Istanbul's Grand Bazaar on a scruffy-looking Honda trials bike. After his quarry gets away, James is shot and left for dead by MI6, which, no matter how you look at it, represents a fairly bad day at the office. Read more about 'Skyfall'
Snap up exclusive discounts in London
Time Out's handpicked deals — hurry, they won't be around for long...