The highs and lows of Leonardo DiCaprio
He's had five Oscar nominations and scores of hits – but Leonardo hasn't always been Hollywood's golden boy. We mark the highs and lows on the bumpy road to 'The Wolf of Wall Street'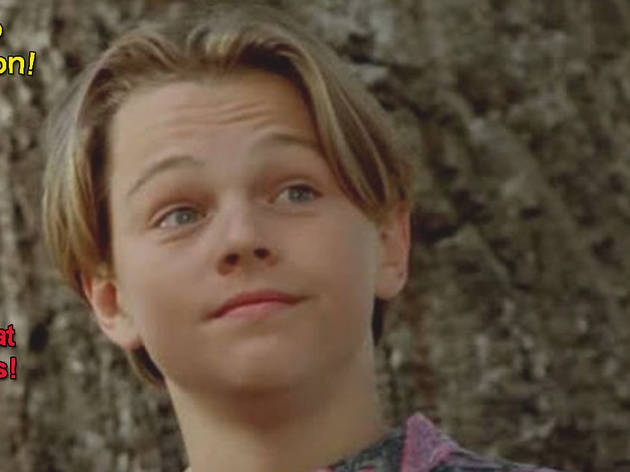 1/16
Year: 1991 Yes, Leonardo DiCaprio was the cute little non-critter in this critically-panned comedy horror sequel that no one asked for. Who knew this fresh-faced 16-year-old would go on to become one of the biggest movie stars of the future?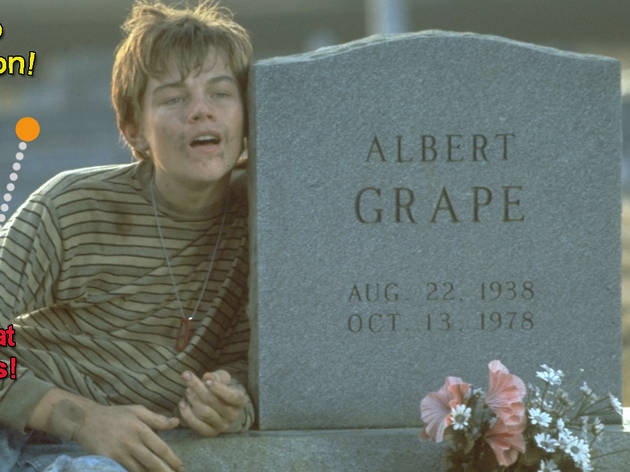 2/16
Year: 1993 Two major careers were kicked off with this quirky drama from Lasse Hallström. Johnny Depp impressed as the small-town Gilbert while Leonardo showed natural talent as his mentally disabled younger brother. His turn landed him a Best Supporting Actor nomination at the Oscars. Read 'What's Eating Gilbert Grape' review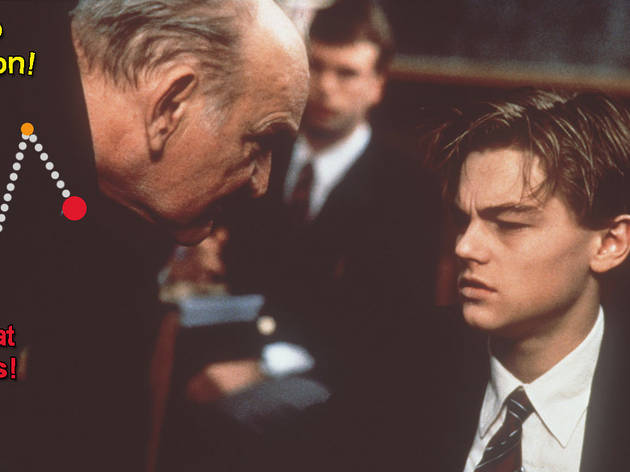 3/16
Year: 1995 Look who's grown up all of a sudden! Here's Leo as a schoolboy drug addict whose heroin habit gets in the way of his basketball dreams. Time Out said, 'The angel-faced DiCaprio is a gifted actor, but he lacks the authority and physical presence to keep us with him.' Don't speak too soon… Read 'The Basketball Diaries' review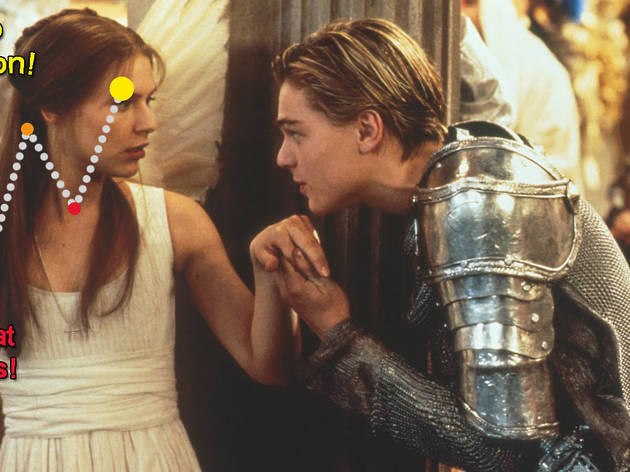 4/16
Year: 1996 Swoon! Leo and Claire Danes were a perfect pair of starcross'd lovers in Baz Luhrmann's big-screen Bardfest. Now in his early twenties, the actor was older and wiser but still struck the right note of youthful beauty and vulnerability. Ask any woman of a certain age her favourite Leo moment and this should score highly. Read 'William Shakespeare's Romeo + Juliet' review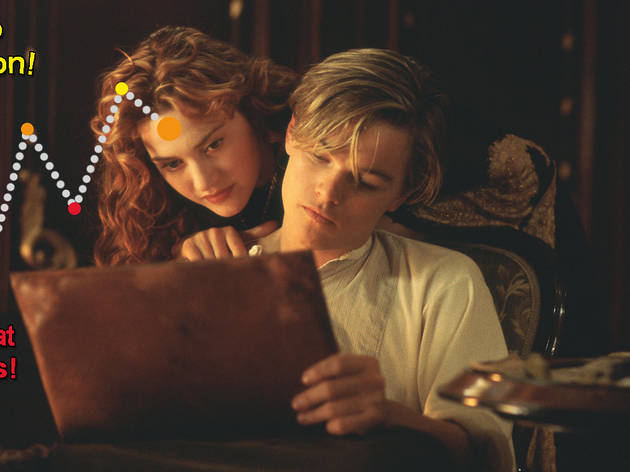 5/16
Year: 1997 The big-budget risk-taker 'Titanic' did anything but sink at the box office, becoming one of the highest-grossing movies of all time and cementing DiCaprio's status as a bona fide Hollywood heartthrob. The film won 11 Oscars, but none for Leo. Read 'Titanic' review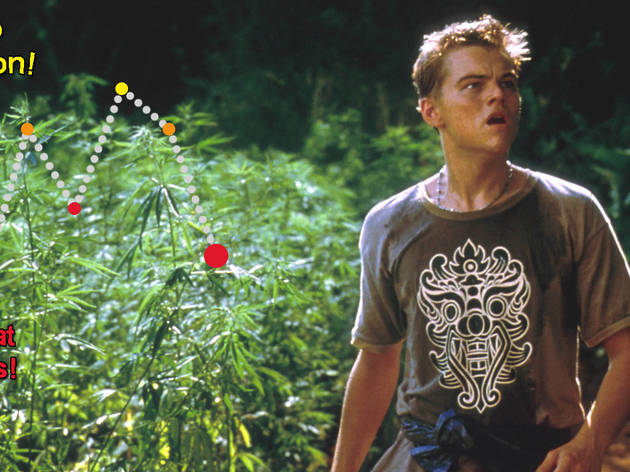 6/16
Year: 2000 Back in 2000, writer Alex Garland was almost as hot property as Leonardo DiCaprio, but this adaptation of his bestseller, directed by Danny Boyle, had a lukewarm reception. Our man was likeable in the lead role but lacked the edge Garland's protagonist had on the page. Read 'The Beach' review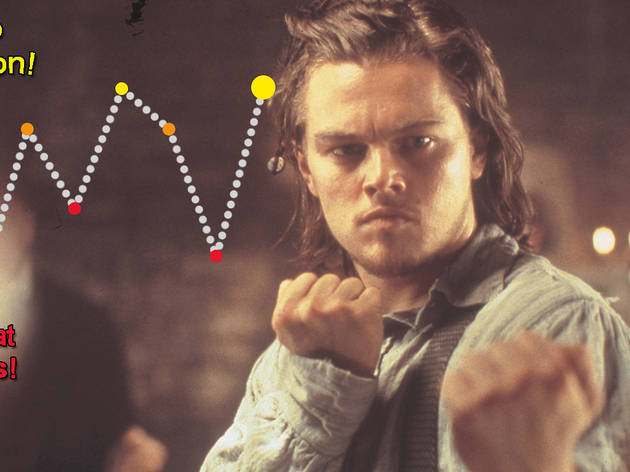 7/16
Year: 2002 Daniel Day-Lewis may have got more attention, but it was reportedly Leo's star power that helped Martin Scorsese get this historical epic made. As it turns out, both director and star were doing each other a favour: the film was a hit and their collaborations would go on to be rather successful. Read 'Gangs of New York' review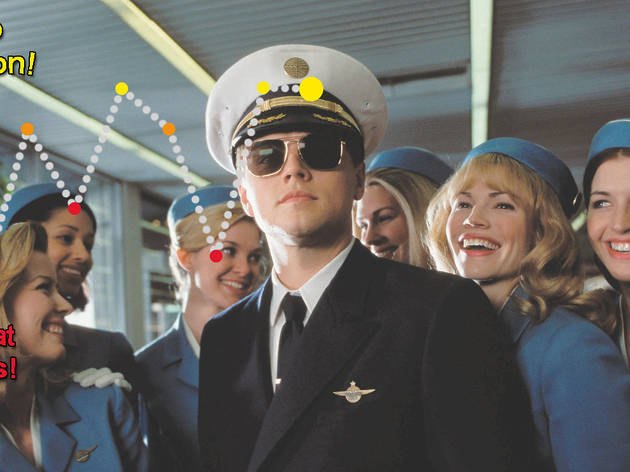 8/16
Year: 2002 Steven Spielberg saw the cheeky chappy in DiCaprio and cast him as charming con artist Frank Abagnale Jr. Once again Leo's youthful looks worked in his favour – Abagnale was a big shot in his teens – and this spirited performance showed the actor's gift for humour. Read 'Catch Me If You Can' review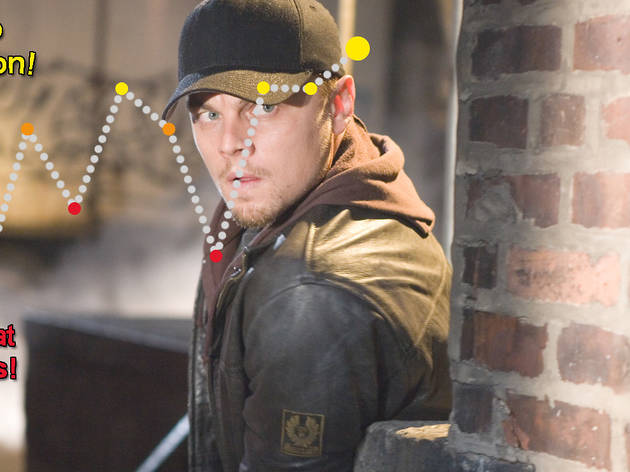 9/16
Year: 2006 After also casting him in 'The Aviator' (2004), Scorsese went straight to DiCaprio for this slick remake of the Hong Kong cop thriller 'Infernal Affairs'. More Oscars followed, though there wasn't even a nomination for Leo's performance, which showcased his developing dark side. Read 'The Departed' review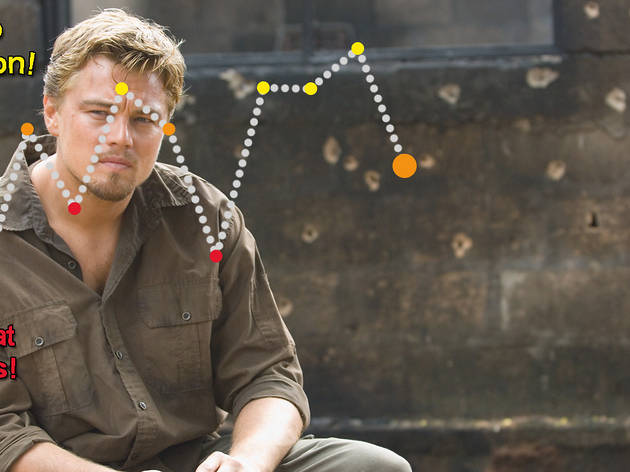 10/16
Year: 2006 The Academy did give Leo a curt nod for this disturbing thriller about corruption in the diamond trade. He put in a solid performance as the gunrunner who grows a conscience and was generally praised for approximating the tricky South African accent. Read 'Blood Diamond' review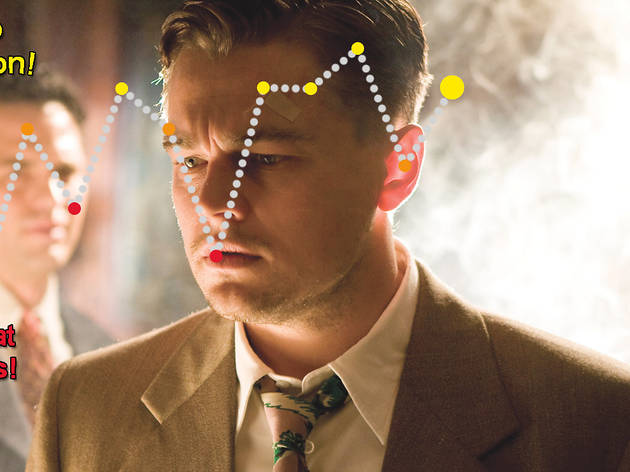 11/16
Year: 2010 Scorsese and DiCaprio went darker still in this terrific psychological thriller based on Dennis Lehane's novel. Detractors who previously dismissed Leo as a pretty boy were forced to take notice, if they hadn't already. Read 'Shutter Island' review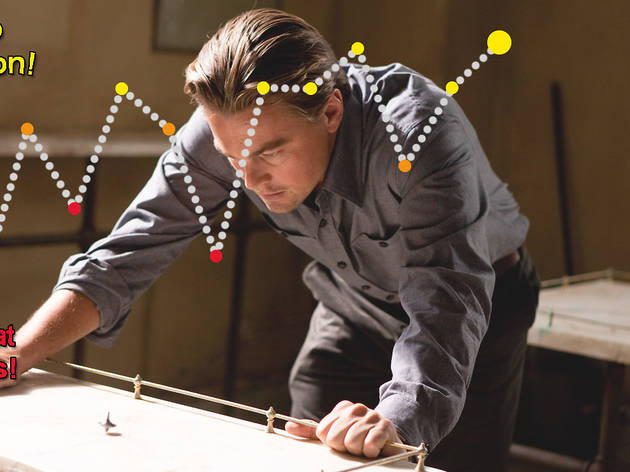 12/16
Year: 2010 Another pay-dirt moment and a collaboration with another talented director, Christopher Nolan. Leo was the lynchpin that held this mind-boggling sci-fi together, putting in a sincere, relatable performance as the dream inceptor infiltrating Cillian Murphy's subconscious. Or was he? Etc. Read 'Inception' review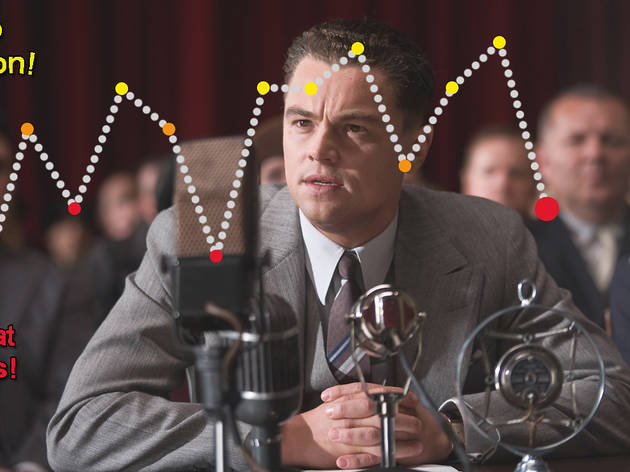 13/16
Year: 2011 'Even great men can be corrupted,' said Leo in Hoover mode, and so it proved: this was not to be the actor's finest hour, despite the weighty subject matter and director (Clint Eastwood). As always, he was a safe pair of hands, but he was somewhat mannered in impression mode. Read 'J Edgar' review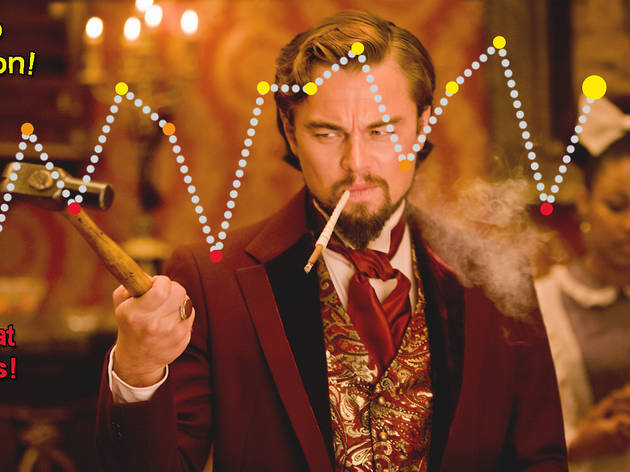 14/16
Year: 2012 Tarantino gave DiCaprio his nastiest role yet: the sadistic slave trader Calvin Candie in 'Django Unchained'. It was a treat to see the actor in full-on bad guy mode, with just enough subtlety and the requisite facial hair to convince us that he was no longer 14. Read 'Django Unchained' review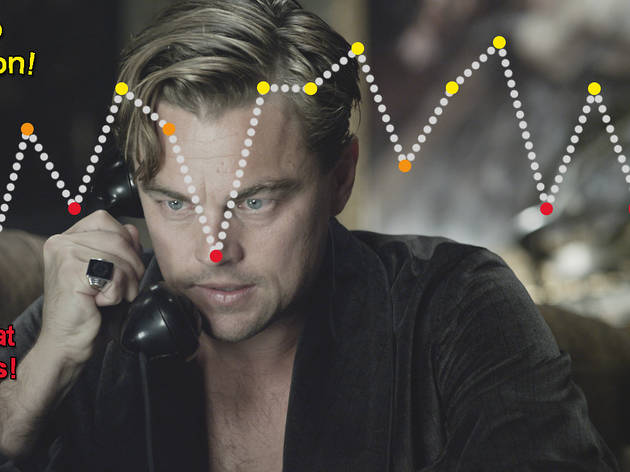 15/16
Year: 2013 Leo's Gatsby wasn't bad, but he wasn't all that great either. The performance was slick enough but the film showed Baz Luhrmann at his most loud and superficial. Still, the only way is up… Read 'The Great Gatsby' review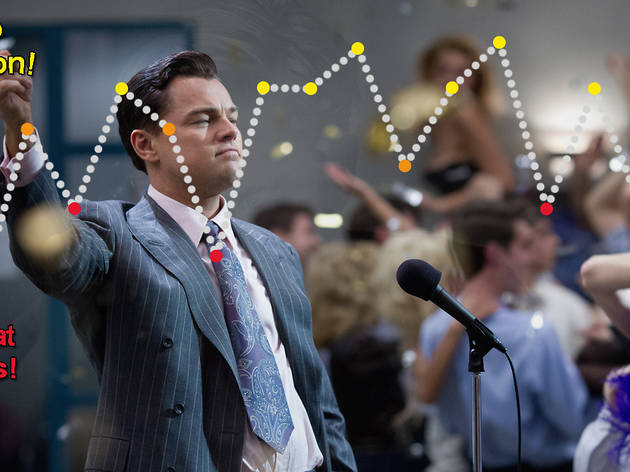 16/16
Year: 2013 Boom! Here it is: Leo's fiercest, funniest performance to date and the most fun he and Scorsese have had in a long time. His dodgy trader double act with Jonah Hill was surprisingly successful and an Oscar nomination followed. Not bad for the little boy from 'Critters 3'. Read 'The Wolf of Wall Street' review
Snap up exclusive discounts in London
Time Out's handpicked deals — hurry, they won't be around for long...