Grimes: writer, producer, fighter
When Grimes speaks, the internet listens. She's got strong opinions about #FreeKesha and Donald Trump, but she's reluctant to be music's moral compass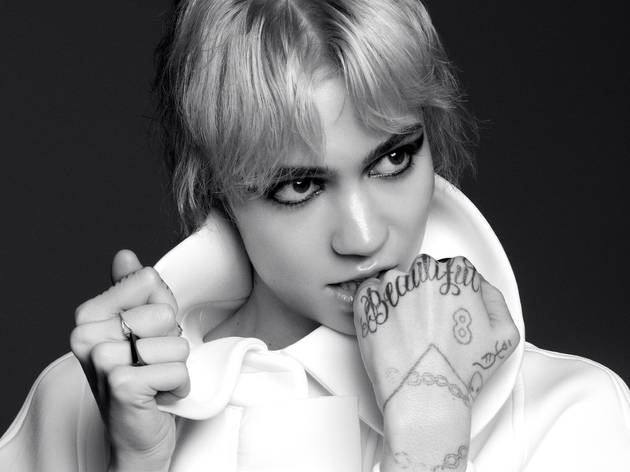 Claire Boucher – aka Grimes – is telling me about the time she got arrested for assault. 'This guy at my school grabbed my butt, so I hit him in the face,' she explains gleefully. 'He was a huge pussy because it was hardly a slap. Other girls were like, "He grabbed my butt too", so he dropped the charges. That's when I went from being unpopular to at least acceptable at high school.'
In a world of manufactured personas and publicist-run Twitter accounts, 27-year-old Boucher is one of the most honest voices out there – and she's created a cult fanbase as a result. She's currently touring with her fifth studio album 'Art Angels', one of the best albums of 2015: a record that sounds like it was made 500 years into a post-apocalyptic future. She wrote, produced and performed every track on it.
While her music is dreamy and ethereal, Boucher is the opposite. The Canadian gives opinions so sharp they're basically clickbait headlines. She's clued up on gender identity, the environment and the injustices of the music industry, and she's not afraid to speak her mind. In the past, Boucher has been described as a 'pop star' and a 'feminist spokesperson', but over the course of our conversation she dismisses both those labels. While her music is popular, she says her sound's still alternative. She's been praised for criticising misogyny in the music industry, but she's bored of talking about sexism. She'd much rather just hit you in the face with her music.
'I get people accusing me of showing off, like I've been insane for asking for a credit'
You're performing at Brixton Academy on March 10. What can fans expect from your gig?
'The whole tour can fit into a single duffel bag. It's based on a video game, "Metal Gear", which is anti-military, so it's all black-and-white army mesh with red spray paint all over it.'
How did you imagine London before you visited?
'I thought it was going to be way more savage, like the Industrial Revolution: people eating bread with rotten teeth.'
Did you get your name from the music genre?
'Accidentally. I thought it was just a cool option on MySpace: "Ooh, grime, what a cool word." I was like, "Oh, it must mean music that's kind of dark." '
Are you a fan of grime now?
'I'm actually trying to learn about grime music right now. My favourite artist is JME. He's amazing and he's a vegan. He produces all his stuff, makes all his videos too. I really vibe off the self-auteur thing and think it's really cool when artists are political. I'm always getting in trouble for being political so it makes me feel less alone.'
You've made an effort to credit yourself as 'writer, singer, producer, video director' at the end of your videos. What's the reaction to that been like?
'People still ask me all the time who produces my stuff and who directs my videos. I also get people accusing me of showing off, like I've been insane for asking for a credit. I even know people who were going around saying "I was working on the Grimes record." No you didn't. It's a blatant lie.'
You also drew illustrations to go with every track on 'Art Angels'. What's the last thing you drew?
'Oh my God… a weird dog with a penis. I was at a restaurant and I was leaving a creepy thing for the waiter. I wanted them to come after we left and be confused.'
'Music is basically for rich people. You either have to be wealthy or pretty enough or know the right person'
In 2013 you wrote a blog post calling out all the sexism you'd experienced in the music industry. Have men in the industry changed the way they behave around you since then?
'It's been a fucking nightmare. People treat you like you're hysterical. And I spend half my interviews getting asked about feminism. I almost wish I hadn't written it.'
But at the same time, hasn't it had a positive impact? More women in the music industry are now speaking out about sexism and sexual assault…
'Yes, but it's also the most small-fry shit. It's so much worse on the upper levels, and those people are never going to get called out. Even I wouldn't do it because you don't want to get too fucked. So you end up with these super-low-level scapegoats for what's happening.'
Your sound is futuristic. What do you think about the nostalgia for '90s and noughties music right now?
'It's an economic thing. I think people are open to more sounds, but the only way to make money from music now is to be a good live act. That's kind of whittled out anyone who's not making music that can be transformed into a live setting. When I started, electronic acts were getting on to festival line-ups then all of us were bombing. A rock band is a much easier format for a live setting.'
You've said in the past that fame makes you anxious. Do you feel like you've had to sacrifice a lot to make money as a musician?
'No, because of the alternative: maybe I'd be less anxious about some things, but then I'd be a barista at Starbucks and be anxious about my taxes. The level of anxiety is probably equal to what it would be otherwise.'
Do you think pop music's becoming more inclusive?
'I think it's becoming a lot more exclusive. Music is basically for rich people. Studios are really expensive, so you either have to be wealthy or pretty enough or know the right person to get in there. The only reason I had the chance to make "Art Angels" is because I made money off my last album "Visions" and could build my own studio.'
Do you find it frustrating when you see less talented people succeeding and then more talented people unable to get into the industry?
'It really pisses me off. Especially when they're like "It's my new track!" and you're like "It's not your new track, it's literally got seven co-writers." And then there's this person over here, who's worked their ass off, is extremely talented and maybe they don't look like a supermodel.'
A good example from last year is the Justin Bieber album that had so many writers and producers on it.
'My best friend [BloodPop] wrote the track "Sorry", so I have to defend it; I'm very glad that he got that. I think those things should be allowed to exist, but there aren't really avenues for other things. I think that when I came up in music it was a lot easier. If you got written about on Pitchfork, you could almost tour. Now I feel like there are almost no avenues for any kind of new alternative music. The labels are disappearing, the blogs are disappearing, it's becoming more homogenised. I think it's really hard for new artists right now, especially if you don't want to compromise. If you don't want to sign a six-album deal for no money.'
Grimes (Zak Kaczmarek/WireImage)
'You shouldn't be allowed to sign a human being. It's like slavery'
Kesha's locked into a contract that means she can only record with Dr Luke (who, she claims, sexually assaulted her – which he strenuously denies). What do you think of that situation?
'You shouldn't be allowed to sign a human being, regardless of what the allegations are or what anyone said or did. It's basically like slavery. She should be allowed to record [with other people]. It's a deeply fucked situation.'
Who do you think is the best pop star of all time?
'Beyoncé – because she's the best performer and her music is really, really varied. The way her self-titled album got people to listen to a pop album as an entire record is a really difficult thing to do. It was as creative and as experimental as it was pop. I put Madonna up there too.'
You were compared to Madonna recently in a German magazine…
'Yes. It's weird as I'm not very good at dancing or singing, but it's a compliment. I think it's undeserved. Maybe I'm dissociated from who I am, but I just don't seem very much like a pop star. My music's still pretty alternative. I'm on an indie label.'
You recorded 'Visions' while on an amphetamine binge, but you recently changed your stance on drugs. Is that because you want to be more of a role model or because you had a horrific trip?
'I've lost four very close friends to drugs over the last few years, which has been really shitty. But it's also because I used to get 14-year-olds coming to my shows saying things like "Do you need drugs to make art?" That's hard, especially when you've lost friends. Drugs aren't necessary for art. They can be a good time. A lot of my friends do drugs, but it's not something I feel I can publicly condone – and, mostly, I want to try and live a cleanish lifestyle.'
What's the worst party you've ever been to?
'Jeez, I've been to some bad parties. Once I was at a party where everyone got maced and it was terrible. I was outside with some other people and we were like "Hey, there are some big, scary neo-Nazi-looking guys at the door!" And then all of a sudden people started screaming and they were robbing the house. It was pretty wack.'
You posted on Instagram about being a Bernie Sanders fan. What would you do if Donald Trump used your music like he's been using Adele's?
'I'd sue him. The band Skinny Puppy tried suing the US government for $666,000 for using their music as torture [at Guantanamo Bay].'
What would you do with the money you got?
'Give it to Planned Parenthood.'
Snap up exclusive discounts in London
Time Out's handpicked deals — hurry, they won't be around for long...