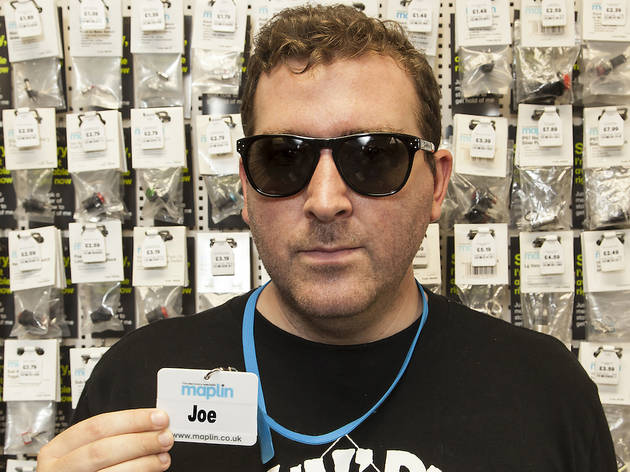 Joe Goddard interview
Solo artist, label boss, member of Hot Chip and The 2 Bears, and cool dad: we meet the electro-disco hero who's becoming a London icon
Goddard has two kids himself, but unlike his mates he's still doing the same things he was a decade ago. In fact, he's doing more. The 33-year-old is a founder of indie-electro outfit Hot Chip, but now also co-runs ultra-hip record label Greco-Roman, DJs and is helping to revive the '90s house sound with his band 2 Bears. On top of all that, he recently released 'Taking Over', his second solo EP of retro-tinged house bangers. In short, he's a bristly totem of London's electronic music scene – our city's James Murphy, if you will.
He still finds time to hang out at his favourite branch of Maplin, however. 'There was a cartoon in Viz magazine saying, "Men! Why not get married in Maplin? It's your big day too". I feel like that,' he considers. 'It's a man's place.' A strip-lit electronics shop is where he's chosen to meet Time Out, but the new Greco-Roman compilation
'We Make Colourful Music Because We Dance in the Dark'
– featuring cuts by
Disclosure
,
Vampire Weekend
's Chris Baio and Goddard himself – was created for duskier situations. 'It started from the love of that moment in a club when people deviate from pounding dance music into moments of melody and melancholy,' he explains. 'It's the kind of music that also suits headphones, or after dinner while you're serving After Eight mints.' He chuckles, but following several hectic years, we wouldn't be surprised if he'd rather host dinner parties than DJ late-night sets. 'No,' he insists. 'It's an incredible feeling – moments when people put their hands in the air. I'm really addicted to that.'
So there's no risk of the music mogul packing it in any time soon? 'I feel old when I meet up with my friends and see that I'm becoming an anomaly, but I love what I do, and still have great epiphanies in clubs, so I don't have any desire to stop.' That's a relief, as we don't have any desire to stop listening.