From Justin and Miley to Selena Gomez and Demi Lovato, Disney's influence over pop is huge. As a new covers album, 'We Love Disney', is released we look at six talking points on the pop empire.
1. Disney's influence in the game is, frankly, massive.
Last year, Disney's gross revenue was nearly £40 billion – four times as much as Facebook. The company runs 107 cable channels, a radio station and has its own music awards ceremony. But not only does the House of Mouse have spending power that record labels can only dream of, it has a budding audience too. Kids variety show 'The Mickey Mouse Club' (see below) launched Britney, Christina and Justin in the early '90s. After them came Hilary Duff, Miley Cyrus, the Jonas Brothers, plus Demi Lovato and Selena Gomez, who both have albums out this month. All shot to fame in their own Disney shows. Mickey and co might seem 'just for kids', but in fact it's a media monolith that can launch careers into the stratosphere.
2. Their songs are moreish like MSG.
Disney soundtracks are designed to be fun, uplifting and – most importantly – addictive. Take 'Let It Go' from 'Frozen' – an indelible melody coupled with lyrics that have the same powerful coming-out message as Katy Perry's 'Firework'. In fact, from 'Zero to Hero' to 'Hakuna Matata', Disney was doing empowerment pop way before it was cool for pop stars to sing about loving your true self. 'Run the World', 'Shake It Off', even 'All About That Bass' could all be Disney songs. Disney might just be a sugar rush, but everyone craves a blue Skittle now and then.
3. Love it or hate it, the Disney formula works.
A 'pop formula' might seem a bit Louis Walsh circa 2002, but at a time when up-and-coming artists struggle to make money from their music, Disney's pop production line manages to buck the trend. Artists establish themselves on hit shows – Selena Gomez on 'Wizards of Waverly Place' or Miley Cyrus on 'Hannah Montana' – before going into music as ready-made stars with an existing, supportive fanbase. Their first singles tend to be family-friendly, like Miley's 'Party in the USA', or laced with the kind of innuendo the little ones miss but dads might not (don't tell us Christina Aguilera's 'Genie in a Bottle' is about 'Aladdin'). Eventually some stars rebel and claim their own sexuality by kissing Madonna, wearing leather chaps or grinding on Robin Thicke. The ultimate end goal? A Vegas residency. See: Britney Spears.
4. There's a (carefully calculated) sameyness behind the hype.
Disney stars tend to be good-looking, sexy-but-not-intimidating and ready for a guest performance at a Victoria's Secret show. They're modern Disney princesses (and princes), perfectly positioned for a career releasing inoffensive chart-fillers. Their music is often a family-friendly version of whatever's currently trending: Lindsay Lohan rode the crest of a pop-punk wave with 2003 single 'Ultimate' while Nick Jonas's latest single is like The Weeknd without the blowjob references. Though their performances are flawless, there's a lack of lyrical depth when compared with fellow teen stars Alessia Cara, Lorde and even Justin Bieber. Being less deep than Bieber is, in anyone's book, a problem.
5. They've successfully navigated sexuality.
While it's generally acceptable for One Direction to be lads (witness Harry Styles only getting a medium roasting for whispering the word 'pussy' on national TV), Disney's Jonas Brothers (the PG version of Busted) all wore chastity rings to prove their virginity. On the whole, young British stars are allowed to be goofy or badly behaved, but that's not always the case on the other side of the Pond. Joe Jonas wrote in a 2013 piece for Vulture about how he and his brothers felt forced to hide their sexual relationships. He also resented having to do covers rather than original material. One of those was, in fact a Busted cover, so you can see his point.
6. Their stars somehow end up coming good in the end.
Demi Lovato has spoken in interviews about her drug problems and eating disorders, yet returned with body-empowerment sass tracks like 'Confident' from her new LP – like Selena's, also out this month. She's even starting her own label with Nick Jonas. Miley Cyrus's music has become braver the more she moves from Hannah Montana to opinion-dividing artist and outspoken LGBT campaigner. Plus, it's easy to forget Justin Timberlake's a Disney grad because he's written his own music the whole way through his career. His absolute smasher 'Cry Me a River' was written about his break-up with Disney girlfriend Britney. Even 'good girl' Selena Gomez's new album, 'Revival', is much stronger than her past work because she's singing honestly about booze, sex and break-ups. Ultimately, it could it be that the real secret of Disney's success goes beyond creating generations of future pop star – it's about giving them something to rebel against too.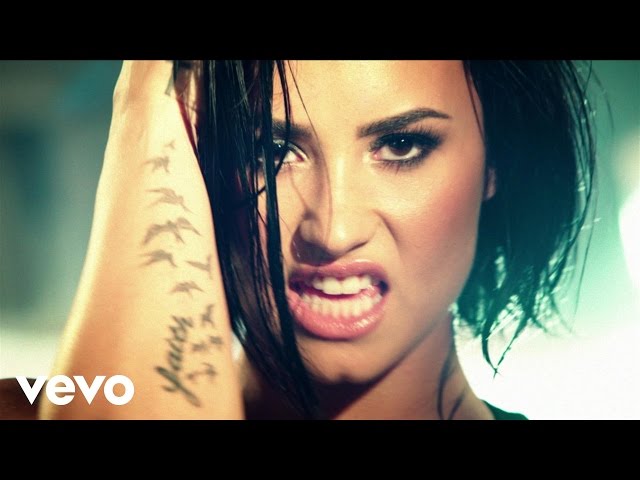 'We Love Disney' is released on October 30.