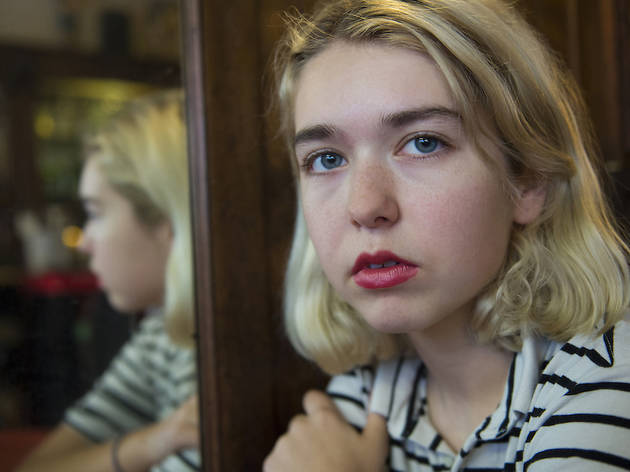 What's the deal with… Snail Mail?
Get to know the latest guitar-toting teen prodigy to come out of America
Snail Mail? Is there someone out there who hasn't heard of the internet?
Well, US native Lindsey Jordan is only 18 so she is pretty likely to be well versed in all things online. Snail Mail is the name she releases her heart-wrenching indie rock songs under. She recently graduated high school and is about to release her debut album 'Lush' in June. It's a brilliant record filled with songs about the chaos of growing up: first crushes, house parties, break-ups, and thinking all the small things mean literally everything.
That takes me back. So what does she sound like?
Her songs pack a six-stringed punch – thanks in part to the fact that Jordan was taught to play guitar in the Baltimore suburbs by Mary Timony, a feminist rock icon on the East Coast. Don't expect big riffs and noodling solos. Snail Mail's material is more in-keeping with the current wave of indie rock confessionals: think Waxahatchee and Girlpool, two bands Jordan has toured with. This is deep and knotty songwriting, rich in melody and feelings.
Sounds good. Tell me more about the album.
'Lush' is weighty, sad in the right places, and perfect if you're harbouring a crush on someone. Jordan has also said it's a record on which she came to terms with being gay. The song 'Heat Wave' is a good place to start. It's a devastating listen about a crumbling mid-summer relationship. There's a video to go alongside it in which Jordan plays ice hockey. You've got to admire someone who can skate while singing about unrequited love.
Sold. Please say she is playing live?
You're in luck. Snail Mail play their first ever full-band UK show at Oslo in Hackney on May 15. They'll also be back in the summer for appearances at Green Man and End of the Road festival.
Swat up on more brilliant new acts
Meet the precocious LA singer who's impassioned pop will make you feel all fuzzy inside.