What's the deal with… Yasmine Hamdan?
Everything you need to know about the Lebanese rising star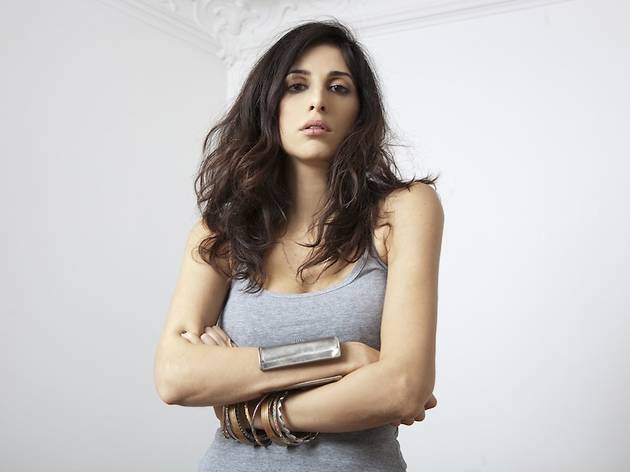 She's this week's token 'worldy' one on Jools Holland, right?
Up to a point. Hamdan is a Paris-based Lebanese artist drawing on the 'golden age' of Arabic music who sings in Egyptian, Kuwaiti, Lebanese and Palestinian, but…
… where's the lute?
Exactly. Now working with Marc Collin of Nouvelle Vague, she brought minimalist techno to Beirut as one half of Soapkills and made an LP of electropop with Mirwais, producer of Madonna's 'Music'.
So why haven't I heard of her before?
She turned down contracts offered on the condition she sing in English. As she pointed out, no one knew what the Cocteau Twins were saying either.
And what is she singing about?
On 'Deny', the opener to her solo debut 'Ya Nass', her husky vocal curls around a prayer to the moon for a sniff of her absent lover's scent.
Sounds like an arthouse director's wet dream.
Look out for her in Jim Jarmusch's new vampire-indie 'Only Lovers Left Alive', singing in a Cairo club.
She's a stunner. Can I mention that?
Only if it leaves us room to tell you about her visits to Syria to seek out unarchived songs by Arab women. There's far more to this one than meets the eye.
The Bottom Line: Smokin', not token.
Sponsored listing
Wigmore Hall
Built in 1901 as the display hall for the German company Bechstein Pianos, the Wigmore Hall was seized as enemy property in WWI and sold at auction for a fraction of its value. These days, boasting perfect acoustics, art nouveau decor and an excellent basement restaurant, the 'Wiggy' is one of the world's top chamber music venues and currently hosts around 400 events a year. Programming leans on the classical and Romantic periods. The Monday lunchtime recitals, broadcast live on BBC Radio 3, are excellent value, as are the Sunday morning coffee concerts. Musical luminaries who have performed at the Wigmore Hall include Sergey Prokofiev, Shura Cherkassky, Paul Hindemith, Andrés Segovia, Benjamin Britten and Francis Poulenc. Tours of the auditorium, with its famous Art Nouveau mural, and other parts of the building take place during the Open House London event in September.
Venue says: "Wigmore Lates is back this summer with £5 tickets for under-35s. Book now for late-night concerts followed by live Jazz in the Wigmore Bar."