8 amazing treehouses you can actually stay in
Planning a weekend away? Spend the night in these lofty treehouses and you'll never want to come back down to earth, let alone back to London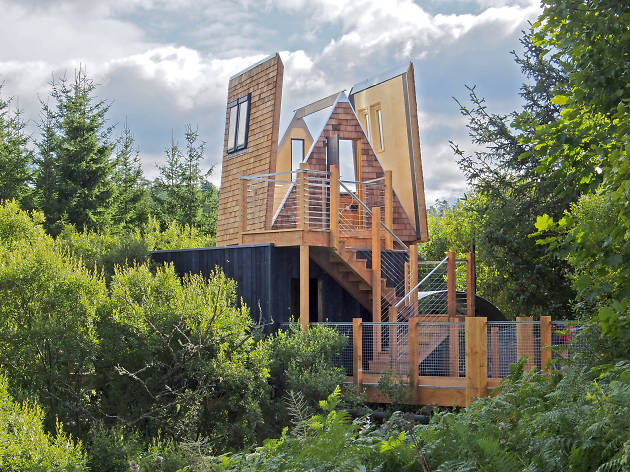 Escaping the city and getting back to nature is a great way to relax and recharge – and let's face it, you can't get much further from modern urban living than sleeping in a tree. But if you're imagining the rickety back-garden treehouses of your childhood, don't be put off. This new breed of habitable treehouse ranges from cosy and rustic to downright luxurious, and we've found eight of the best around the UK. For those after pure escapism, you're barking up the right tree.
RECOMMENDED: The best weekend breaks from London
8 treehouses for weekends away from London
1
Gwdy Hw, Wales
In the heart of the Welsh mountains, Gwdy Hw has six treehouses to choose from. They're designed with the surrounding woodland in mind, so much so that they melt seamlessly into the valley's treeline. Each cosy treehouse is built around a wood-burning stove and houses a kitchen, double-bed and fold-down bunk beds, as well as an en-suite compost toilet. The only thing you won't find here is electricity, so combine your stay with a digital detox and swap electric lights for twinkling lanterns while you snuggle up under the blankets and settle down in the silence with a good book.
£379 for two for a two-night stay.
2
Mark Pinder
TV's George Clarke (of 'Amazing Spaces' fame) has collaborated with the Calvert Trust to bring the Sky Den to life. The completed treehouse is certainly on brand – it's the definition of an amazing space. Part treehouse, part art installation, its wow factor is matched only by its impressive functions. Set below some of the darkest skies in the UK, the real star of the show is the roof, which opens fully, so you can stargaze from the comfort of your own bed. During the day, wildlife lovers will be in their element, as you might catch a glimpse of native red squirrels and osprey. See ya later urban foxes.
£150 per night for up to four people.
3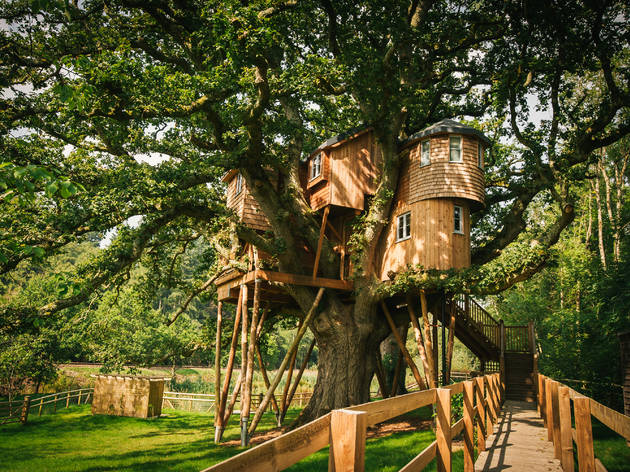 NICK BAILEY
Treetops at the Fox & Hounds Country Hotel, Devon
If you only saw the interior of this luxury space, you'd have trouble believing it was actually propped up on stilts and built around a tree. There's a freestanding copper bathtub, for starters, as well as an airy living room complete with sofa, a king-size bedroom and stunning wooden-clad interiors throughout. You don't need to venture far for a taste of the great outdoors either, as your private terrace overlooks the fishing lake. The whole place gives you a feeling of being miles away from anywhere, even though the Fox & Hounds Country Hotel is just a stone's throw away.
From £270 per night.
4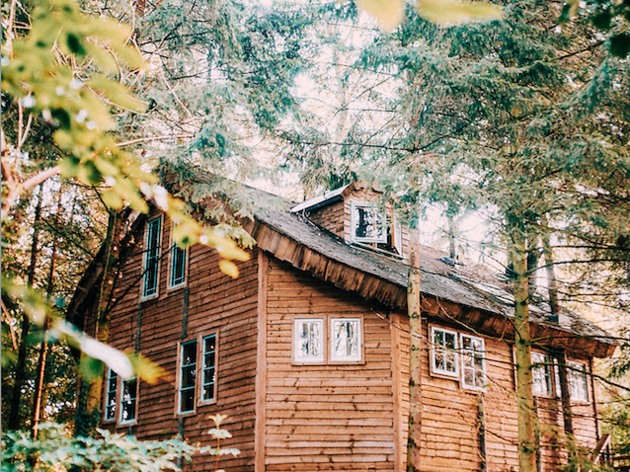 West Lexham, Norfolk
West Lexham has six treehouses and tree temples to choose from, depending on your party's size. Each has its own special quirk, but every treehouse is crafted from local wood and has been built as a tranquil haven to help visitors unwind. The spacious Sunrise treehouse is better labelled as a tree castle, with its three bedrooms and a staircase, and several tree trunks that actually grow through the property. Perched on the edge of the woods, the smaller Tinker Treehouse is perfect for two and was Britain's first treehouse made for overnight stays.
Prices vary per treehouse.
5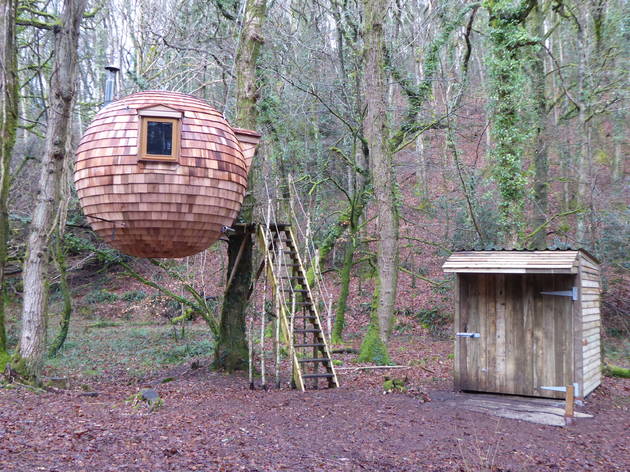 Lost Meadow
Lost Meadow Treepod, Cornwall
This quirky little sphere is rightly described as a pod rather than a house, as it's actually suspended between two trees like a tiny wooden Death Star. Simply ascend the staircase to reach the hanging globe (AKA your new bedroom). The cedar-clad ball looks lightweight, and it is, but you needn't worry about crashing down to earth: the pod uses early zeppelin engineering and can withstand huge weights. The wood burner keeps you snug in winter, and the double-glazed windows afford woodland and river views over the Area of Outstanding Natural Beauty. From your lofty vantage point, keep your eyes peeled for roe deer, kingfishers and even the occasional otter. It's a bucolic bubble.
£95 per night for two people.
6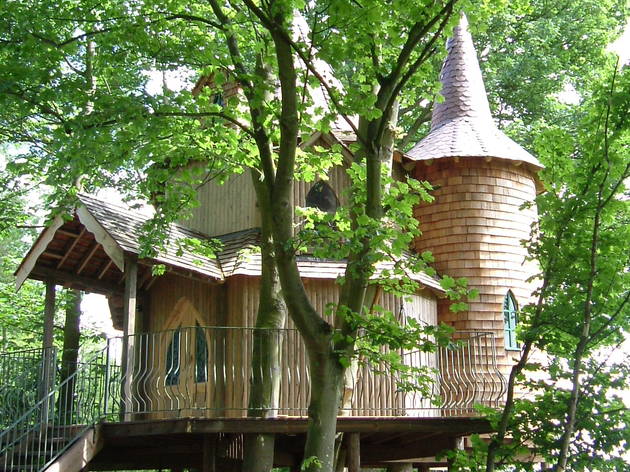 Fernie Castle
Fernie Castle treehouse, Fife
If you stumble on Fernie Castle treehouse while out on a woodland walk, you'd be forgiven for thinking you'd accidentally wandered into a fairytale. Crowning six sycamores, this fantasy treehouse has copper roof tiles, a turret, vaulted windows, stained-glass doors, a swing and not one, not two, but three balconies wrapped in fittingly magical fairy lights. For stays rooted firmly in reality, though, the treehouse comes with all the mod cons you wouldn't expect to find in days of yore: a king-size bed, plumbing, heating, telephone, flat-screen TV and DVD player plus a coffee-maker. Oh, and a fridge full of champagne. Sounds like a modern fairytale to us.
From £445 per night.
7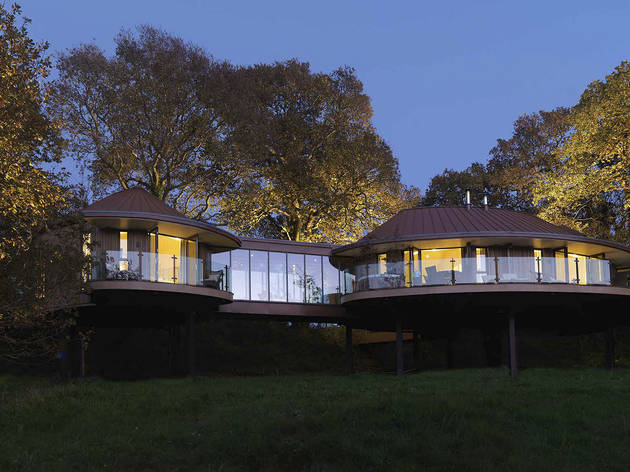 Chewton Glen
For five-star luxury meets up-a-tree seclusion, Chewton Glen's treehouse suites give you the best of both worlds. On the one hand, you're technically among the trees, 35 feet off the ground with peaceful forest views. And on the other, your hotel-standard suite comes with under-floor heating, walk-in shower, mood lighting and a large terrace complete with hot tub. Depending on how many people are with you, choose from a studio, loft or hideaway suite, or splash out on 'The Yews', a recent addition that sleeps up to twelve. If you're looking for an indulgent treehouse experience, you've found it.
From £850 a night.
8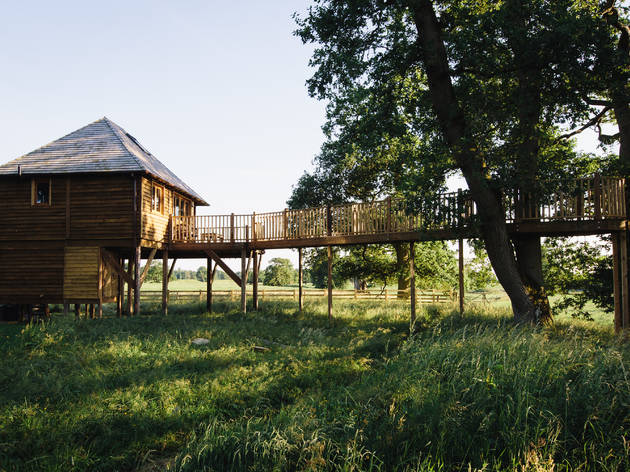 Netherby Estate, Cumbria
Set in the grounds of the Netherby Estate, with views of the Scottish border, this lodge-like outpost has been built amongst ancient oak trees. That makes it a little more grounded than other treehouses, but it's a cosy nest just the same and is filled with home comforts such as a squishy double bed, stocked bookshelves and a modern kitchen. Kids will love the mezzanine level, accessed by a ladder, while adults will enjoy the outdoor hot tub. Tucked away near the Esk river and surrounded by rolling countryside views, you'll feel like you've got away from it all in the best way possible.
From £210 a night.
Looking for something more down to earth?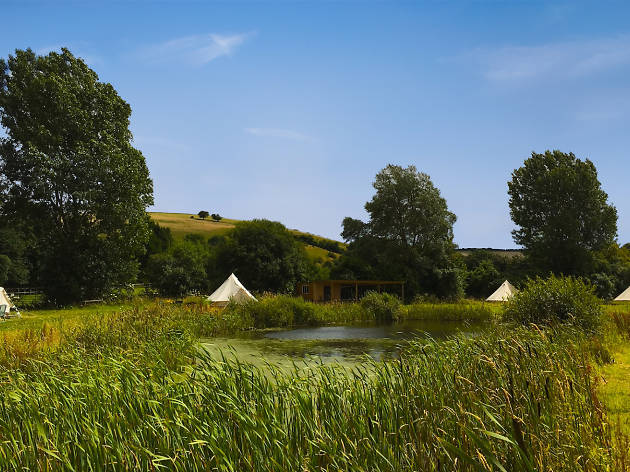 Even hardened Londoners need to remind themselves what the great outdoors looks like sometimes