Heads up! We're working hard to be accurate – but these are unusual times, so please always check before heading out.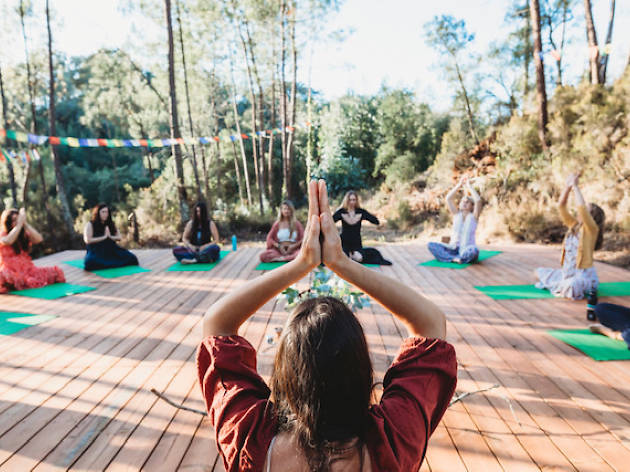 The best wellbeing breaks and yoga retreats in the UK
Put the daily grind aside for a few days and refresh yourself instead of Twitter with these wellness weekend breaks
When you live in a bright, buzzy city like London, the fast pace of life can leave you feeling frazzled. Taking time out of a busy schedule (and that sweaty commute) to focus on wellbeing has never been more valuable, or more in vogue. But what exactly is 'wellbeing'? There's no one-size-fits-all answer: for some, it's stretching in downward dog during a yoga class or curbing technology; for others, it's getting back to nature or silently meditating troubles away. Whatever it means to you, going on a retreat is a great way to change perspective or kickstart a new habit. From days away to week-long programmes, here are seven of the best places to do just that in the UK. Get ready to feel rejuvenated.
RECOMMENDED: The best weekend breaks from London
The best wellbeing breaks in the UK
1. White Calm Retreats, Surrey
Best for a day retreat
You don't have to disappear for weeks at a time to really chill out. A day is all you need at White Calm Retreats. Go by yourself, with a partner or with a mate to pick up the meditation and mindfulness skills required to cope with everyday stresses. You'll do walking meditation and deep relaxation classes as well as workshops on establishing goals and learning about stress. A day can make all the difference, but if that feels too short, there is an overnight-stay option. Even the busiest and most important of us can take 24 hours out of our schedules once in a while, right?
Getting there By car: one hour from London.
Mindfulness and meditation day from £199 per person.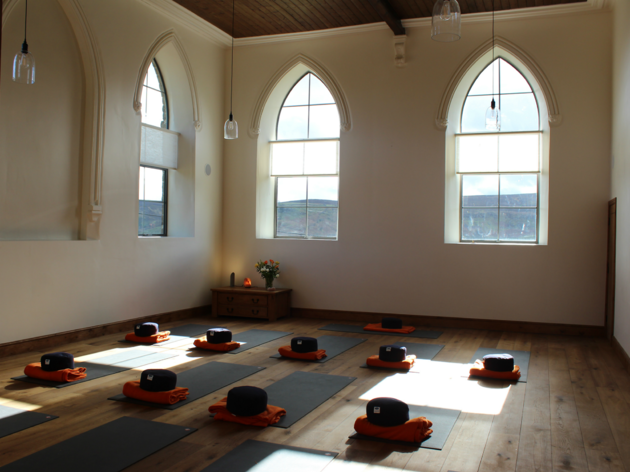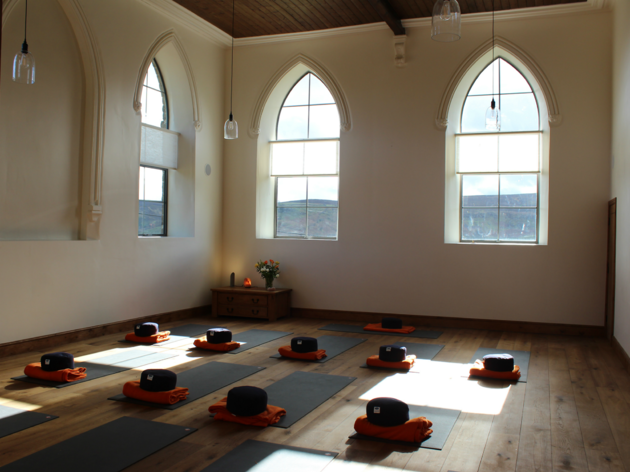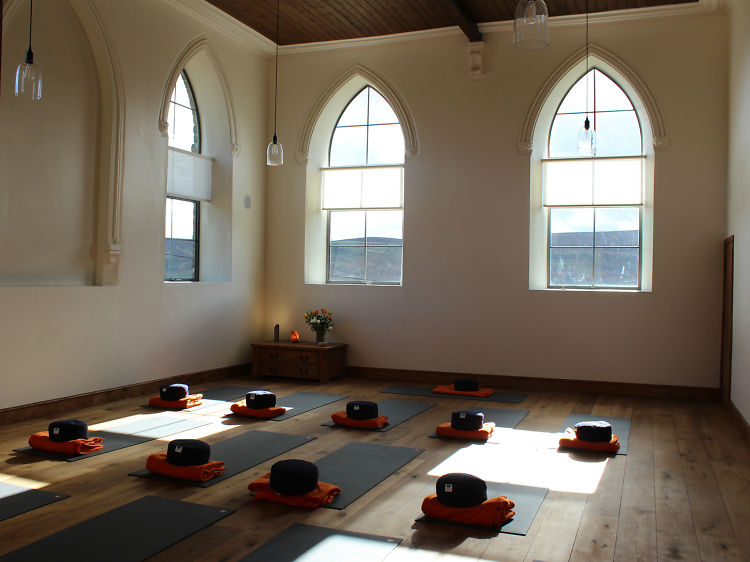 2. The Tree, North Yorkshire
Best for relaxation
Make the most of your weekend with a break at The Tree. Here, you'll relax and reconnect while the stresses of city life melt away, all against the backdrop of the rugged North York Moors National Park. A weekend itinerary features tasty veggie meals (including Sunday lunch), afternoon tea, sauna and Jacuzzi time, your choice of spa therapy treatment plus workshops on relaxation techniques such as qi gong. Choose the yoga weekend option for a similar itinerary but with more downward dog. You'll leave blissfully refreshed and with an enviable answer for the 'How was your weekend?' question at work on Monday.
Getting there By car: around five hours from London. By train: One hour 52 mins from King's Cross to York, then one hour 15 minutes to The Royal Oak, then 40 minutes by bus.
Yoga weekend from £295 per person, relaxation weekend from £265 per person.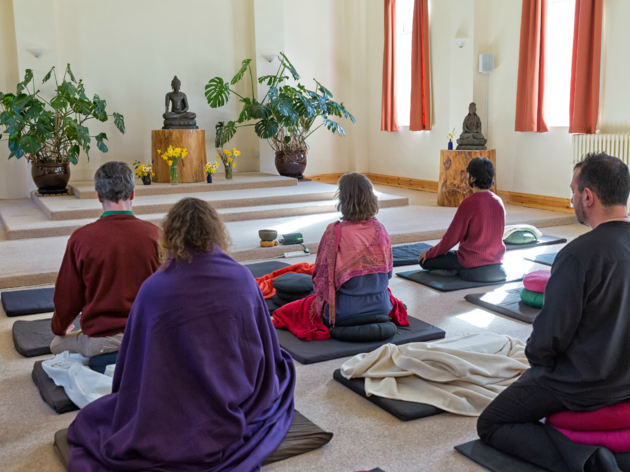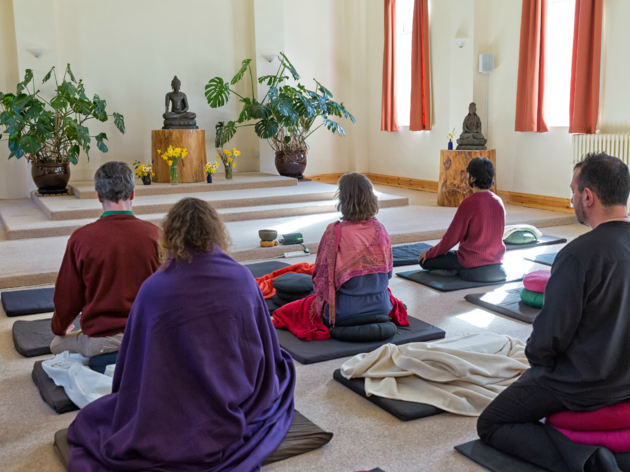 Best for meditation
Ever been crammed on a crowded tube, listening to the tinny beat of someone else's music and wishing for a world of complete silence? That's where Gaia House can come in. Set in peaceful woodland, this silent retreat runs year-round group programmes of Insight Meditation and mindfulness teachings based on Buddhist traditions. You'll spend soundless days meditating in the hall and grounds, eating vegetarian food and pitching in for an hour to help the house run smoothly. The silence is meant to create a sanctuary for contemplation and deep inner exploration. If you find that keeping schtum really suits you, Gaia House also runs personal retreats where you can stay mute for months at a time.
Getting there By car: three hours 45 minutes from London. By train: three hours from London Paddington or four hours from London Waterloo to Newton Abbot then short taxi ride or car share.
Prices vary according to retreat length. Reductions and bursaries are available. Seven night personal retreat from £427.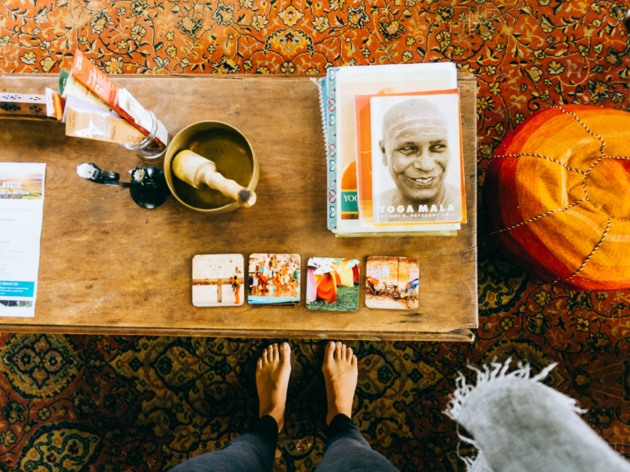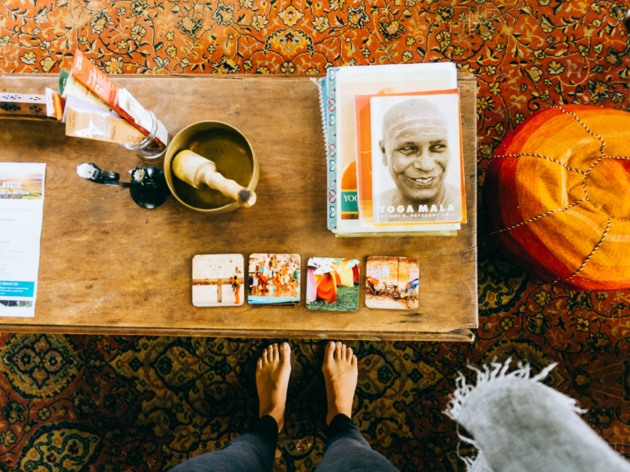 4. EcoYoga, Scottish Highlands
Best for eco warriors
Go off the grid, quite literally, at EcoYoga. Surrounded by hills, lochs and forests, this centre is the perfect retreat for nature and yoga lovers. If you're now imagining back-to-basics camping in the wild, imagine again – this is a luxurious kind of eco-friendly experience. The glazed yoga studio (with underfloor heating, thank you very much) overlooks the gorge of the River Liever. Each veggie meal comes fresh from the organic garden. When you're done brushing up on your tree pose, take advantage of the eclectic bathing areas – inspired by the Japanese tradition of sento (communal bath houses), there's a hot tub under a glass geodesic dome and bathing spots dotted around the forest. You'll want to namaste here for ever.
Getting there By train: four hours 30 minutes from London Euston to Glasgow. Then two hours 30 minutes by coach to Lochgilphead, where you can be picked up. EcoYoga sometimes runs minibus shuttles from Glasgow city centre; enquire when booking.
Prices vary according to retreat. Five night retreat from £595 fully catered.
5. Yoga Hub retreat, East Sussex
Best for bespoke getaways
This cosy retreat is a home away from home where the yoga style and level can be tailored to your group. Yoga Hub also offers personal development coaching sessions, silent walks and cycle rides through the East Sussex countryside along with the opportunity to relax and curl up with a good book or a hearty, home-cooked feast. The best bit? You can share the retreat with up to four friends, plus your new BFFs Albie and Esmee, the resident cocker spaniels.
Getting there By car: one hour 30 minutes from London. By train: one hour from London Bridge to East Grinstead then 30 minutes by bus.
Two-night, full-board stay £485.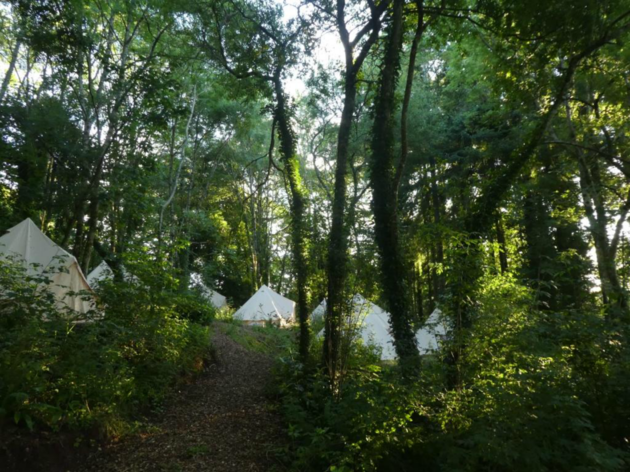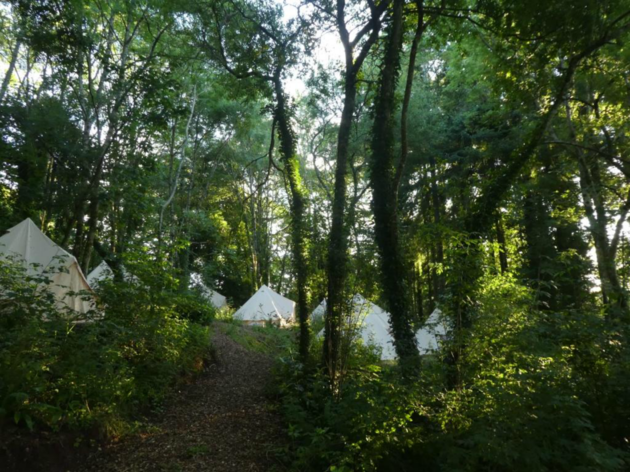 6. The Sharpham Trust, Devon
Best for getting back to nature
Nothing says 'I'm escaping city life' like taking off into the woods for a while. Sharpham Trust offers 'nature connection retreats' where you get to live in the actual great outdoors. You don't need to be a pro camper (the single bell tents are cosy and furnished) or even experienced in mindfulness, as you'll learn all the techniques you need on the retreat. Staying in an Area of Outstanding Natural Beauty, you'll get stuck into guided meditation, nature-sensing activities and locally sourced or foraged plant-based food. If you're particularly interested in all that plant power, Sharpham also runs a separate three-day foraging retreat.
Getting there By car: around four hours from London. By train: Two hours 43 minutes from Paddington to Totnes then taxi or 15 minutes by bus.
Three night Woodland Retreat £345 per person.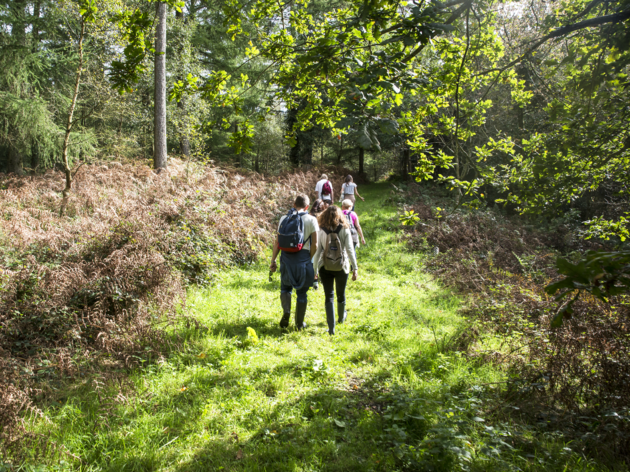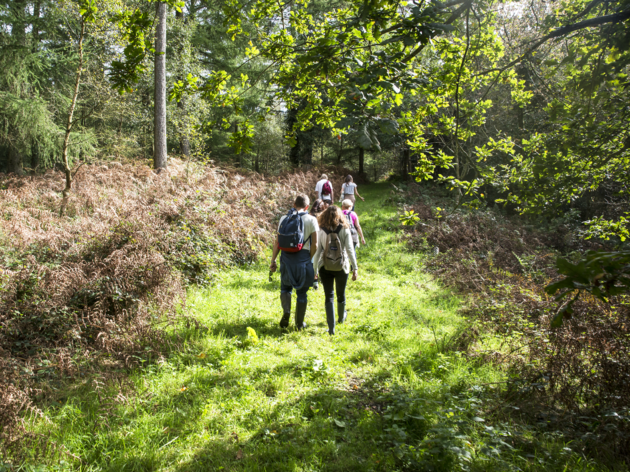 7. Time to Log off, various locations
Best for a digital detox
Can't remember the last time you left home without your phone? You (like the rest of London) are probably in need of a digital detox. When you spend most of your day hunched over a screen or scrolling through Instagram, there are major benefits to be had from quite literally 'switching off'. As its name suggests, Time to Log Off runs various retreats to swap mindless browsing for mindful connection. Each retreat includes a full programme of yoga, mindfulness practice and skills to help set technology boundaries when you and your device get back to 'real life'.
Time to Log Off runs retreats at various locations throughout the year and retreats for 2020 are tbc.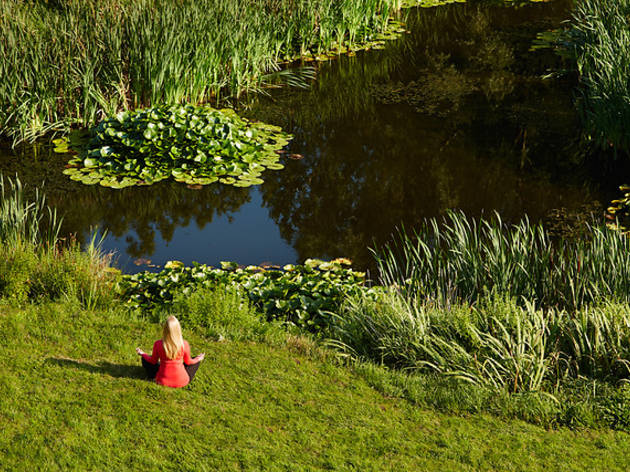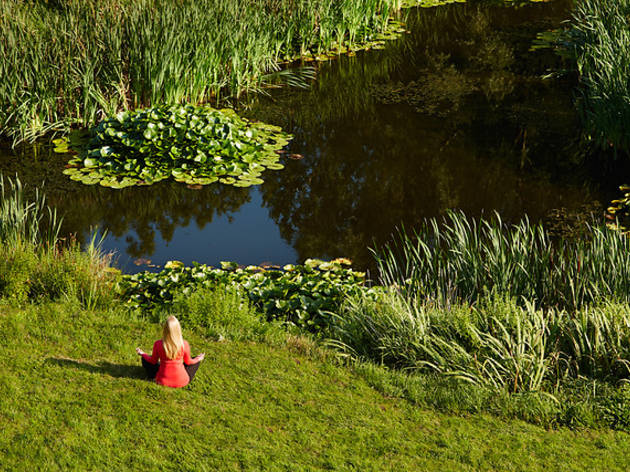 Photograph: Clover Mill
8. The Clover Mill, Worcestershire
Best for a personalised retreat
Shunning more modern wellbeing movements, Clover Mill follows the ancient system of Ayurveda. The ancient Indian medicine dictates that all followers are made up of a unique balance of three different doshas. After an assessment to see which doshas need some TLC, visitors are assigned a personalised set of healthy veggie meals, essential oils, and massage treatments. But even if Ayurveda doesn't do it for you, the daily yoga practice, cute private eco-lodges, and luxurious massage treatments surely will.
Getting there: By car: 3 hour drive from London. By train: two hours 30 minutes from London to Malvern Link, then a taxi.
Prices start from £695 per person for an all inclusive 2-night retreat.
Show more