Heads up! We're working hard to be accurate – but these are unusual times, so please always check before heading out.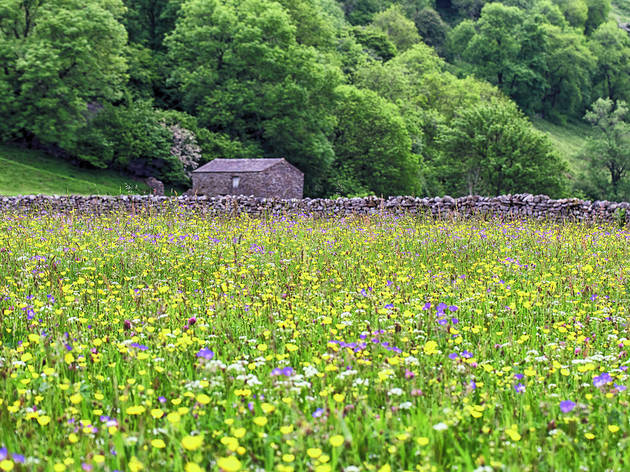 The best places to see wildflowers in the UK
From trees dusted with cherry blossom to woodlands swimming with bluebells, the UK is full of places to get an eyeful of beautiful blooms
If months of successive lockdowns have taught us anything, it's that the first blooms of spring or a rainbow of wildflowers on a hazy summer's day can be a real balm in bewildering times. A year of being cooped up indoors has turned us all into a bunch of nature fanatics, and the seasons' various crops of wildflowers have been brilliant eye-popping distractions throughout the turbulence.
Be it trees dusted with pastel pink petals in spring or woodlands filled with cobalt carpets of bluebells, the UK is full of places to get an eyeful of beautiful blooms. And now we don't have to wait long to see them. Under the government's latest roadmap out of lockdown, the 'stay local' rule will be dropped from April 12. That means day trips and overnight stays in self-catered accommodation (including campsites and Airbnbs) will be allowed, followed by stays in hotels, hostels and B&Bs from May 17.
So step away from Netflix, and treat your Zoom-tired eyes to a look at these beauty spots across the UK putting on riotous displays this year.
Please note: Travel from England to Wales and Scotland is currently not allowed. Facilities and businesses in the towns and villages we mention will be closed at the moment. Government advice is to avoid public transport so don't travel by train or bus. Please be mindful of the people who live locally. If you decide to travel, check whether car parks are open before you set off and adhere to social distancing guidelines on your walks.
RECOMMENDED: Fairytale forests to visit in the UK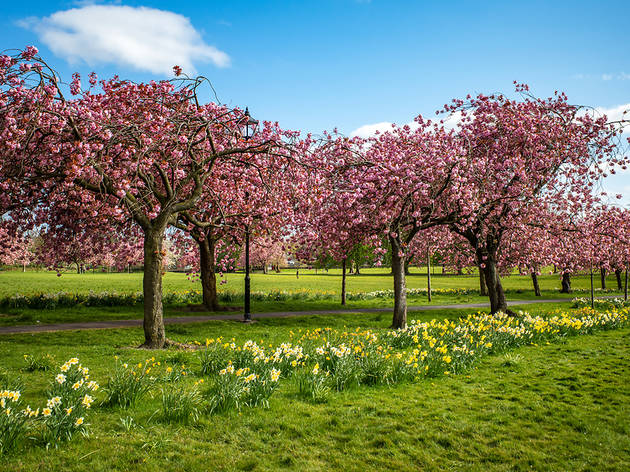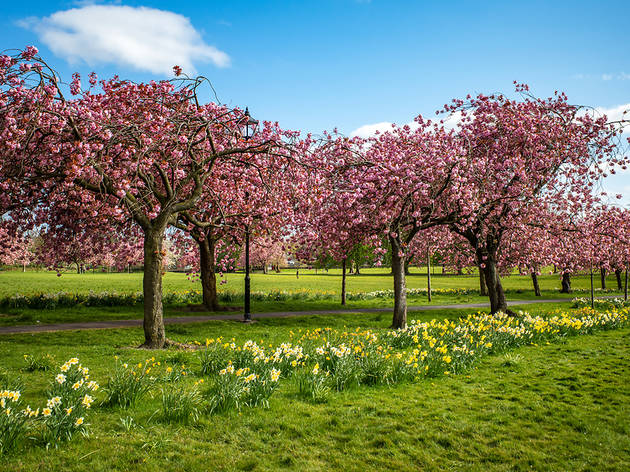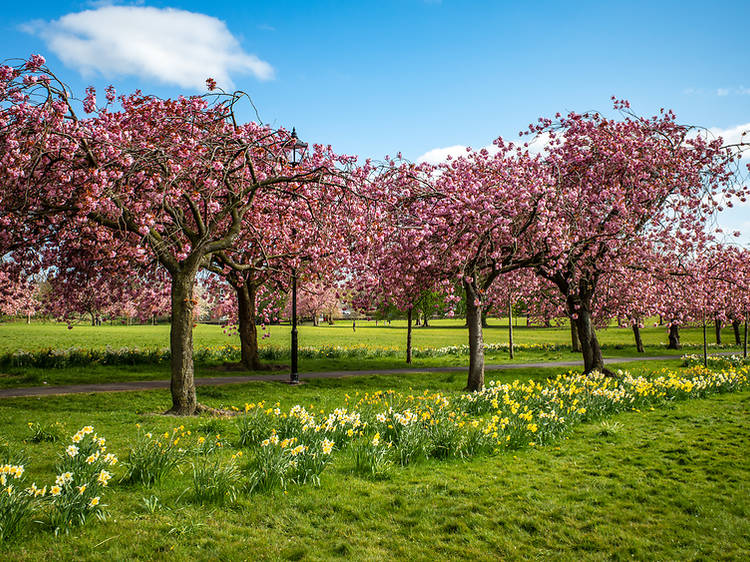 Photograph: Shutterstock
In Japan, cherry blossom season is a major event, with visitors flocking from around the globe to see the petals in full bloom. Well, we can't make it for this year's sakura season, but thankfully the UK gets its own crop of flamingo florets. In Harrogate, Yorkshire's regal spa town, you'll find candyfloss arches along The Stray - the town's 200-acre stretch of parkland. The vast avenues of cherry trees were planted in 1953 to celebrate the Queen's coronation and are usually accompanied by patches of jewel-bright crocuses and sunshine daffodils. Bring your camera and be careful not to slip on the magenta carpet of mushed petals.

Elsewhere Nymans, a lush country garden, house and ruins in West Sussex, is full of blossom-tree-lined avenues that froth with pale petals come spring. Or, go further north to Dollar, Clackmannanshire where lines of bright pink blossom sit prettily beside a trickling stream.
When? March and April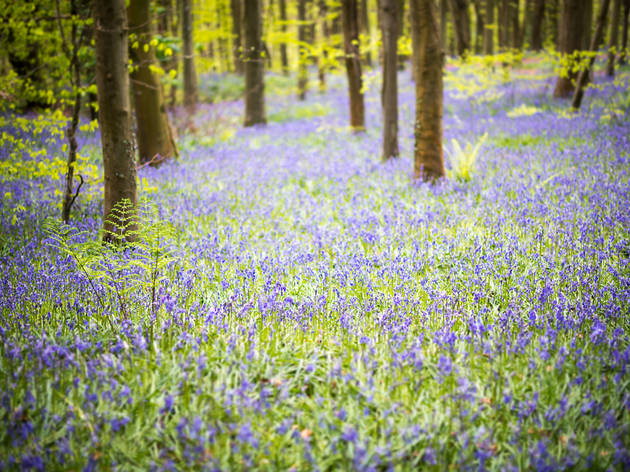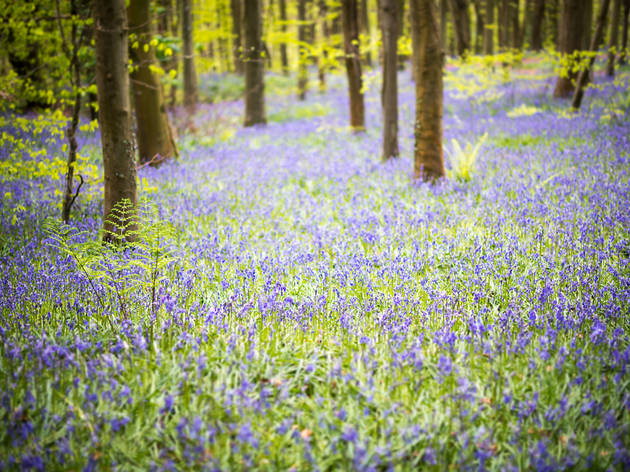 Photograph: Shutterstock
Did you know almost half of the world's bluebells are in the UK? Between April and May, thousands of these drooping beauties are to be found in Coed Cefn, an enchanting woodland in Wales' Brecon Beacons. Perched on a hill above the friendly town of Crickhowell, this ancient wood has a canopy of oak and beech trees and a lovely circular walk with views over the Welsh hills. It's said that if you pick a bluebell, you'll be led astray by fairies and will wander lost forever. So keep those hands to yourself.
Elsewhere If you go down to the woods on Cornwall's Lanhydrock estate you're in for a blue surprise. The Great Wood here is filled with the flowers as soon as the season hits. Over in North Norfolk, the Blickling Estate - a bombastic Jacobean Mansion set in a historic park - has a woodland packed with dainty English bluebells each year.
When? April and May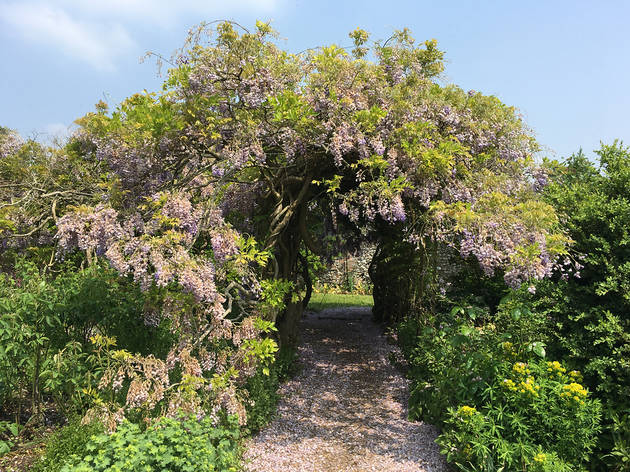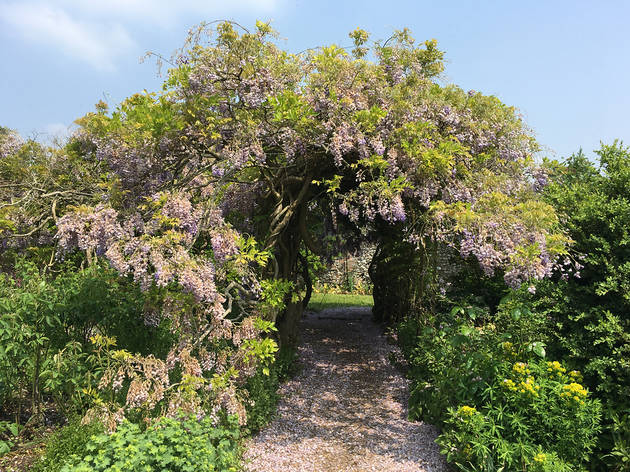 Photograph: Shutterstock
What's that crawling all over posh house fronts and swallowing up garden trellises with a hoard of depraved Instagram addicts in its wake? Wisteria, of course. Those hanging purple blooms climb their way up every surface imaginable and work their way onto everyone's Instagram feeds as soon as spring hits. It's yet another plant that Japan seems to do much better than anywhere else in the world, but there are still plenty of places you can see these climbing beauties right here in the UK. Sixteenth-century Oxfordshire mansion Greys Court is crawling with wisteria in May and June. In fact, its walled garden has a 'wisteria room' where you can walk around it, under it, and get heady on all that pollen.
Elsewhere Not only does London's Eltham Palace have a moat, a grand Tudor hall, and devastatingly chic art deco interiors, its terrace garden is also packed with wisteria in the spring. At Sissinghurst Castle in Kent, poet and writer Vita Sackville-West filled the garden with wisteria in the 1930s to reflect the romance of her poems.
When? May to June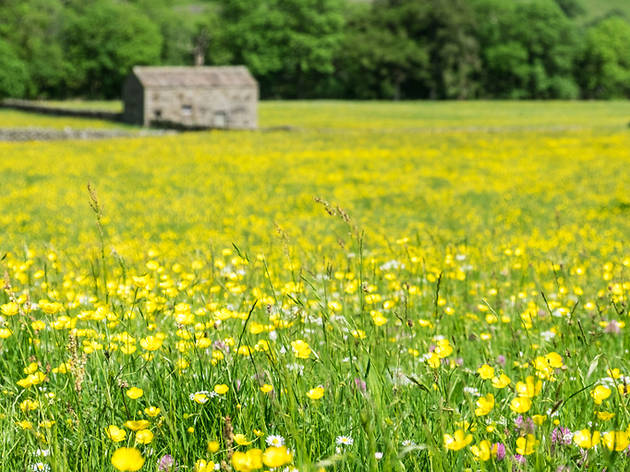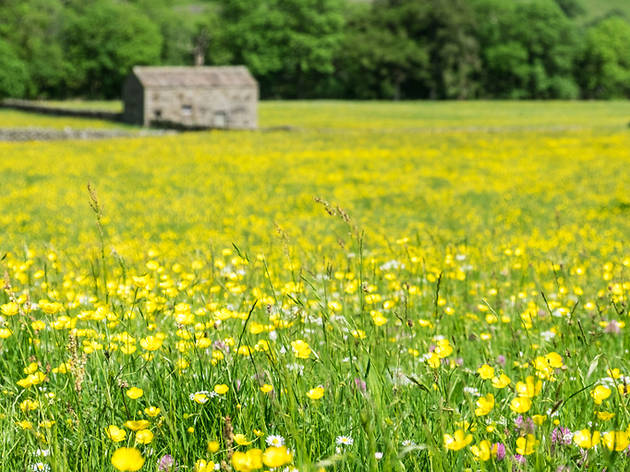 Photograph: Shutterstock
The Yorkshire Dales' upland hay meadows are a riot of colour in June. There's a great walk from the cute village of Muker in Swaledale (one for your UK to-do list) that takes you through four wildflower meadows, where you can spot melancholy thistle, yellow rattle, lady's mantles and cat's-ear. Be careful to stick to the path because they're winter fodder for livestock. In neighbouring Wensleydale, Askrigg Bottoms meadow is another tranquil spot, and only a gentle amble from Askrigg village.
Elsewhere Visit Priestcliffe Lees in Derbyshire is one of the Peak District prettiest dales. See yellow mountain pansy and the teeny white flowers of leadwort grow at the top of this steep hillside or go down to the sheltered lower slopes to see above the Rover Wye to see orchids.
When? June and July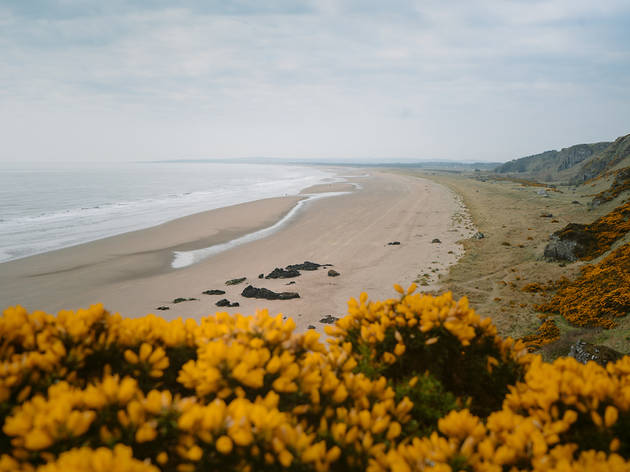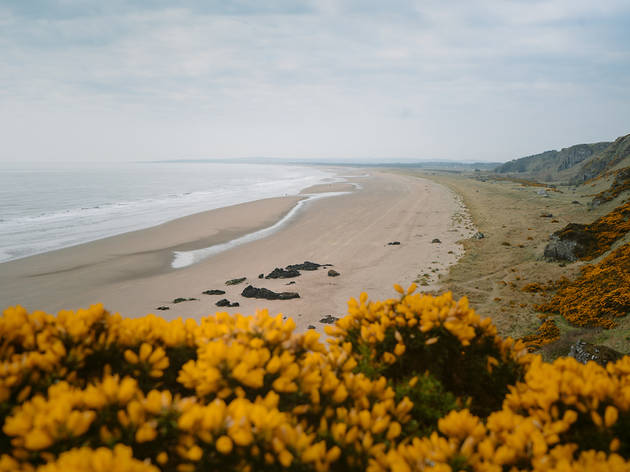 Photograph: Shutterstock
One of the most dramatic swathes of Scotland's east coast is St Cyrus nature reserve in Aberdeen: a long sweep of golden beach guarded by hulking cliffs. In summer, delicate maiden pinks and bright-purple bellflowers bloom in the dune grasslands. Further north, you can admire Britain's biggest sand dunes and find over a dozen species of meadow flowers at Forvie nature reserve. Scottish National Heritage has created easily accessible wildflower trails at both, and at national nature reserves across the country.
Elsewhere Northern Ireland's Antrim coast is world-famous for its gigantic stepping stones – tens of thousands interlocking black basalt columns. In summer, the Giant's Causeway is awash dainty wild orchids, sea rocket, broomrape, cranesbill, devil's-bit scabious and meadow vetchling.
When? June to September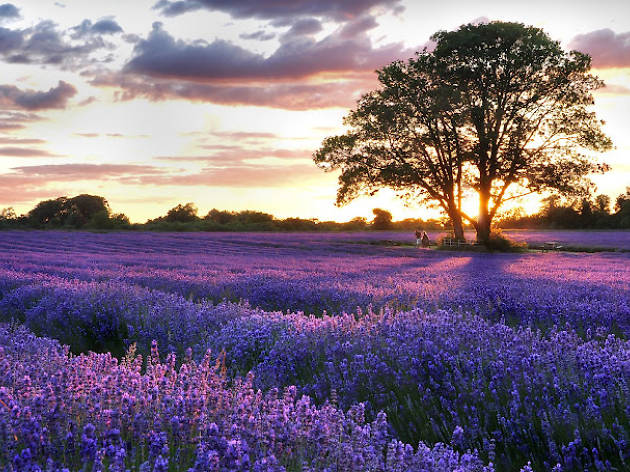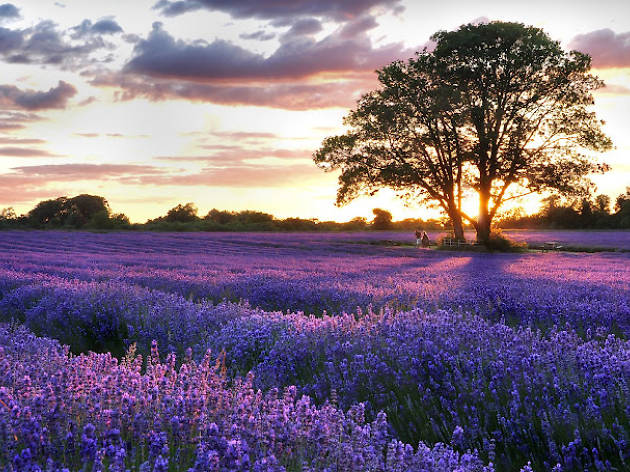 Photograph: Mayfield Lavender
It may be known for its sleepy scent, but there's nothing dozy about the explosion of colour that happens when lavender season hits. You'll smell these rolling, perfumed fields of Mayfield Lavender long before you see them. Set up on the outskirts of London in 2006 to help revive the historic lavender industry, which boomed here in the eighteenth and nineteenth centuries, the 25-acre farm harvests its lavender and distills its oil on the original Victorian site. Visitors can wander through the rows of purple, enjoy lavender tea and a scone in the alfresco restaurant and browse the gift shop for aromatic treats.
Elsewhere Somerset Lavender's fields hold around 50,000 of the purple plants. Spend a summer's day wandering through them before buying a jar of honey made by the bees that flock around the flowers. Lordington Lavender in Chichester is another purple paradise that can give Provence a run for its money.
When? May to September, peaks in August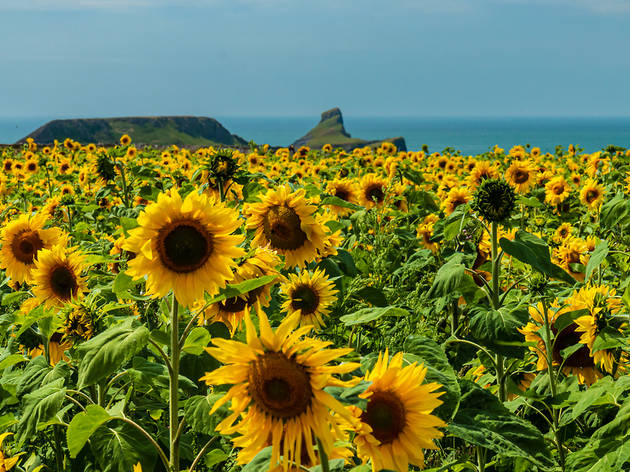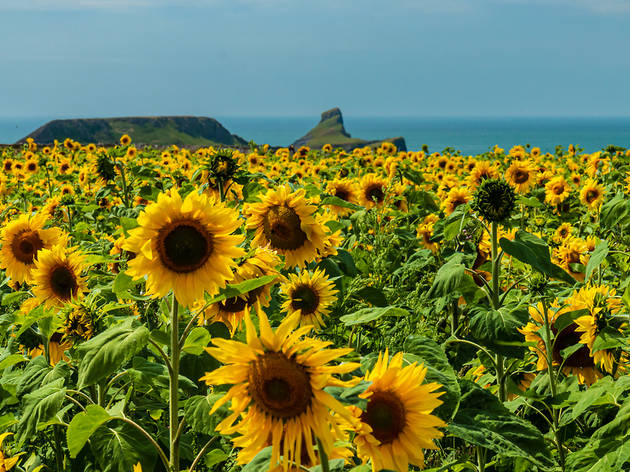 Photograph: Shutterstock
Get neck-deep in heliotropic heaven at Rhossili Bay just outside Swansea. You don't have to pay a penny to see these golden swathes of custard-yellow blooms growing in their thousands beside the sea. Not only are they an epic sight for the eyes, but they're also extremely good for wildlife. According to the National Trust, the number of bees in the field has risen from two thousand two years ago to a quarter of a million today. Even when they're not blooming they're still helping out the UK's critters by getting turned into birdseed. Nature really is healing.
Elsewhere Every summer Deeping St Nicholas in Lincolnshire becomes a sunflower hotspot. The village's Vine House Farm leads tours around the golden fields, or you can gawp at them from the roadside. When the fruit season at Garsons PYO Farm in Surrey ends, the fields full of sunny blooms step up. There are three sunflower fields and you can cut your own stalks to 'pay and weigh' at the end.
When? August to September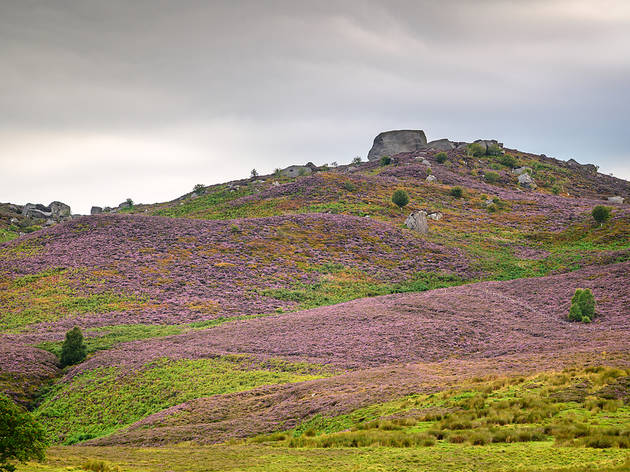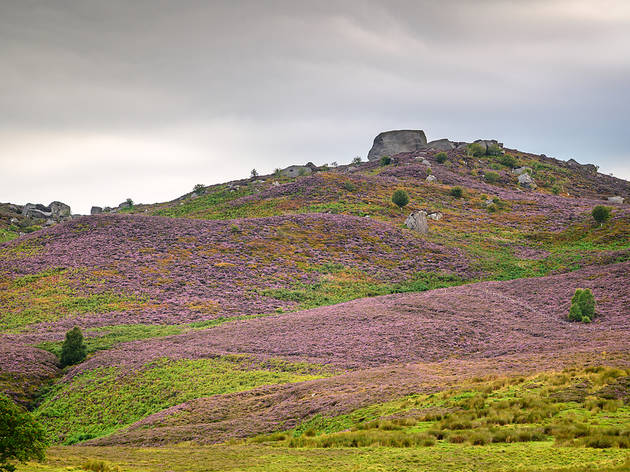 Photograph: Shutterstock
If your only experience of moorland is reading 'Wuthering Heights', then you'd be forgiven for thinking these upland hills are bleak and windswept places. Ordinarily, well, you'd be correct, BUT come August these inhospitable climes become a blaze of purple as hardy little heather plants burst into flower. Walking through these seas of indigo is a highlight in the UK floral calendar and Harbottle Crags in Northumberland is a great place to do just that. The open moorland is full of walking trails passing by gnarled lichen-encrusted rocks, peat bogs and steep gullies. It's an utter joy to visit when the hills turn a deep shade of mauve in August. Look out for snipe, curlew, skylark, and red grouse as you stomp through those pools of purple.
Elsewhere Fen Bog Nature Reserve's stunning views of the North York Moors really come into their own when the blue and purple patches of heather join the party. Head up to the summits of Tom Cross Rigg and Crag Stone Rigg to take it all in. Or, head to Dalmellington Moss in East Ayrshire. Yes it's boggy. Yes it's cold and often windy. But, have you seen the heather?!
When? August to September
More armchair travel?
Check out these incredible 360-degree views of some of the world's greatest cities – and then start daydreaming about the trips you'll take IRL, for as soon as we're can travel again