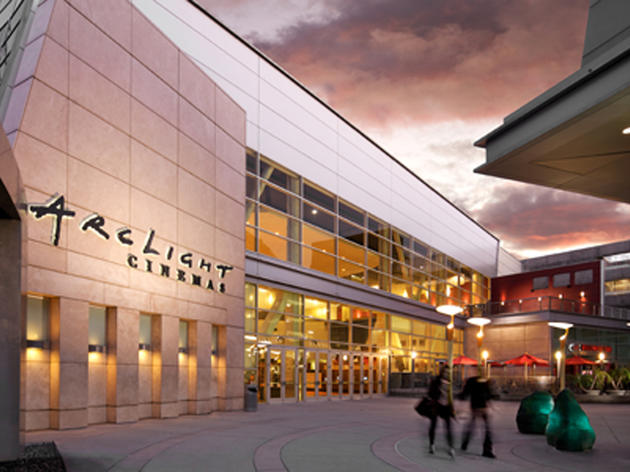 A Hollywood favorite since 2002, the ArcLight offers comfortable assigned seating (cushy, reclining, leg room for days), state-of-the-art sight and sound, fantastic snack bars and, for some Dionysian indulgence, an in-house café-bar. The programming is an astute mix of first-run flicks, indies, foreign fare and premieres; and alcohol is allowed in some screenings. As an added bonus, there are always fun cinephile treats on display (original costumes, architectural models, etc.). It's the most appealing modern multiplex in LA, but is also a classic due to the Cinerama Dome, a fabulous and unique domed movie theater that opened in 1963. Note that parking is usually pretty rough: there's a garage that validates, but it gets pretty packed, so allow plenty of time to find a space and don't expect to escape quickly.
Venue name:
ArcLight Hollywood
Contact:
Address:
6360 W Sunset Blvd
Los Angeles


Do you own this business?
A thriller which begins, as it means to go on, with a bang. Only minutes after the preliminaries are over, a door bursts open, a shotgun is fired, and the victim is blasted clean off the bed into the wall behind him. The plot, concerning the battl...

Read more

For impeccably crafted tearjerkers, leave yourself in the capable hands of Pixar. For something a few notches darker—like this dazzling Edo-period–set animated movie concerning a Japanese fable of devotion and bravery—the wildly inventive stop-mot...

Read more

Sometimes, nutrition comes in unlikely packages—but before I make Sausage Party sound like a pile of spinach, know that it's exactly the R-rated single-entendre animated sex fest the title implies, at least for its first 15 minutes. During that gl...

Read more

Meryl Streep continues her screw-the-Oscars, life-affirming run of movies with this ridiculously watchable comedy, playing filthy-rich socialite Florence Foster Jenkins. In the 1930s and '40s, the real-life deluded diva sang at private recitals in...

Read more

Just because you're rolling in the chariot doesn't make you Charlton Heston. That's a lesson this weightless, instantly disposable remake of the 1959 sword-and-sandal Oscar winner learns the hard way—today's Ben-Hur is so ersatz and grandeur-chall...

Read more

A curiously joyless movie that tries to channel the giddy amorality of Dr. Strangelove but forgets to add jokes or dramatic stakes, War Dogs is a major whiff from Hangover trilogy director Todd Phillips, who won't be graduating to serious material...

Read more

Too much ambition can be a dangerous thing. The previous Star Trek movie, 2013's sprawling Into Darkness, was packed with it: new worlds, violent consequences and hefty emotional moments. A little unfairly, it was voted the worst Trek movie ever b...

Read more
Rating Breakdown
5 star:

0

4 star:

3

3 star:

0

2 star:

0

1 star:

0
I love coming here to see a movie. Parking is a breeze in the attached structure and if you get there a little too early, you can take a seat inside the bar/restaurant and have a drink or two. Seating isn't usually a problem because you can get your tickets in advance. Overall, it makes moviegoing a delight!
What a great place to see a movie! Being able to book your seat in advance makes the entire experience so much more enjoyable. I recently saw The Force Awakens at the ArcLight and high quality display and sound made it worth the slightly higher than average ticket price.
The Arclight is one of my favorite places in LA to see a movie. It's always exciting to see the classic domed cinema rise up from Sunset Boulevard. The restaurant inside the theater has a surprising good menu as well with plenty to choose from!