Museums
The best art, history, culture and science museums in L.A.
Museums in L.A.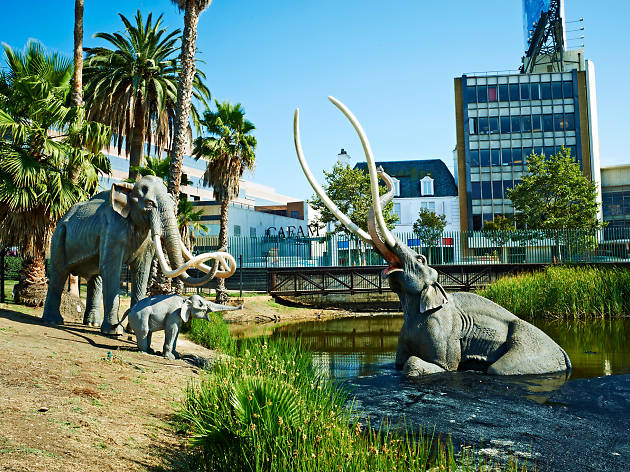 La Brea Tar Pits and Museum
Back in 1875, a group of amateur paleontologists discovered animal remains in the pits at Rancho La Brea, which bubbled with asphalt from a petroleum lake under what is now Hancock Park. Some 130 years later, the pros are still at work here, having dragged more than 3.5 million fossils from the mire. Many of these specimens are now on display in this delightfully old fashioned museum, which can't have changed much since it opened in 1972. Reserve a spot on the Excavator Tour (free with museum admission), which includes stops at the Fossil Lab, the Lake Pit, the newly re-opened Observation Pit and Project 23, where you can see archaeologists at work. Inside, check out the multimedia experience Ice Age Encounter, and the simple, instructive displays of items found in the pits. Most are bones – of jackrabbits, gophers, a 160lb bison, skunks and a 15,000lb Columbian mammoth, plus an extraordinary wall of 400 wolf skulls – though there are also early cave drawings and human accoutrements such as bowls and hair pins.
Book online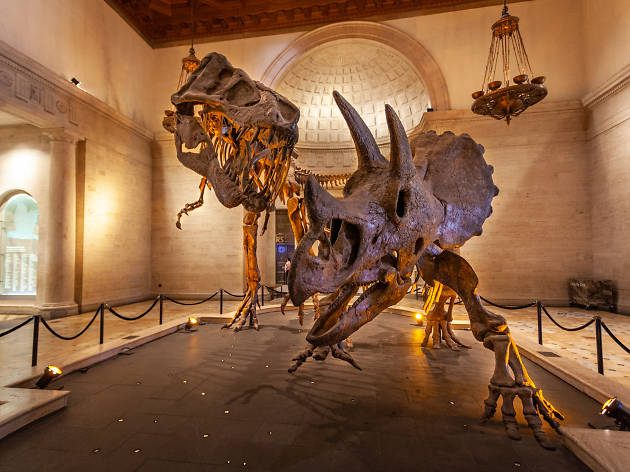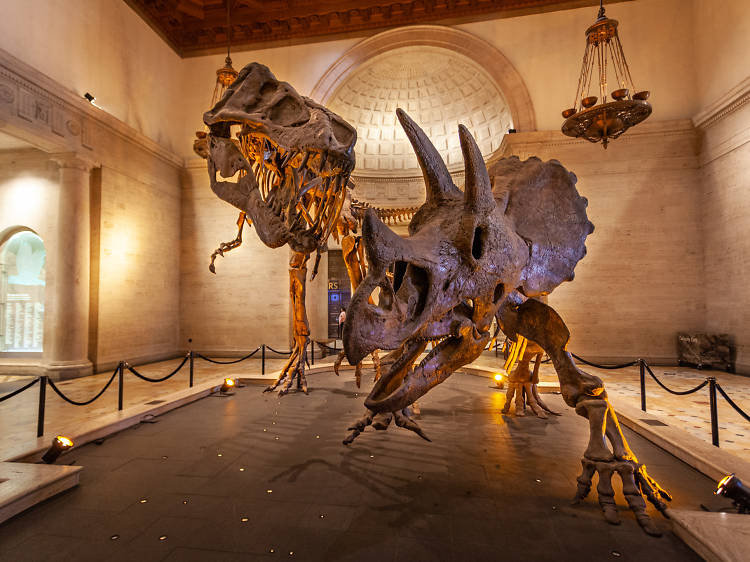 Natural History Museum
The NHM's original Beaux Arts structure was the first museum building in Los Angeles, opening with Exposition Park itself back in 1913. Its massive collection spans more than 35 million objects and specimens (not all of them are on display at any one time), making it second in size only to the Smithsonian's. It's an immense place, so it's well worth planning your visit. Those with only a little time to spare should head directly to the truly dazzling collections in the Gem & Mineral Hall, where the exhibits include a 4,644-carat topaz, a 2,200-carat opal sphere and a quartz crystal ball which, with a diameter of 10.9 in and a weight of 65lb, is one of the biggest on earth. A six-year, $135-million program of renovations wrapped up in 2013, including the addition of 108,000 square feet of indoor space. The Otis Booth Pavilion now welcomes visitors into the museum from the north with a six-story light-filled glass entrance, featuring a stunning, 63-foot-long fin whale skeleton. Twelve new galleries and five exhibits have opened, including "Becoming L.A.: Stories of Nature and Culture," which examines the Los Angeles region's history from Native Americans to the Catholic missions, the Industrial Revolution and the World Wars, to the present day. Outdoors, the Nature Gardens features 3.5-acre urban wilderness with a pond, dry creek bed, beautiful landscaping and other features that attract local critters. The Nature Lab features interactive multimedia and live animal habitats, t
Buy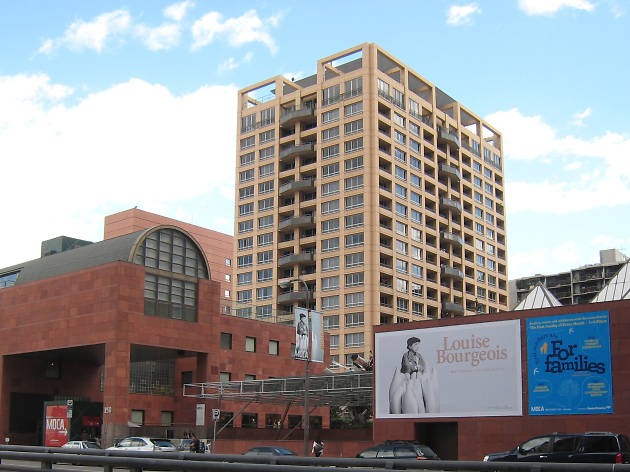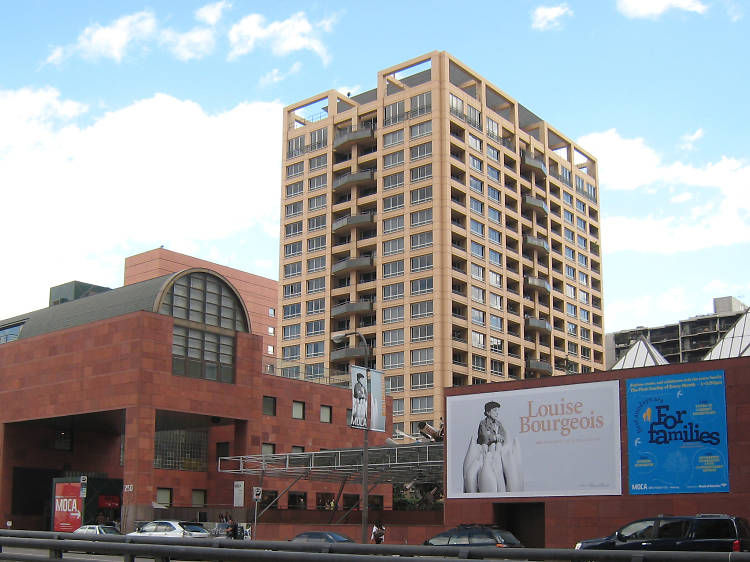 MOCA Grand Ave
The main branch of LA's Museum of Contemporary Art (MOCA) houses thousands of artworks crafted from 1940 until now. Spend half an hour or an entire afternoon absorbing contemporary pieces from lesser known artists, punctuated by sightings of Mark Rothko and Jackson Pollock works. For just $12 ($7 students and seniors), you can have your run of the place, including a free audio tour and access to outdoor installations. If you plan your visit for a Thursday night between 5pm and 8pm, admission to MOCA Grand Ave is on the house.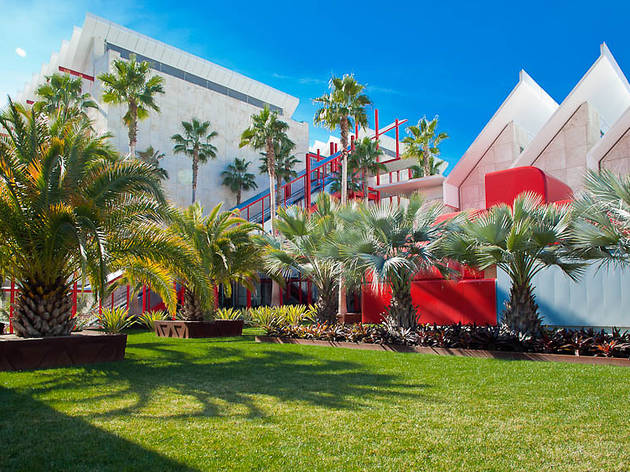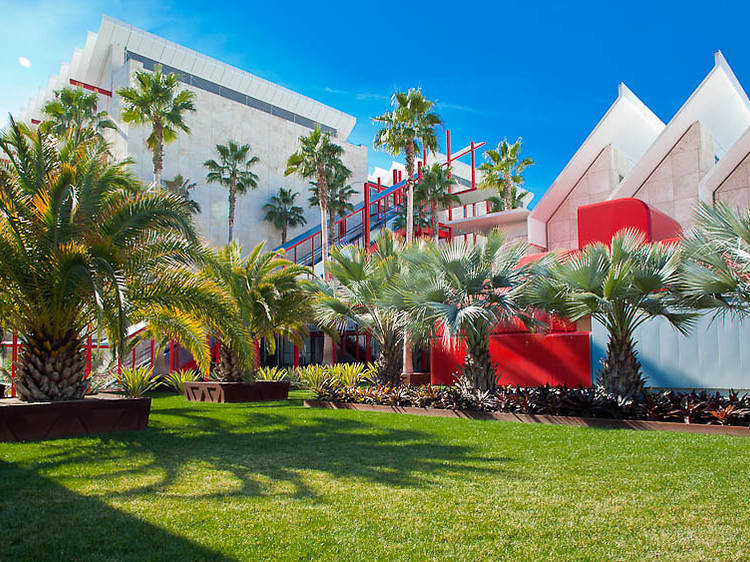 Los Angeles County Museum of Art (LACMA)
Recommended: See Top 10 works at LACMA While LACMA's collections have long been the most impressive in the city, the 20-acre complex of buildings in which they've been housed has been quite the reverse. A bewildering jumble of architectural styles blighted further still by abysmally poor signage, they never really did the artworks justice. At last, though, things have improved. Funding difficulties and public outrage forced the museum to abandon Rem Koolhaas's original plans to rebuild almost the entire complex from scratch in 2002. However, Renzo Piano's subsequent blueprint for a less dramatic and less expensive redevelopment of the museum did get the go-ahead. The aptly named Transformation is still a work in progress, but the museum is already a lot more visitor-friendly (attendance increased from 600,000 in 2005 to nearly 1,000,000 in 2011). It all starts with the entrance: the BP Grand Entrance Pavilion gives the museum a proper focal point. The entrance includes the installation of Chris Burden's Urban Light, a piece made up of 202 cast-iron street lamps gathered from around LA, restored to working order.The Broad Contemporary Art Museum (widely known as BCAM), funded by LA philanthropists Eli and Edythe Broad, is home to a dazzling selection of modern work. Spread over three floors, the selection of pieces on display is strong on American artists—there's a very impressive Richard Serra piece on the first floor; Cindy Sherman and Jenny Holzer are among the artists r
Book online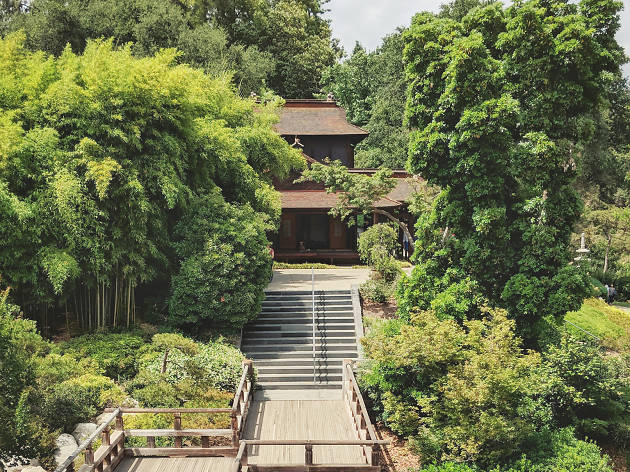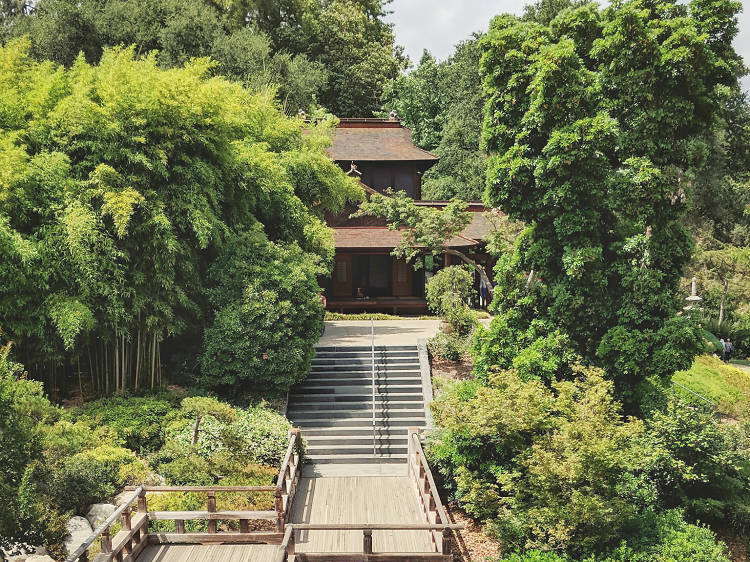 Huntington Library, Art Collections & Botanical Gardens
The bequest of entrepreneur Henry E Huntington is now one of the most enjoyable attractions in the Los Angeles region. It's also not a destination that you should attempt to explore in full during a single day: between the art, the library holdings and the spreadeagled outdoor spaces, there's plenty to see, and most of it is best enjoyed at lingering leisure rather than as part of a mad day-long dash.Once you've paid your admission, you'll be close to the main library, which holds more than six million items and is open only to researchers (apply for credentials in advance of your visit). However, some of its most notable holdings, among them a Gutenberg Bible and the earliest known edition of Chaucer's The Canterbury Tales, are always on display in the adjoining exhibition hall, alongside regular themed temporary shows. The art collection is almost as notable as the library's collection. Built in 1910, the main house is home to a very impressive collection of British art, which includes Gainsborough's The Blue Boy alongside works by Blake, Reynolds and Turner. And over in the newer Scott and Erburu Galleries, you'll find a selection of American paintings.However, despite all these cultural glories, the Huntington's highlights are outdoors in its vast jigsaw of botanical gardens, arguably the most glorious in the entire Los Angeles region. The 207 acres of gardens, 120 acres of which are open to the public, are divided into a variety of themes: the Desert Garden, now a centur
Book online