Simon Killer: movie review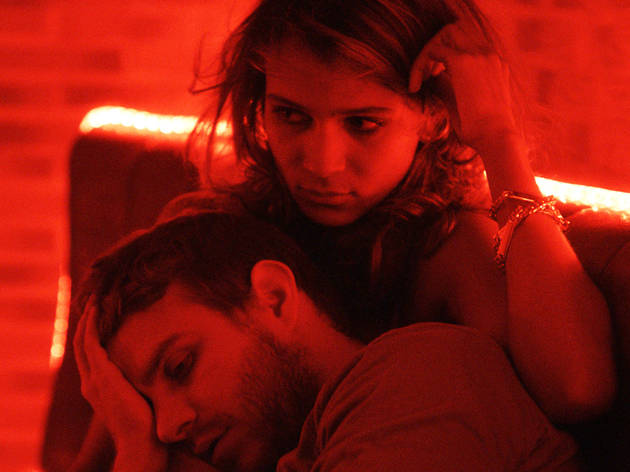 Most people go to Paris looking for love, but moody American Simon (Brady Corbet, perpetually unkempt) has come to the City of Light to escape affairs of the heart. Reeling from a bad breakup, he's using an acquaintance's place as the first stop on what is supposed to be a life-altering European journey. Instead, Simon gets stuck, probably willfully so—aimlessly wandering the streets with his iPod blaring, sheepishly chatting up some girls and making depressive Skype calls home to Mom. Then he meets an empathetic soul, a prostitute named Victoria (Mati Diop, willowy and vulnerable), who is just the enabler this doleful sociopath needs to fall back into some pathologically ingrained bad behavior.
Director Antonio Campos's follow-up to Afterschool, his chilly, Haneke-lite study of an Internet-obsessed teenager, is an aesthetically fussed-over, feel-bad character study—the ugly American narrative rejiggered for Generation Hipster. Corbet and Diop make an admittedly compelling down-and-out duo, doing their semi-improvised best to unearth some recognizable human frailty from the gritty portentousness. But even at its most affecting (an uncomfortably extended nightclub sequence scored to LCD Soundsystem's "Dance Yrself Clean" is an illuminatingly hellish vision of heedless abandon), Simon Killer rarely seems like more than a cinema-du-Gaspar-Noé simulacrum. The languorous long-takes, dissociative sound design and strobe-light scene transitions meant to mirror this emotional con artist's skewed view of the world are anxiety-of-influence hand-me-downs through and through—viscera without vision.
Follow Keith Uhlich on Twitter: @keithuhlich
Release details
Release date:
Friday April 5 2013
Duration:
105 mins
Cast and crew
Director:
Antonio Campos
Cast:
Brady Corbet
Mati Diop
Michaël Abiteboul