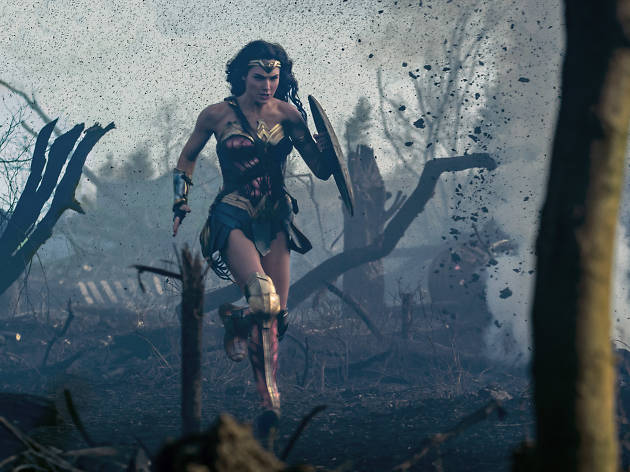 Blessed with laughs, verve and a pardon from Batman v Superman's seriousness, this superhero film feels like a miracle.
Before seeing Wonder Woman, I had a sinking feeling. It's been more than a decade (and Halle Berry's 2004 bomb Catwoman) since a female star headlined a superhero film and saved the world. I had visions of middle-aged male studio execs huddled together in a conference room googling feminism and group-thinking how to make a lady-hero. Would the result feel like a two-and-a-half-hour tampon commercial?
Actually, no. Wonder Woman is the real deal, a rollicking action adventure in the tradition of Raiders of the Lost Ark, with a fully functioning sense of humor and the year's most deliciously evil baddie.
The film has a wobbly opening on a women-only island where hot chicks in fabulous ancient Greek sandals appear to have wandered in from a Dolce & Gabbana campaign. This is Themyscira, where the Amazon tribe has lived in peace for thousands of years. Former Miss Israel Gal Gadot (Gisele in the Fast & Furious franchise) is Diana, their princess, who was sculpted from clay and brought to life by Zeus. The island's tranquility is broken by the arrival of a cocky U.S. soldier played by Star Trek's Chris Pine. The actor knows he's here as eye candy and does his spin on the usual smoking-hot sidekick with self-deprecation.
The plot is functional. It's World War I and Pine is a spy who has discovered that the Germans' evil chemist, Maru (Elena Anaya)—a.k.a. Doctor Poison—is cooking up a dirty bomb to wipe out Allied soldiers on the front. So Diana volunteers to save humankind, strapping on her bullet-repelling bracelets and truth lasso.
Unlike Batman, Wonder Woman is not plagued by doomy angst. She's good and kind, with a strong moral compass. A complex female character? Not exactly. But Gadot (who served in the Israeli army and knows her way around a fight sequence) never lets her become bland and simpering. Still, she's very nearly outshone by Anaya's Doctor Poison, who wears a mask and a haunted expression that suggests a twisted soul. They should hire her for the next James Bond film.
So this is an origin story, set decades before last year's Batman v Superman: Dawn of Justice, in which Gadot made her Wonder Woman debut. Unlike in that movie's moody dullfest, director Patty Jenkins (Monster) lets the sunshine in. Wonder Woman's big showdown drags a little, but the whole thing is carried along by charm and wit. Fish-out-of water scenes—in which Wonder Woman, an alien to modern civilization, arrives in the big city—are hilarious: In London she asks Pine's loyal assistant what a secretary does. She's horrified by the answer. "Where I'm from that's called slavery," says Diana. Maybe there's hope for the DC Comics universe after all.
Release details
Rated:
PG-13
Release date:
Friday June 2 2017
Duration:
141 mins
Cast and crew
Director:
Patty Jenkins
Screenwriter:
Allan Heinberg
Cast:
Robin Wright
Gal Gadot
Chris Pine
David Thewlis