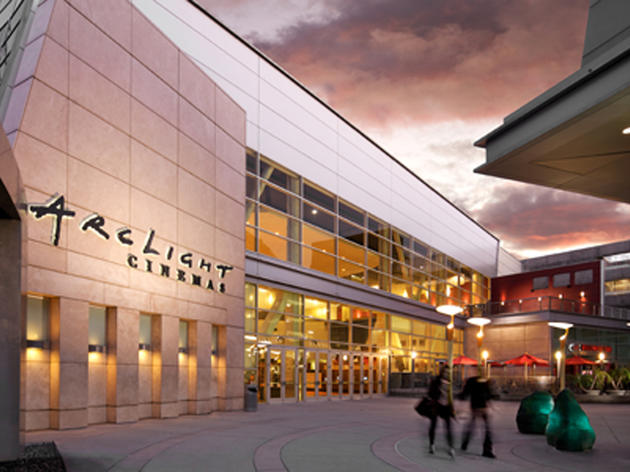 A Hollywood favorite since 2002, the ArcLight offers comfortable assigned seating (cushy, reclining, leg room for days), state-of-the-art sight and sound, fantastic snack bars and, for some Dionysian indulgence, an in-house café-bar. The programming is an astute mix of first-run flicks, indies, foreign fare and premieres and alcohol is even allowed to be taken into some screenings. As an added bonus, there are always fun cinephile treats on display (original costumes, architectural models, etc.). It's the most appealing modern multiplex in L.A., but is also a vintage classic due to the Cinerama Dome, a fabulous and unique domed movie theater that opened in 1963.
Venue name:
ArcLight Hollywood
Contact:
Address:
6360 W Sunset Blvd
Los Angeles
90028

Do you own this business?
A pretty faithful adaptation of Elmore Leonard's Rum Punch, Tarantino's finest, most mature movie to date centres on airline steward Jackie (Grier), picked up by the Feds at LAX with cash and drugs destined for gun trader Ordell (Jackson). Relucta...

Read more

"When you have to shoot, shoot…don't talk," says rascally Eli Wallach in The Good, the Bad and the Ugly, offering up some unneeded advice to a fresh corpse. Even though it's Quentin Tarantino's favorite movie, this is wisdom he's never heeded. Ble...

Read more

A sprawling, discursive fresco: three stories bookended by a prologue and epilogue. In the first story, a mobster (Travolta) is charged with looking after the irresponsible wife (Thurman) of his vengeful boss. In the second, a washed-up boxer (Wil...

Read more

Fun and games from Tarantino, firmly in fanboy mode here. Kill Bill is 'not about real life, it's just about other movies', as QT puts it, adding: 'When the characters in Reservoir Dogs go to the movies, these are the movies they see.' Which makes...

Read more

Tarantino's powerful homage/reworking of the heist-gone-wrong thriller - stealing ideas from Kubrick's The Killing and Scorsese's Mean Streets, among others - is probably the final word (or frame) on the subject. A bunch of colour-coded crooks (Mr...

Read more

In its theatrical version, presented as the back half of Grindhouse, Quentin Tarantino's Death Proof felt like a potentially decent comedy sketch ruined by being needlessly dragged out. But with a half hour of footage reinserted (most of it is the...

Read more

No matter how Quentin Tarantino arms his characters—with katana swords (Kill Bill), shotguns (Pulp Fiction) or baseball bats (Inglourious Basterds)—their chief weapons are words. That's just how this writer-director rolls, and even as The Hateful ...

Read more

The sort of high-wire, playful and madly enjoyable riff on film-world folklore that only Quentin Tarantino could get away with, Once Upon a Time in Hollywood is a massively fun shaggy-dog story that blends fact and fiction by inserting made-up cha...

Read more
Average User Rating
4.1 / 5
Rating Breakdown
5 star:

1

4 star:

6

3 star:

0

2 star:

0

1 star:

0
This is basically the only way I can see a movie in theaters anymore. Booking your seat in advance is such a gamechanger—it takes all of the stress out of hunting for seats together. It also means being able to see huge movies on opening night without needing to get to the theater early. Throw in consistently top-notch projection quality and the lack of pre-movie ads, and it's definitely worth the extra couple of bucks.
I love coming here to see a movie. Parking is a breeze in the attached structure and if you get there a little too early, you can take a seat inside the bar/restaurant and have a drink or two. Seating isn't usually a problem because you can get your tickets in advance. Overall, it makes moviegoing a delight!
What a great place to see a movie! Being able to book your seat in advance makes the entire experience so much more enjoyable. I recently saw The Force Awakens at the ArcLight and high quality display and sound made it worth the slightly higher than average ticket price.
The Arclight is one of my favorite places in LA to see a movie. It's always exciting to see the classic domed cinema rise up from Sunset Boulevard. The restaurant inside the theater has a surprising good menu as well with plenty to choose from!