Time Out with pop disco songstress Gavin Turek
Modern disco darling Gavin Turek sits down for a chat—and shows off some of her signature dance moves.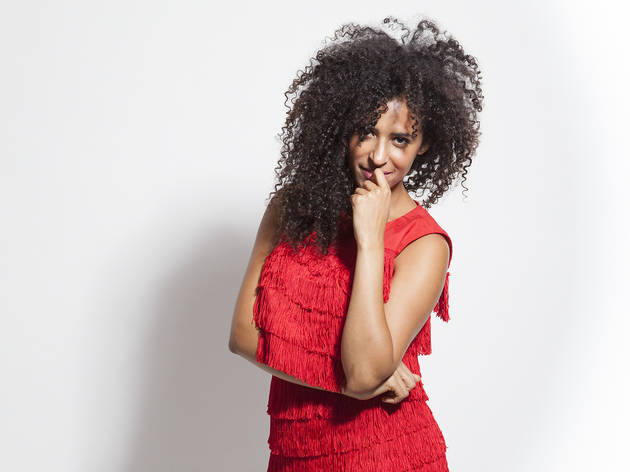 1/6
Photograph: Jakob N. Layman
Gavin Turek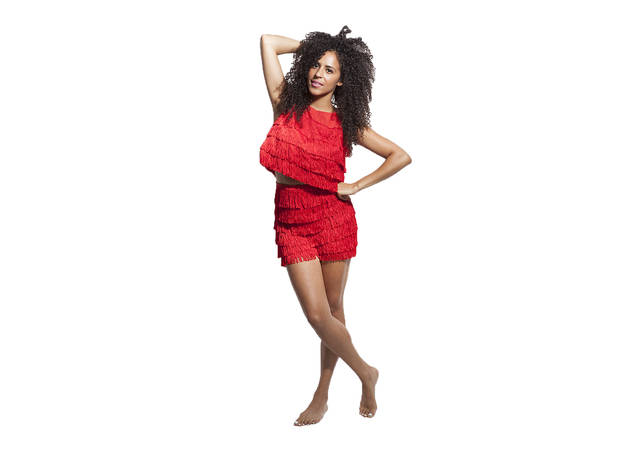 2/6
Photograph: Jakob N. Layman
Gavin Turek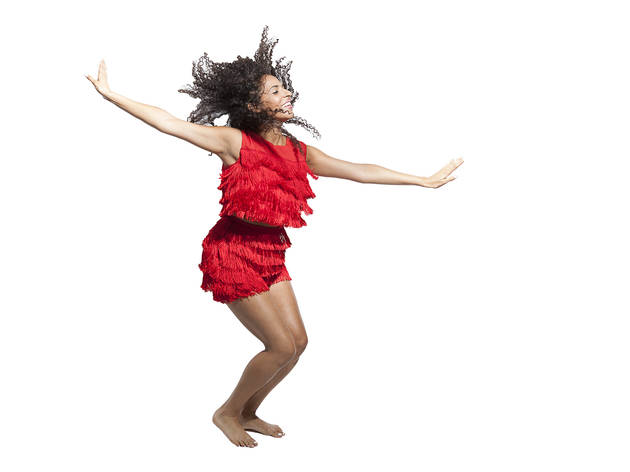 3/6
Photograph: Jakob N. Layman
Gavin Turek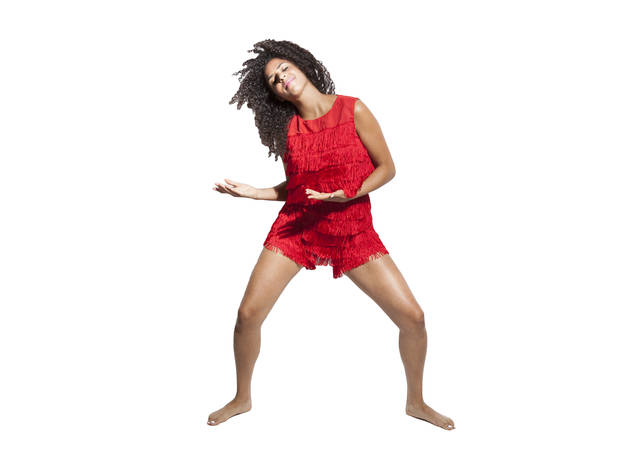 4/6
Photograph: Jakob N. Layman
Gavin Turek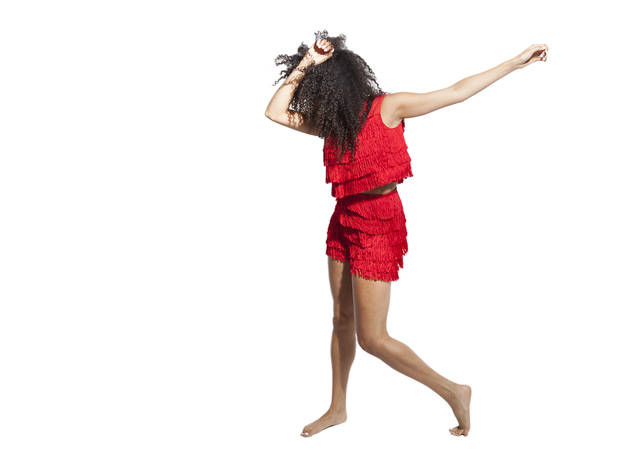 5/6
Photograph: Jakob N. Layman
Gavin Turek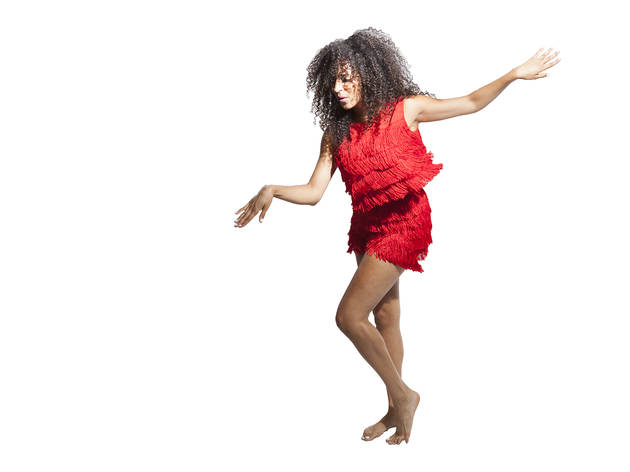 6/6
Photograph: Jakob N. Layman
Gavin Turek
If you haven't seen LA native Gavin Turek perform her dance-y disco, listen up. Aside from catchy tunes and a great set of pipes, Turek boasts some of the most impressive moves we've seen on an indie stage in, well, maybe ever. That combined with her bare feet, sky-high hair and fringe rompers (designed by her sister and sewn by her drummer's mother) make Turek a unique act who's poised to become a household name in the LA scene. She already has a Bootleg Theater residency under her belt, her EP The Break-up Tape dropped earlier this month (listen to it in our Spotify playlist below) and a music video for "Suffah" is soon to follow. We were lucky enough to catch up with the 26-year old performer (and have her show us some sweet dance moves) between a quick gig in Denver and her upcoming performance at the Abbot Kinney Festival on September 29th.
Time Out Los Angeles: Thanks for taking the time to talk—and dance!—with us. How did you start making music?
Gavin Turek: Well, I'm from LA. So many kids grow up out here and have the opportunity to act and sing and dance from such a young age—it's just part of the culture. It always came naturally for me and my two sisters, and our parents are musically inclined as well. My dad is a classical pianist and my mom is a great singer, although she only sings in church. She says her voice is just for God; I sing in the church choir too, but I think my voice is for everyone!
Time Out Los Angeles: Luckily for us! So it sounds like your family has been supportive from the beginning.
Gavin Turek: My entire family is incredibly encouraging. My sister Hana, in particular, has been so supportive. She has great taste and always knows what's cool, what's about to be cool—so when she heard my demos for the first time and loved them, it was really the spark I needed to start writing my own songs and pursuing this as a career.
Time Out Los Angeles: When did you first perform your own stuff?
Gavin Turek: I think it was about four years ago, at the Satellite. The reaction I got was so overwhelmingly good—by my standards, the show was not that great! But people liked it, which gave me a lot of confidence.
Time Out Los Angeles: Was the dancing always a part of your performance, or did that come later?
Gavin Turek: I incorporated dance right away and got a good reaction, so I knew I could hone the presentation and get it really solid—it's so fun and natural for me, and I think the audience could and can see that.
Time Out Los Angeles: For sure. Do you feel like the dancing defines you now, and the bare feet?
Gavin Turek: That wasn't my intention, but I do think so, yes. I'm not mad at it! It's great—whatever makes people happy and helps them connect with me and my music. It's cool, I think people tend to comment on it because it's rare to see that much movement on the types of stages I'm performing on. And my dance background is modern and West African, so I never dance with shoes—it's uncomfortable for me. So it was a natural decision to go barefoot; not an aesthetic choice to look cool or anything, I just literally can't dance with shoes on!
Time Out Los Angeles: Well I can't dance at all! You seem to be doing just fine barefoot.
Gavin Turek: Thanks!
Time Out Los Angeles: Where are some of your favorite places to dance offstage in LA, even though you have to wear shoes?
Gavin Turek: Haha. I like to go out dancing any place that has disco or soul. The Short Stop on Sundays, the Echo on Saturdays… Rhonda has great disco. I just heard that they're doing a Giorgio tribute at the Standard—I'm obsessed with Giorgio Moroder, he's the godfather of disco. I'm going to release an homage mixtape to him, all original Giorgio instrumentals with my lyrics over them. I'm really excited about it!
Time Out Los Angeles: That sounds awesome! So what about when you're not performing or dancing—where do you like to hang out in the city?
Gavin Turek: I don't drink a lot, but Little Joy is cool, and I love the aesthetic at the Thirsty Crow. I'm vegetarian, so I like eating at Sage in Echo Park and Floré in Silver Lake. I love breakfast food! I go out to brunch way more than dinner—brunch is so LA! I feel so LA lately. Let's name things that are LA. Brunch, Runyon Canyon, saying you're going to do something and just not showing up…
Time Out Los Angeles: Saying you're going to hike Runyon Canyon all the time but only going every three months…
Gavin Turek: That's totally me! I'm also trying to be gluten free. So LA.
Time Out Los Angeles: Well, you were born here, so it's legit.
Gavin Turek: Yeah!
Time Out Los Angeles: Any local bands you've played with recently that we should check out?
Gavin Turek: Yes! There are so many extremely talented local artists in LA on the verge of just becoming gigantic. When I did my April residency at the Bootleg I played with Zak Waters, Mystery Skulls and Moses Sumney. We all supported each other and I feel so blessed to consider them my friends and peers, they're all immensely talented. Body Parts is another great local band. I can't wait until we're all on the Coachella lineup and we're hanging out backstage, reminiscing about being backstage at the Bootleg!
Time Out Los Angeles: Don't forget the little guys!
Gavin Turek: Never! The Bootleg has been so supportive. The staff is just really accommodating—if you get taken care of there as a nobody, you know they're legitimately nice people. I thought it would take a lot longer to break into the scene here, for someplace like the Bootleg to sponsor me, to give me a month-long residency! But it's been really comfortable and fun, and I'm so grateful.
Time Out Los Angeles: Okay, one last question—every guy on the Eastside is wondering, are you single? What's your perfect date?
Gavin Turek: I'm very single. Hmm… the Hollywood Bowl—that's my favorite place to go for fun. Yeah, take me to the Bowl and I'll love you forever! Just kidding. Any great concert… or brunch. My interests are music and food and that's pretty much it.
Propose a brunch date at Turek's Abbot Kinney Festival performance, 4:20pm on the Brooks Stage, produced by MILKMADE.
Follow Kate Wertheimer on Twitter: @kate_em_up

Gavin Turek—The Break-up Tape