A guide to Joshua Tree
Everything you need to know about Joshua Tree, including where to stay, how to camp and what to do in the Park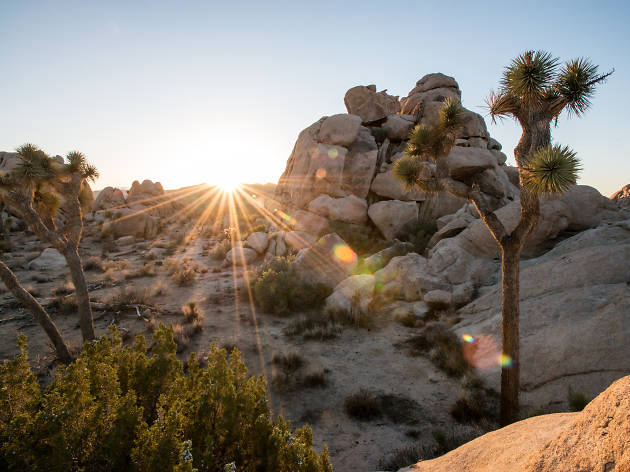 Joshua Tree is one of the most magical places in California (and the country, we think). The National Park's varied and alien landscapes—due mostly to gnarled, ancient Joshua Trees and giant boulders strewn willy nilly—make for impressive scenery during hikes, bike tours or leisurely drives. If you visit in spring, head south to Pinto Basin to see colorful wildflowers in bloom. The stargazing is choice here, and wild coyotes may howl you to sleep if you plan an overnight camping trip. Notable stops along the way to the Park include Pappy & Harriet's for lunch, live music and a ghost-town stroll; the Integratron for a new-age sound bath, and the town of Joshua Tree itself, which offers unique hotels, a few tasty restaurants, some good thrifting and the kind of quirky public art that only exists in tiny, warm-weather communities. Enjoy your desert trip!
Joshua Tree in the news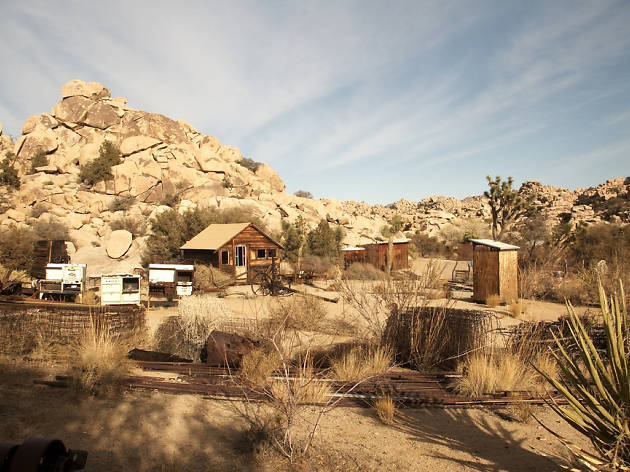 Help Joshua Tree National Park win a grant and you might get a free trip to Yellowstone
Show your love for Joshua Tree and help the National Park win a preservation grant by participating in the #VoteYourPark campaign through July 5th. Twenty historic sites in National Parks across the country are vying for portions of a total $2 million committed by American Express as part of the Partners in Preservation campaign, created by American Express and the National Trust for Historic Preservation. The public will vote on which Parks should receive their full grant requests, and the rest of the $2 million will be split up among the remaining parks. You can vote for up to five different parks each day of the campaign (each park only once a day) at VoteYourPark.org. You can check out the parks' best photos and see who else is voting by searching the hashtag #VoteYourPark, and raise awareness of the campaign by using it yourself on all those JTree Instagrams we know you have. Big bonus: By voting, you'll also be entered into a sweepstakes for a chance to win a trip to Yellowstone National Park, sponsored by National Geographic. More cool news: In honor of the #VoteYourPark campaign, all the participating National Parks will be hosting open houses this weekend. Joshua Tree has planned a "Keys Ranch Adventure to the Wild Wild West." Visitors will have access to Keys Ranch on Ranger-guided, 90-minute tours (6 per day, free of charge), which will cover the entire history of Keys Ranch and the Keys Family with stops at the School House, Barn, Windmill, Orchard, Garden, Mai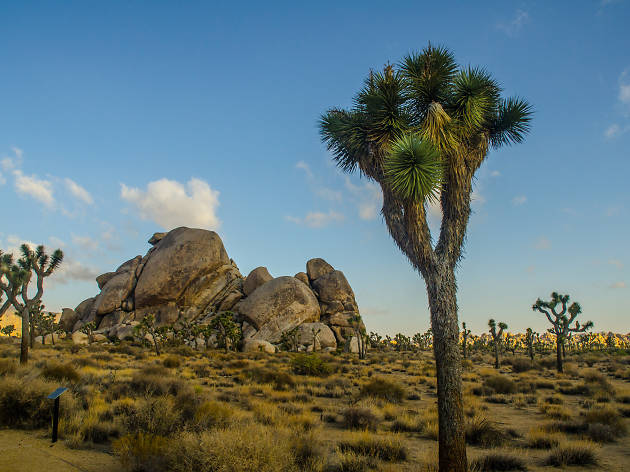 Why can't we stop vandalizing Joshua Tree National Park?
According to a recent story in the LA Times, two areas of Joshua Tree National Park have been closed indefinitely due to looting. Carey's Castle and El Sid Mine, both in the Eagle Mountains range in the southeast section of the park, have been vandalized and looted repeatedly. The Park purchased artifacts to replace stolen ones, but the new ones were again stolen, prompting the closure of both areas. Cultural artifact teams will do inventory of the sites, and hopefully the Park will devise an enforcement and surveillance strategy to put a stop to the vandalism. Unfortunately, this isn't a new problem for the Park; Barker Dam and Rattlesnake Canyon have been closed intermittently throughout the past three years due to graffiti and vandalism (both are now open). And last April, French graffiti artist Mr. Andre (real name Andre Saraiva) tagged multiple boulders inside the park, leading to his public shaming (and our unending disdain for him and his scribbles). According to the National Park Service, 58 of the 531 mine-related features in Joshua Tree National Park still require protection measures. For all the pride we as Angelenos and Californians take in the Park, we just can't seem to leave Joshua Tree's historical monuments alone. Hopefully awareness efforts by the Park and the community, as well as respectful visits to the Park's campsites (some of the best in Southern California) will turn the tide on this disappointing trend. Recommended feature See the best places