La Latina Pincho Week 2014
From May 29 to June 8, get a pincho and a beer for just €2.50 in the best bars in La Latina!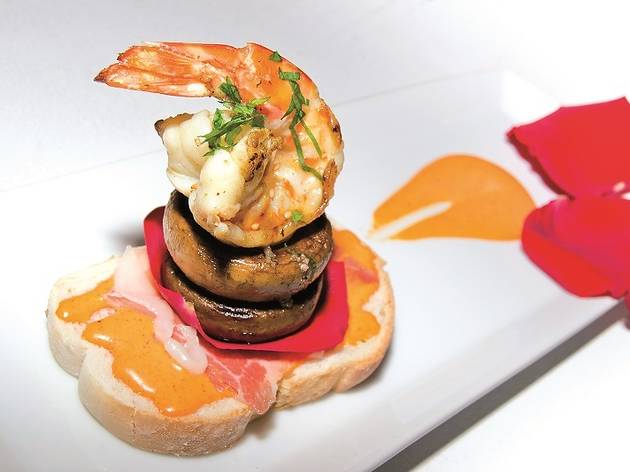 Tell your friends and make no other plans this week because from May 29 to June 8 the bars of La Latina will be part of a pinchos event so delicious you won't want to leave the neighbourhood until you've tried them all. The most popular spots in the Cava Baja, the Cava Alta and the squares in the area offer up their best culinary creations, both traditional and with a modern twist, to enjoy with a nice cold beer, for just €2.50!

In addition to filling your boots, you can vote for the best pincho and be entered in the drawing for a tablet, and you could win a dinner for two in Taberna Arzábal just by sharing a photo of your favourite pincho on the Gastronosfera Facebook page. Find out which of the 37 participating bars will win the prize for the best pincho, and the one that best pairs up with the Estrella Damm beer that accompanies each tasty morsel.
Ten must-try pinchos
Seatrout tartar with bread and house-made olive paté
Ingredients: 'Glass bread' ciabatta, marinated seatrout and black olive paté.
Almogrote cheese vol-au-vent
Ingredients:
Almogrote cheese paté, a speciality of La Gomera in the Canary Islands.
Piquillo peppers in tempura stuffed with vegetable brandade
Ingredients: Red piquillo peppers stuffed with potato, pumpkin, courgette and mixed lightly cooked vegetables seasoned with parsley, and with battered with flour, without egg.
Beef in a hat
Ingredients: Mini beef hamburger with quail egg and Oporto sauce.
'Ropa vieja' carnarole rice ball
Ingredients:
Carnarole
rice
,
veal strips
(
'ropa vieja'
)
, assorted
peppers
with peas
, saffron and
tempura
breadcrumbs
.
Focaccia with Barbate tuna and citrus
Ingredients:
Barbate

tuna

fillet

in

oil on a bed of

candied

red peppers topped with bean

sprouts

and

lime vinaigrette

served on

focaccia

bread

.
Aubergine tempura with salmorejo
Ingredients: Aubergine in tempura with a sauce made of salmorejo (a type of cold tomato soup).