Tapapiés 2014: much more than tapas
More than 60 performances, including concerts, circus, dance and magic, add even more to Madrid's multicultural tapas route Oct 16-26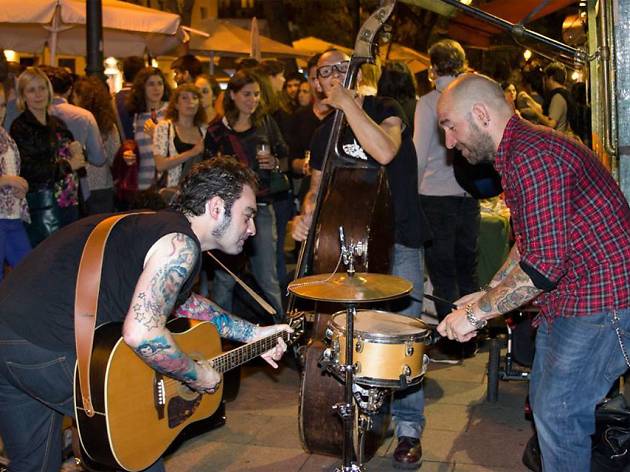 It seems like there are more and more tapas routes in every district in Madrid. But none has yet been able to reach the cultural heights that always goes hand in hand with Tapapiés. For the 2014 edition, not only can you gobble down gorgeous tapas for just €1 each (or €2 if you get a small bottle or glass of Estrella Damm beer to wash it down with), but you also get free concerts, circus and magic shows, and even a performance of African dance or a 'batucada' drum show in the street as you wander between venues on your tapas bar crawl. So you can plan to get your cultural fix along with your food and drink, we've picked out the acts that you won't want to miss. (You can also see the full programme here.)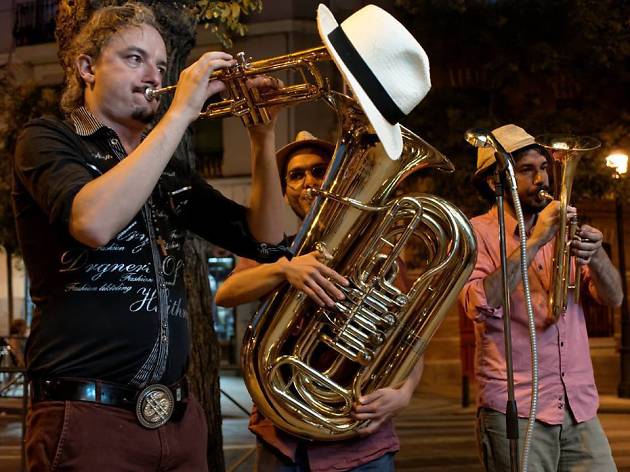 Million Dollar Mercede$ Band
With a repertoire based on songs from the Balkans, Klezmer music and covers of international pop songs, the Million Dollar Mercede$ Band is always looking for new melodies to 'Balkanise', so you'll hear traditional Madrid 'chotis' music or polkas in their concerts, all with an original performance and in close proximity to their audience. Fronted by Hijo del Cura (Ambrus Horváth), the band also likes to get their public involved as a 'professional' choir.
When: Sat, Oct 25, 1.30pm
Where: Parading through Lavapiés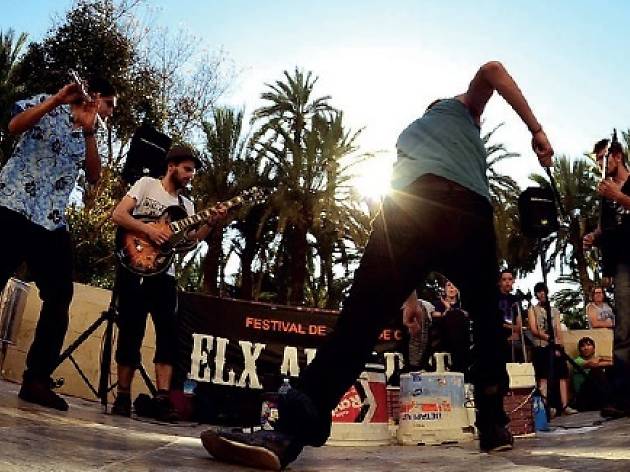 Swingdigentes started up in 2011, bringing together different music and dance shows that were developing separately on the streets of Madrid. And that's how this explosive and singular union of contemporary urban dance was born. Break dance, locking and popping work together with classic jazz, and the look and music of 1920s swing. Swingdigentes can transform any pavement into a spectacular stage.
When: Fri, Oct 24, 8.30pm
Where: Plaza Tirso de Molina
Their stage is anywhere they can set up their beach-picnic set-up – beach towels, foldable chairs, umbrellas, cooler and a bit of Tupperware to collect any coins thrown their way. Laura Nada (Doña Oeuf) and Gerardo Yllera are Potato Omelette Band. With a ukelele, a children's toy xylophone and a 'melodic party bagpipe', they play their Sunday-at-the-beach tunes and cover or parody famous songs.
When: Fri, Oct 17, 8.30pm
Where: C/Miguel Servet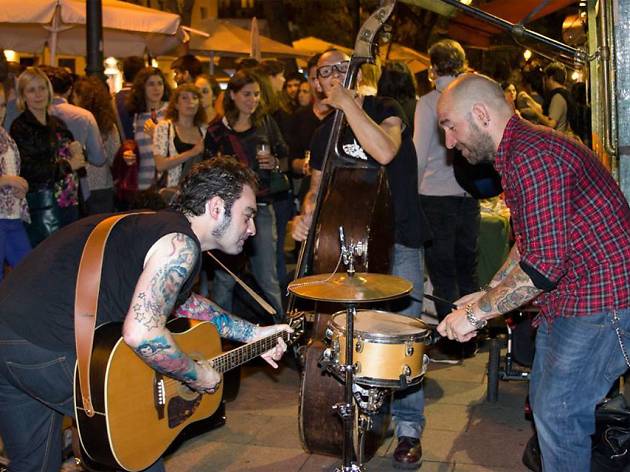 Lucky Dados se forma en 1997 con Pedro Herrero (guitarra y voz), Carlos López (contrabajo y coros) y Carlos Mirat (batería). Aúna rockabilly y punkrock con country y swing puro de los 40 y 50. En abril celebraron la reedición para España de su primer disco 'Struck the nerve', con un gran concierto en la sala Twister de Leganés. En Tapapiés presentarán algunas canciones de su esperado quinto álbum.
When: Sat, Oct 18, 1.30pm
Where: C/Santa Isabel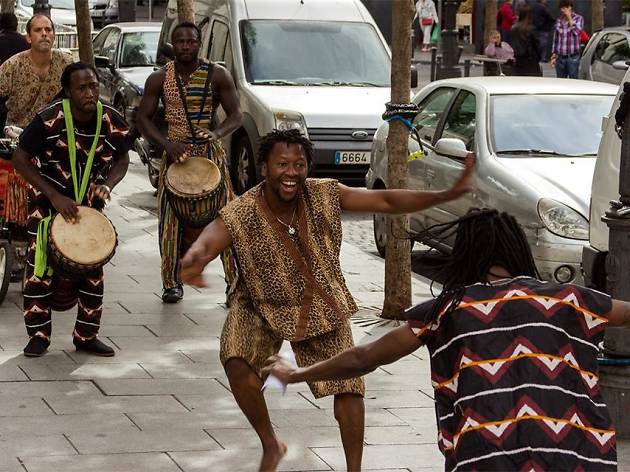 Docakene means 'enter with health and strength'. The values ​​of deepest Africa, are conveyed through dance and music, rooted to the Mandingo culture of the Ivory Coast, Mali, Burkina Faso and Guinea-Conakry, as well as the villages of Senoufo, Baule, Guro and Yakouba. Their traditional songs feature various instruments, along with stilt dances and traditional masks.
When: Fri, Oct 24, 8.30pm
Where: Parading through Lavapiés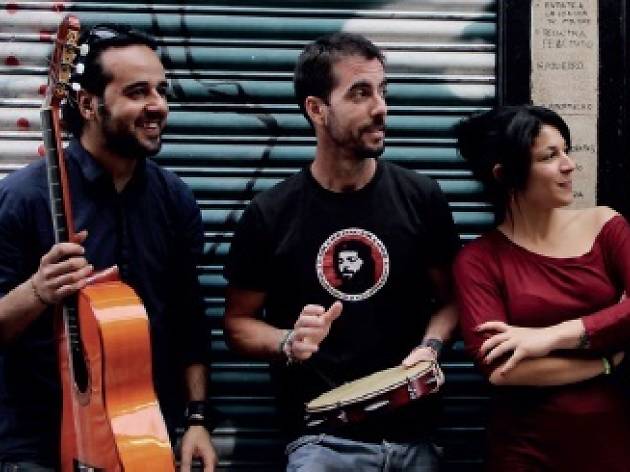 'Bulerías', fandango and 'alegrías' over Caribbean nuances. 'Milongas', rumbas and 'sones' are spiced with palm clapping and 'quejíos'. Cynthia Lopez's singing of 'La Canija', Toto Barreiro's guitar, Julián Olivares's tres cubano, and percussion from Guillermo Navarro shape the transoceanic fusion that La Camaradería bring us. Their influences range from flamenco to folk music from Cuba, Argentina and Venezuela.
When: Sat, Oct 25, 1.30pm
Where: Plaza Tirso de Molina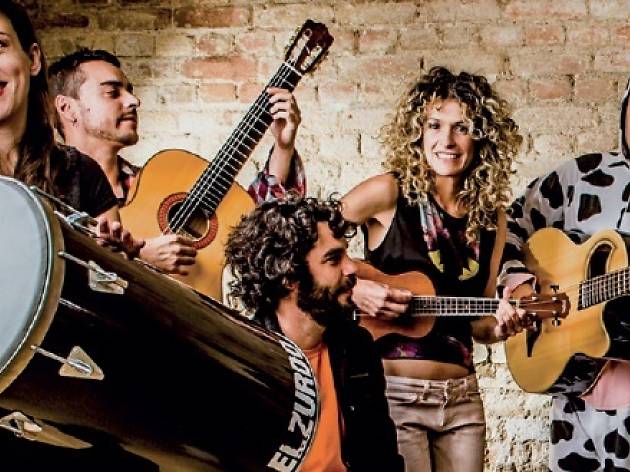 Elzurdo's songs come from the city streets, their people and nationalities, with love as the backdrop. They play an unpredictable fusion of rumba, Latin beats, tango and pop, among other styles. It's a package of rhythms for their unmistakable signature style: lyrics that stimulate sensitivity and delve into complicity, written by their charismatic singer Chani Martin.
When: Sun, Oct 19, 1.30pm
Where: Plaza Tirso de Molina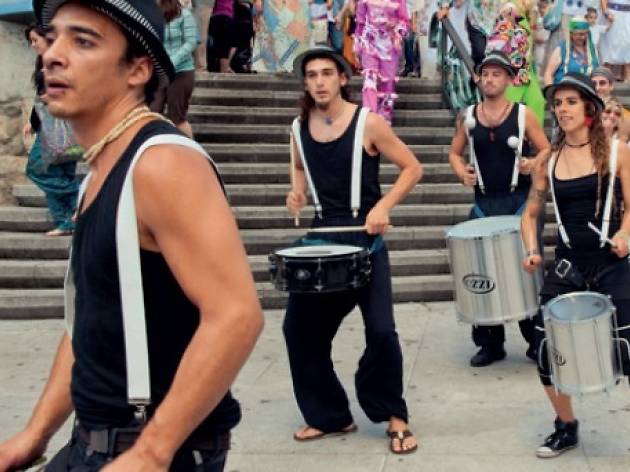 This group from Madrid mixes the power of Brazilian percussion with airs of funk and ska. Dance, circus and juggling round out the performances where samba is reinterpreted with influences from hip hop, flamenco and Balkan rhythms, not just thorugh drums, but also with dance, theatre, clown acts and body percussion.

When: Sat, Oct 18, 8.30pm
Where: Parading through Lavapiés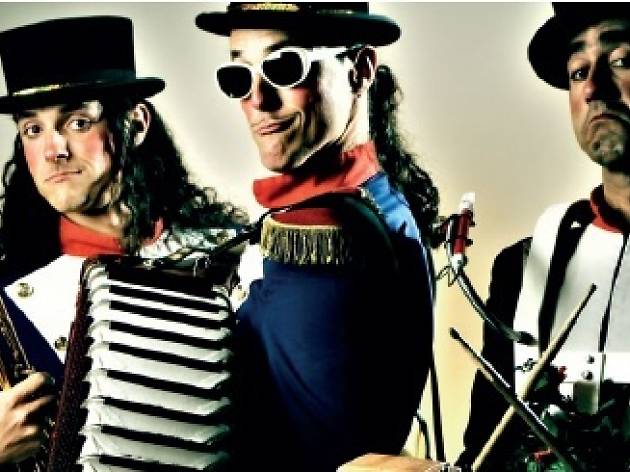 Cuarteto Maravilla introduces the 'musiclown' genre with Balkan orquestra rhythms and variety numbers that bring smiles to the faces of kids and adults alike. Their directors, Rafael Rivera, Antonio Campos and Rafael Campos, form a cooperative dedicated to art and culture. They boast some 600 performances and nine national shows throughout their career, and have performed in England, Germany, France, Romania and Portugal.
When: Sat, Oct 25, 8.30pm
Where: Plaza Lavapiés