Heads up! We're working hard to be accurate – but these are unusual times, so please always check before heading out.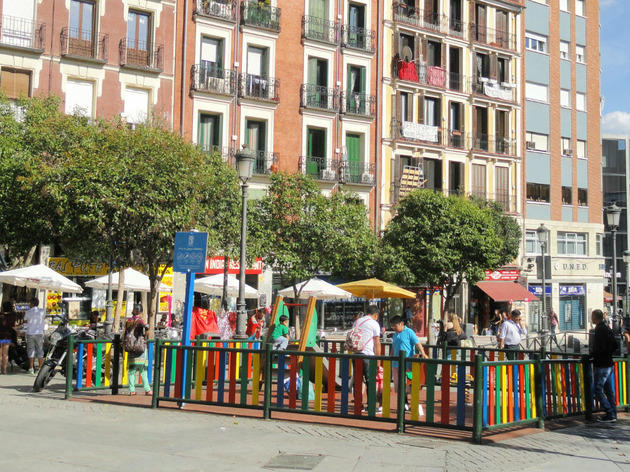 The best of the barrios: Lavapiés
Diversity and big fun in equal parts
This barrio represents the fusion of peoples and cultures that Madrid has experimented with in recent years. Indian restaurants stand alongside typical Madrid taverns, and immigrants make up the social fibre that holds Lavapiés together. The August parties celebrating San Lorenzo are well-known throughout the city and beyond, and Tapapiés, an international tapas route that takes place in autumn, is also now a must-attend event.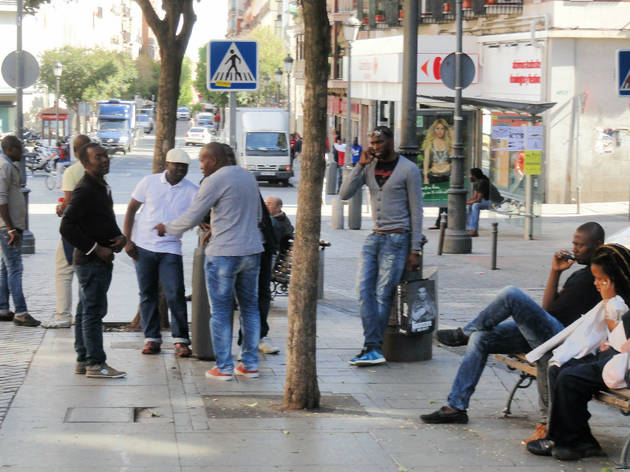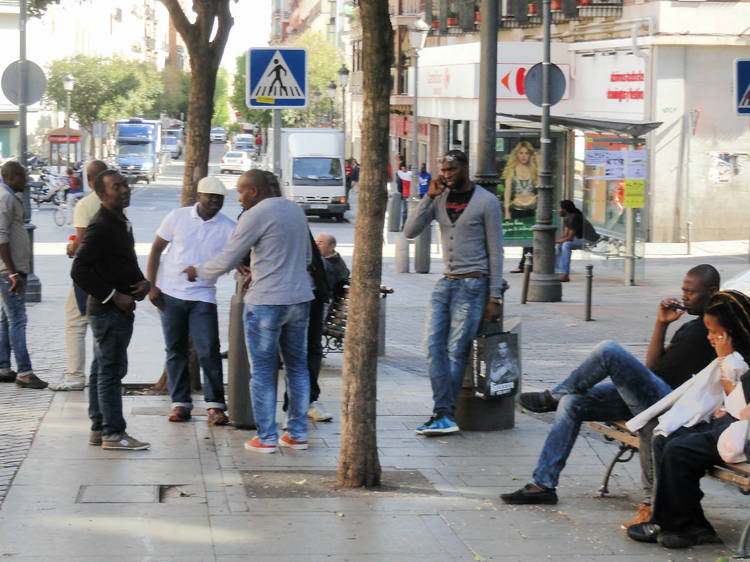 Lavapiés has a higher concentration of immigrants than any other neighbourhood in Madrid. It has always been a humble barrio, which until the 1980s was home to mostly elderly people who lived in the typically Madrileño 'corralas' – apartment blocks mostly built around an interior staircase. These days, thanks to the cheap rent in comparison to that of other areas, and the multiculturalism, young people are attracted to the area, and they live alongside people from some 90 different nationalities, especially Moroccans, Ecuadorians, Colombians, Chinese and Bangladeshis.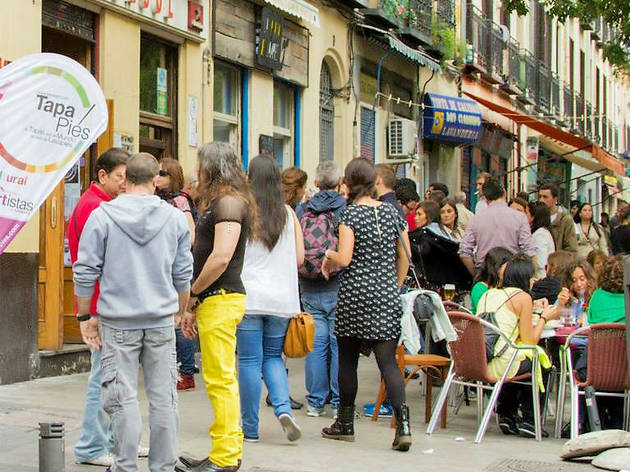 The bars and terraces are packed along this street that connects Plaza de Lavapiés to Ronda de Atocha. Weekends see the bars and restaurants filled with groups of friends having drinks and catching up. The tapas tour known as Tapapiés has loads of stops along Argumosa. In recent years, traditional taverns have been giving way to more modern spots, especially restaurants and bars that serve international food because of the demand by the locals.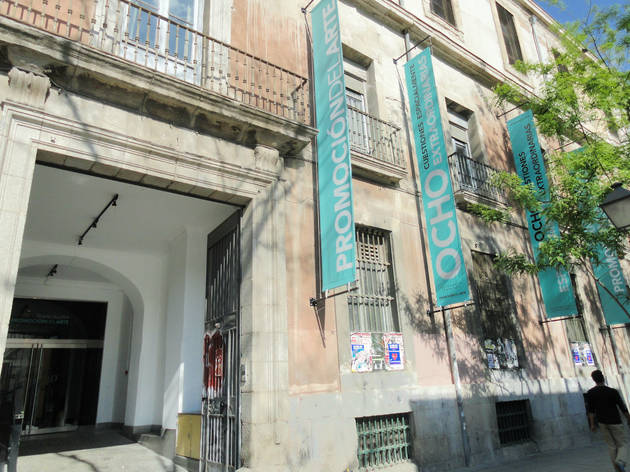 Lavapiés has the largest number of neighbourhood associations and self-managed centres in Madrid; the most well-known is La Tabacalera de Lavapiés. Located in an old tobacco factory, it's a collective cultural space where anyone can submit a proposal to set up an exhibit, organise a debate or show a documentary they've made. Thanks to centres like this one, cultural events are quite popular in this barrio and always supported by the locals.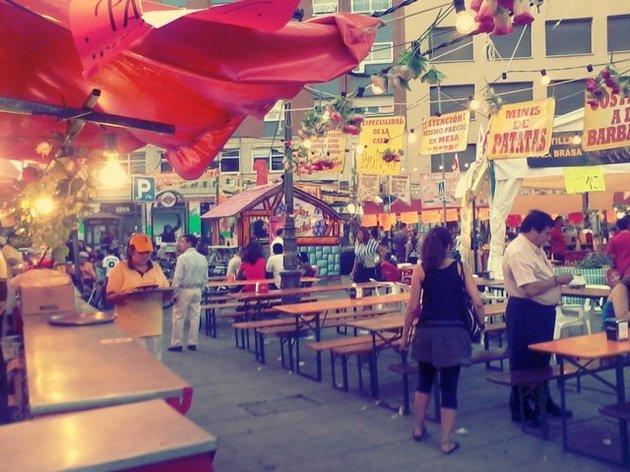 ©Adriá García
On August 10, all of Lavapiés and beyond celebrate the feast day of San Lorenzo. The parties last for days and visitors from all over Madid come to Lavapiés to attend the free concerts, participate in contests like the search for the best Spanish omelette, drink free lemonade and to have something a bit stronger at the serving stations that bars set up on the streets for the occasion. Fun guaranteed.
Restaurants in Lavapiés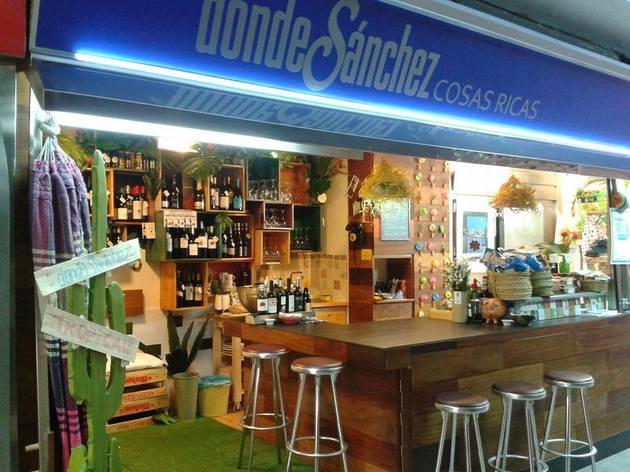 It's nice to spend time at this stall in the Antón Martin market. Craft beers (including various versions of Salvaje, made in Campo de Criptana, where the stall's owner is from), various red and white wines chosen with care and a delightful vermouth make up the beverage selection to go with the food: cold cuts, sausages, cheeses, preserves, patés... A good atmosphere and camaraderie abound, but if you prefer a meal in, their offerings are also available to take away. They often organise tastings.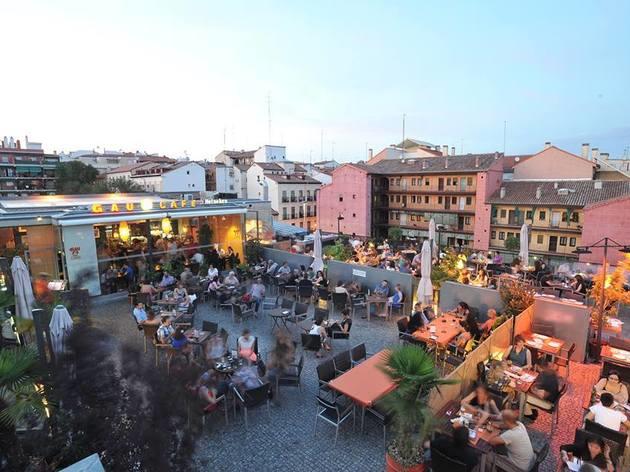 We'd be lying if we didn't say this is one of our favourite restaurants in Madrid. First for its location, on the top floor of the Escuela de Pías with a spectacular terrace. Having a beer while watching the sun set over the traditional Madrid 'corralas' apartment blocks or taking in the still-standing church ruins next to the school as they're lit up at night are a couple of the greatest pleasures of the city. In summer you might have trouble finding a table, whether you want to just have a drink or sit and have a meal. The menu is also among the strengths at Gau&Café. Aubergine and courgette tempura with rosemary honey and parmesan, hummus, nachos, 'salmorejo' (similar to gazpacho), salads, egg dishes, salmon tartare... the list of treats is so extensive that you'll have a hard time choosing just one dish. They also have a daily lunch menu and specials for vegetarians.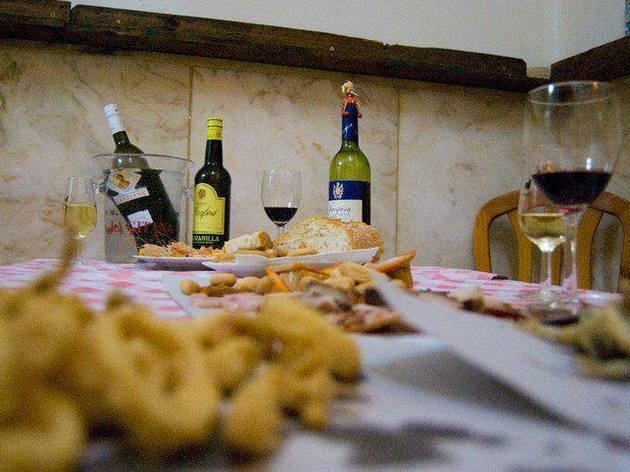 If you want to enjoy the most lustrous and canonical cusine from Cádiz (from fried fish to payoyo cheese and 'piriñaca' – an onion, cucumber, tomato, pepper salad), this restaurant is a must. They just might have the best 'cazón' (dogfish fritters) in the city, but this tasty treat (served in brown paper like other fried items on the menu) is just the tip of the iceberg in such a busy restaurant, the result of the professionalism and dedication of its owners. Despite having moved to a much larger location, it still fills up, so you should book a table in advance at weekends.
More restaurants in Lavapiés
Bars in Lavapiés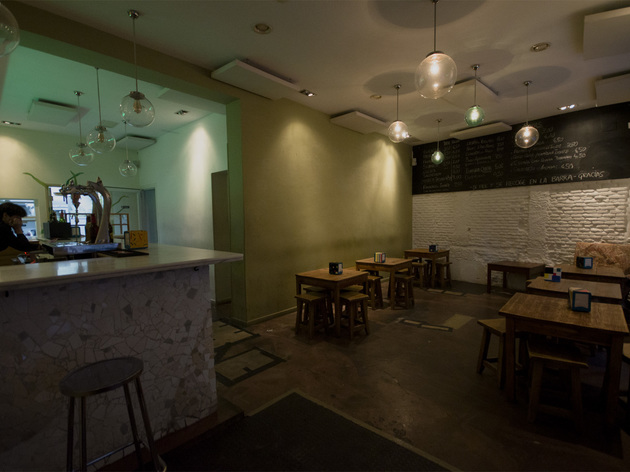 Low wooden tables and a large blackboard with the day's menu. Take a seat and taste the simple home cooking and an untypical but interesting selection of wines served by the glass. It's a pleasant place for a light dinner when you go to Lavapies to catch a play at the CDN.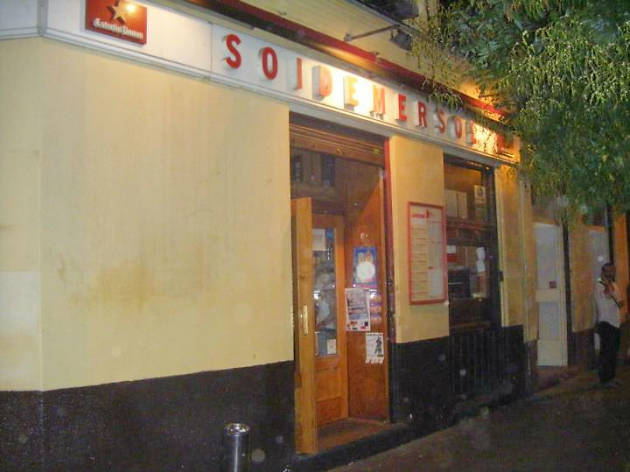 This is a place that enjoys iconic status among regular visitors to the street. Cheap it is not, despite what its name may suggest, but it does offer decent value for money. You won't come away disappointed if you have a few beers and snacks (such as croquettes, an open toasted sandwich or skewered meat). There are also a number of options for vegetarians.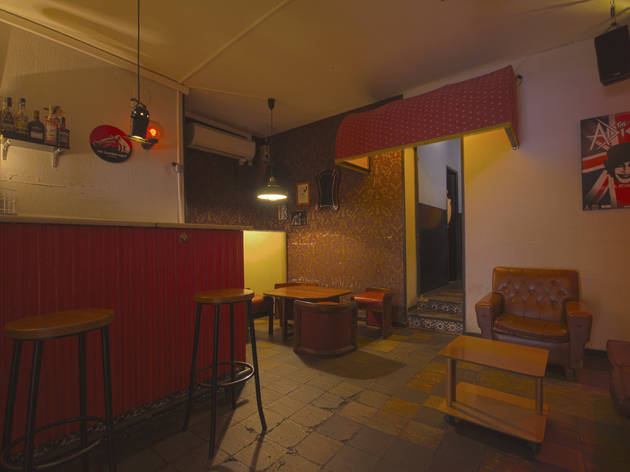 Weekends at this bar see sessions of garage, soul, funk and afrobeat and competitions are sometimes held in the back part of the club. Look out for sessions by DJ de la Muerte, with his Hawaiian looks and energetic vinyls and plenty of swing, doo wop, surf music...
More bars in Lavapiés
Shopping in Lavapiés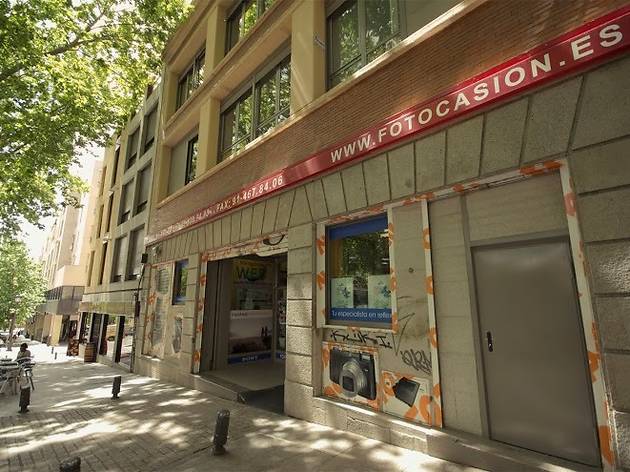 A treasure trove for photographers and camera collectors. Owner José Luis Mur is a walking encyclopaedia on cameras; he also has great offers on spare parts and new and second-hand cameras. The shop also has an exhibition space and a training department.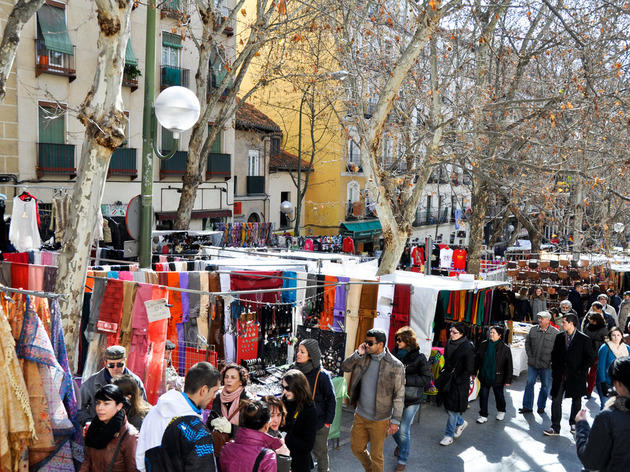 This is Madrid's oldest and most iconic street market. Every Sunday at 9am, hundreds of stalls are set up in C/Ribera de Curtidores, in the Embajadores neighbourhood, filling the street with life and bustle. It's a must for tourists and locals alike, who browse through the new and second-hand clothes, costume jewellery, decorative items, vinyl records, T-shirts of bands, souvenirs of Madrid, prints and drawings. At noon it's almost impossible to walk down the street, and two streams of shoppers are created, one heading for Plaza del Cascorro and another heading down to the Ronda de Toledo. Haggling is the norm, as are the shouts of the vendors announcing their best deals. After snagging yourself a bargain and trying some classical Madrid wafers, the best thing to do is stop off for a drink and a bite to eat in the bars of La Latina.
More shopping in Lavapiés
Nightlife in Lavapiés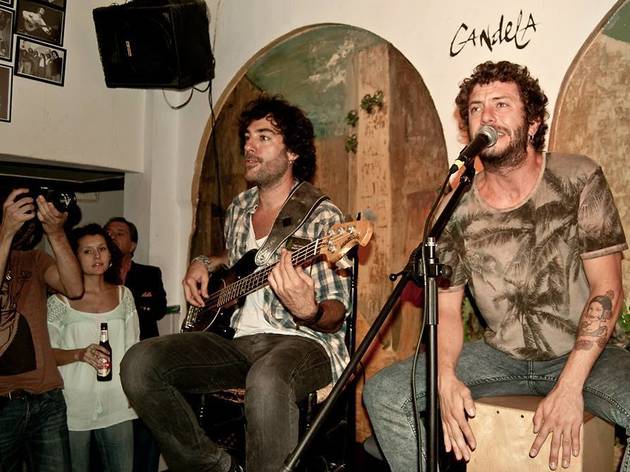 Candela is an icon on the Madrid flamenco scene. Paco de Lucía, Camarón, Enrique Morente and Ray Heredia have all been here, though as spectators rather than performers. It's the ideal place to let yourself go and enjoy the atmosphere and there are performances every Thursday and Friday, which feature both professionals and enthusiasts. And nighthawks will be interested to know that it's one of the last places to close in Lavapiés.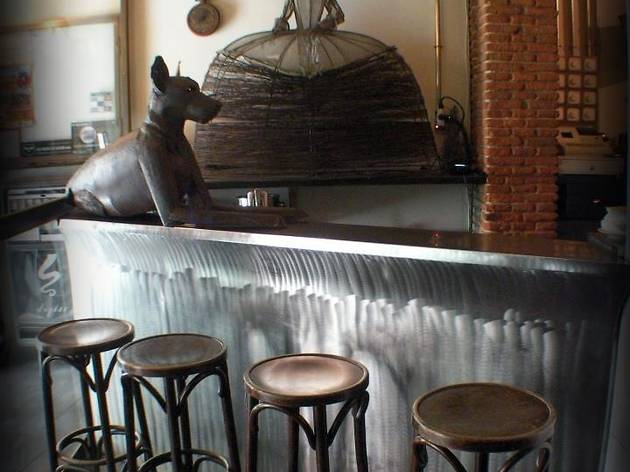 Epitomising Lavapiés – a bohemian, cool and laid-back hangout for those who like the tempo of their evening to be energetic but not too frenetic. The bare red brick and chrome front bar provides a chilled background for the broad-based crowd and soundtrack of jazz and soul. After midnight the rhythm speeds up in the back as the resident DJ Señores de Funk spins a mix of souped-up soul, Latin and funk. Sunday nights see flamenco performed by students from the nearby Amor de Dios school.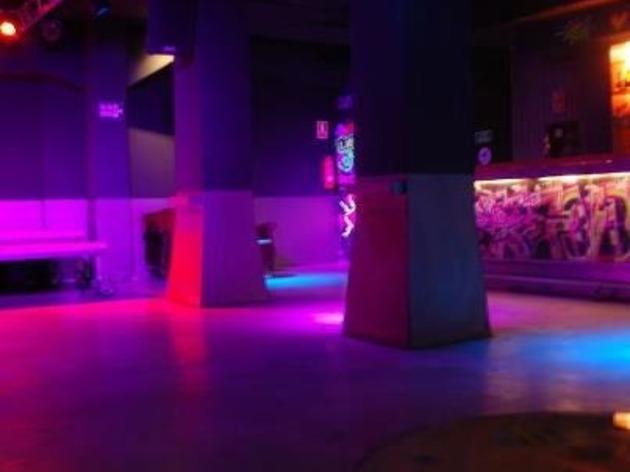 Rising up from the ashes of the old Medea, this lesbian venue promises a lot with its thematic party nights and afternoon cultural activities. The music here is varied, ranging from indie and revival sounds to electropop and DJ sessions. The owners are original thinkers and are constantly renewing the programme and trying to surprise their customers. Check out their Facebook page and Twitter account to find out about concerts and live performances.
More music and nightlife in Lavapiés